Experience a modern twist on the classic Waldorf Salad with this modern Waldorf salad recipe! This contemporary rendition combines the crispness of apples, the crunch of walnuts, the tanginess of blue cheese, and the sweetness of dates, all brought together by a creamy yogurt dressing for a flavor explosion in every bite.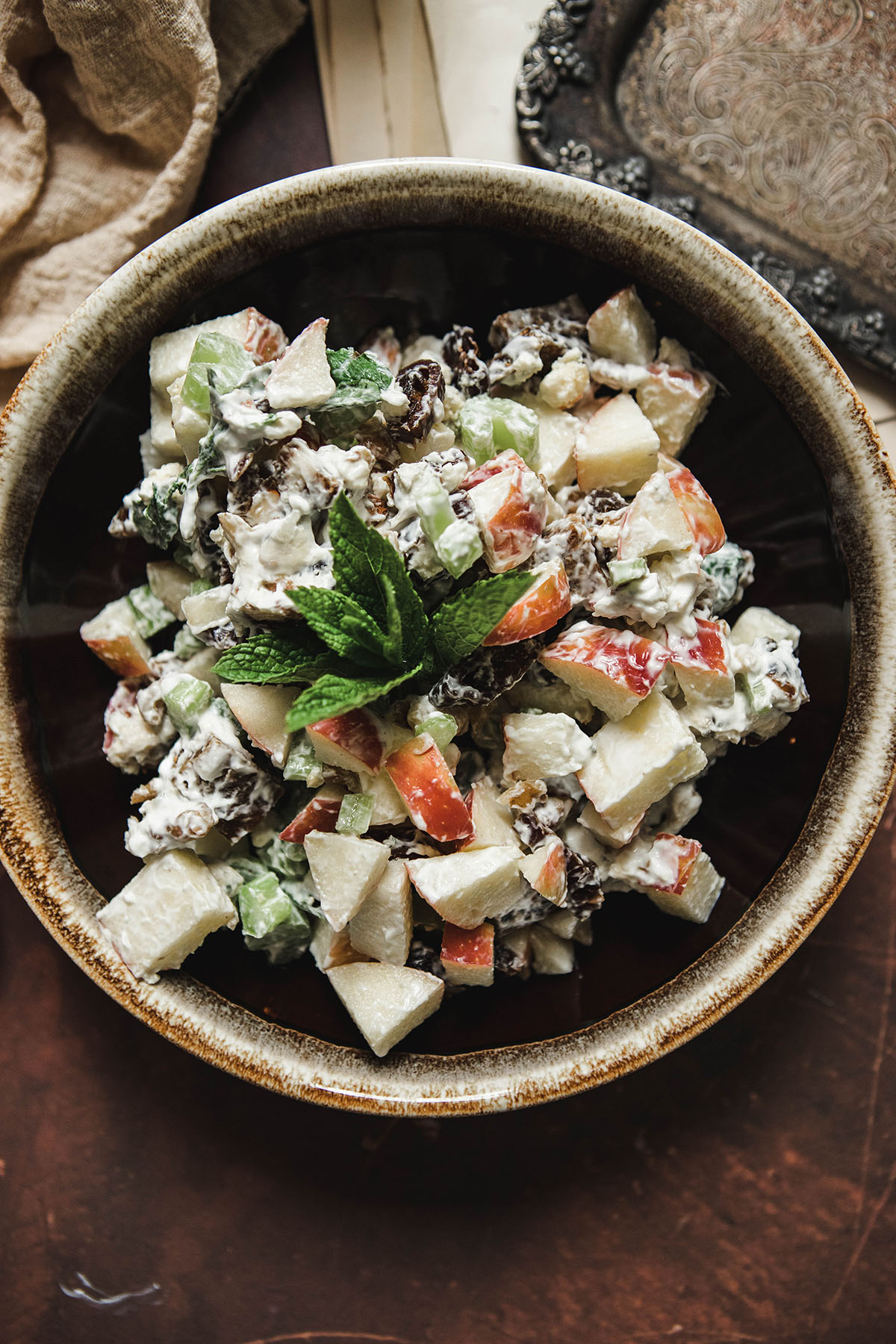 Where did the Waldorf Salad originate?
The Waldorf salad is named after the Waldorf-Astoria Hotel in New York City.
Why is it called a "Waldorf Salad?"
It was at this renowned hotel that the salad was first created and popularized in the late 19th century. The hotel's maître d'hôtel, Oscar Tschirky, is credited with inventing the salad and including it on the hotel's menu.
As the Waldorf-Astoria Hotel was considered a symbol of luxury and high society, the salad's association with the prestigious establishment helped to elevate its status and contributed to its widespread recognition and popularity. The Waldorf salad's name has endured over the years, even as variations and adaptations of the original recipe have emerged.
Does Waldorf Salad Have Lettuce In It?
Traditionally, Waldorf salad does not contain lettuce. The classic recipe for Waldorf salad consists of apples, celery, walnuts, and a dressing, typically mayonnaise-based. However, modern Waldorf salad recipes have emerged over time, and some modern Waldorf salad interpretations may include lettuce or mixed greens as an additional component.
Mayo or Yogurt for Modern Waldorf Salad?
The choice between mayo or yogurt for Waldorf salad dressing depends on personal preference and dietary considerations. Traditionally, Waldorf salad dressing is made with mayonnaise, which lends a rich and creamy flavor to the salad.

However, in recent years, many people have been opting for healthier alternatives, which is where yogurt comes into play. Yogurt can be used as a lighter and tangier substitute for mayonnaise. In this modern Waldorf salad recipe, Greek yogurt! Greek yogurt, in particular, works well as a replacement due to its thicker consistency and creamy texture, all the while trying to be a healthier option than traditional mayo. This is a modern Waldorf salad after all!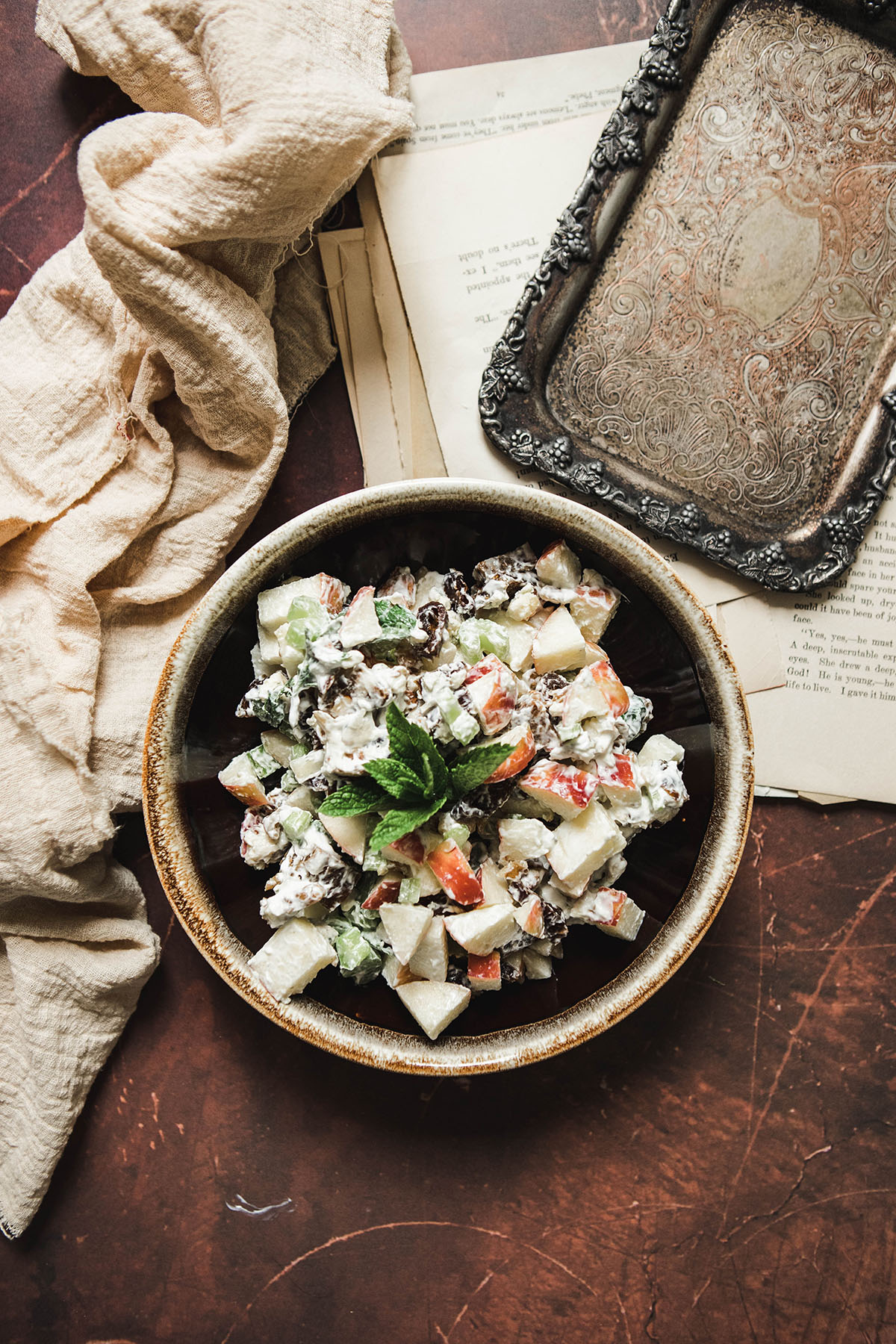 Ingredients
1 Honeycrisp Apple
3-4 small Celery Sticks
6-7 Dates, pitted
¼ cup Walnuts, chopped
⅓ cup Greek Yogurt
¼ cup Blue Cheese, I used 'Cashel Blue'
¼ cup Fig Cake, chopped
Mint, for garnish
How do you make this Modern Waldorf Salad?
Grab a large mixing bowl, and spoon. Set aside.
Take a knife and cutting board and cut up / chop the apple, celery, walnuts, dates, and fig cake. When you are finished, place them in your mixing bowl.
Cut (or crumble) the blue cheese and place into the bowl, along with the yogurt. Use the spoon to mix. Take some mint, and rip it up, toss it into the salad and mix a few more times. When all of the elements are coated with yogurt, place into your serving bowls and top with more mint. Serve immediately.
How Long Can Waldorf Salad be Stored?
Here are some general guidelines for storing Waldorf salad:
Freshly made Waldorf salad should be consumed within 2 to 3 days for optimal freshness. The texture and quality of the ingredients, especially the apples and celery, may start to deteriorate after this period. No one wants soggy food in their salad!
If the salad contains a mayonnaise-based dressing, it is important to note that mayo can spoil relatively quickly when left at room temperature. Therefore, if the Waldorf salad has been left out for more than 2 hours, it is best to discard it to avoid the risk of foodborne illness.
If you plan to store Waldorf salad for longer periods, consider preparing the components separately. Store the chopped apples, celery, walnuts, and dressing in separate airtight containers. Then, when you're ready to serve, simply combine the ingredients. This approach can help extend the shelf life of the salad.
It's worth noting that Waldorf salad is typically at its best when served fresh, as the texture and flavors are at their peak. Biting into the salad and getting that crunch from the apple, celery, and or nuts is ideal when eating your modern Waldorf salad.
How can I serve this?
Modern Waldorf salad offers a range of creative serving options to elevate your dining experience. Here are a few ways to present and serve a modern Waldorf salad:
Classic Bowl: Serve the Waldorf salad in a large bowl as a centerpiece. Toss the ingredients together, ensuring they are evenly coated with the dressing. This approach works well for family-style meals or gatherings where guests can serve themselves.
Individual Mason Jars: Create individual servings by layering the Waldorf salad ingredients in small, clear mason jars. Start with a layer of dressing at the bottom, followed by the chopped apples, celery, walnuts, and any other additional ingredients. This presentation not only looks visually appealing but also makes it convenient for guests to grab and enjoy. This fun layered Waldorf Salad is a very modern take on the original!
Lettuce Wraps: For a lighter and portable option, serve the Waldorf salad wrapped in large lettuce leaves. Use sturdy lettuce leaves like romaine or butter lettuce as a base, and spoon the Waldorf salad mixture onto each leaf. Roll up the lettuce wraps and secure them with toothpicks for an elegant and handheld presentation.
Stuffed Apples: Take a creative approach by hollowing out whole apples and filling them with the Waldorf salad mixture. Cut off the top of each apple and scoop out the core to create a cavity. Fill the apples with the salad mixture and garnish with additional walnuts or blue cheese crumbles. This unique presentation combines the flavors of the salad with the natural sweetness of the apple.
Canapés or Crostini: Transform the Waldorf salad into bite-sized appetizers by serving it on toasted baguette slices or crackers. Top each piece with a spoonful of the salad mixture and garnish with a sprinkle of blue cheese, a walnut piece, or a drizzle of honey for added visual appeal.
Recipe Tips
Make sure to use only the freshest ingredients if you want your salad flavors to really pop!
If you do not like blue cheese then you can use feta or a goat cheese substitute. It will still give that tangy flavor that the blue cheese offers, it will just be slightly different!
Make sure to use Honeycrisp apples! They are the absolute best in this salad. You also want to make sure that it is crisp so that when you bite into it, you get the best crunch and bite.
What can I serve with this Modern Waldorf Salad?
If you are a carnivore then Grilled Chicken or Turkey: The light and refreshing flavors of the modern Waldorf salad complement grilled chicken or turkey beautifully. The savory and juicy meat provides a satisfying contrast to the salad's sweetness and crunch.
If you are a vegetarian, Crusty Bread or Baguette: Serve the Waldorf salad alongside some crusty bread or a fresh baguette. The combination of the creamy salad and the bread's texture creates a delightful contrast, making it a perfect accompaniment. A cheese plate would also be a great option.
Recipe Modifications
If you would like to add or change some things to the recipe to make it your own, here is what I suggest:
Using red apples or tart green apple if you want to play around with the apples in the recipe
rotisserie chicken (make sure this would be in bite-size pieces) or smoked turkey
If you want the dressing to have more flavor to it, you can consider using a full-fat yogurt or if you want to use mayo just use less mayo than the classic Waldorf salad recipe calls for.
You can add red grapes as well
If you are fancy, Sparkling Wine or Champagne: The effervescence and crispness of sparkling wine or champagne pair well with the refreshing qualities of the modern Waldorf salad. The bubbles and acidity cleanse the palate and enhance the overall dining experience.
Did you love the recipe? If you did, let me know! And let others know too by leaving a comment and star rating. Reviews are incredibly useful in helping other people find my site and make my recipes. Thank you so much!
Laura
Looking for other recipes?
Modern Waldorf Salad Recipe
Looking to add a touch of sophistication to your salad repertoire? Look no further than our Modern Waldorf Salad recipe! This contemporary twist on a classic favorite combines crisp apples, crunchy walnuts, tangy blue cheese, and sweet dates, all tossed in a creamy yogurt dressing. The result? A harmonious blend of flavors and textures that will delight your taste buds. Perfect for a light lunch or a stunning side dish, this recipe is a must-try.
Ingredients
1

Honeycrisp Apple

4

Mini Celery Stick

6

Dates

pitted

¼

Cup

Greek Yogurt

¼

Cup

Walnuts

chopped

¼

Cup

Blue Cheese

crumbled or chopped

¼

Cup

Fig Cake

chopped

Mint

Garnish
Instructions
Chop and slice your apples, celery, dates, fig cake, cheese, and walnuts and place into a mixing bowl.

Add the yogurt and mint and mix. Serve immediately
Nutrition
Calories:
230
kcal
Carbohydrates:
19
g
Protein:
9
g
Fat:
15
g
Saturated Fat:
4
g
Polyunsaturated Fat:
7
g
Monounsaturated Fat:
3
g
Cholesterol:
14
mg
Sodium:
204
mg
Potassium:
281
mg
Fiber:
3
g
Sugar:
15
g
Vitamin A:
135
IU
Vitamin C:
0.3
mg
Calcium:
139
mg
Iron:
1
mg