Are you ready to take your cupcakes to the next level? Look no further than this blueberry buttercream frosting recipe. Bursting with vibrant blueberry flavor and a luscious creamy texture, this blueberry frosting will make your cupcakes truly unforgettable. Whether you're baking for a special occasion or simply craving a sweet treat, let's dive into the world of blueberry bliss with this irresistible blueberry buttercream frosting.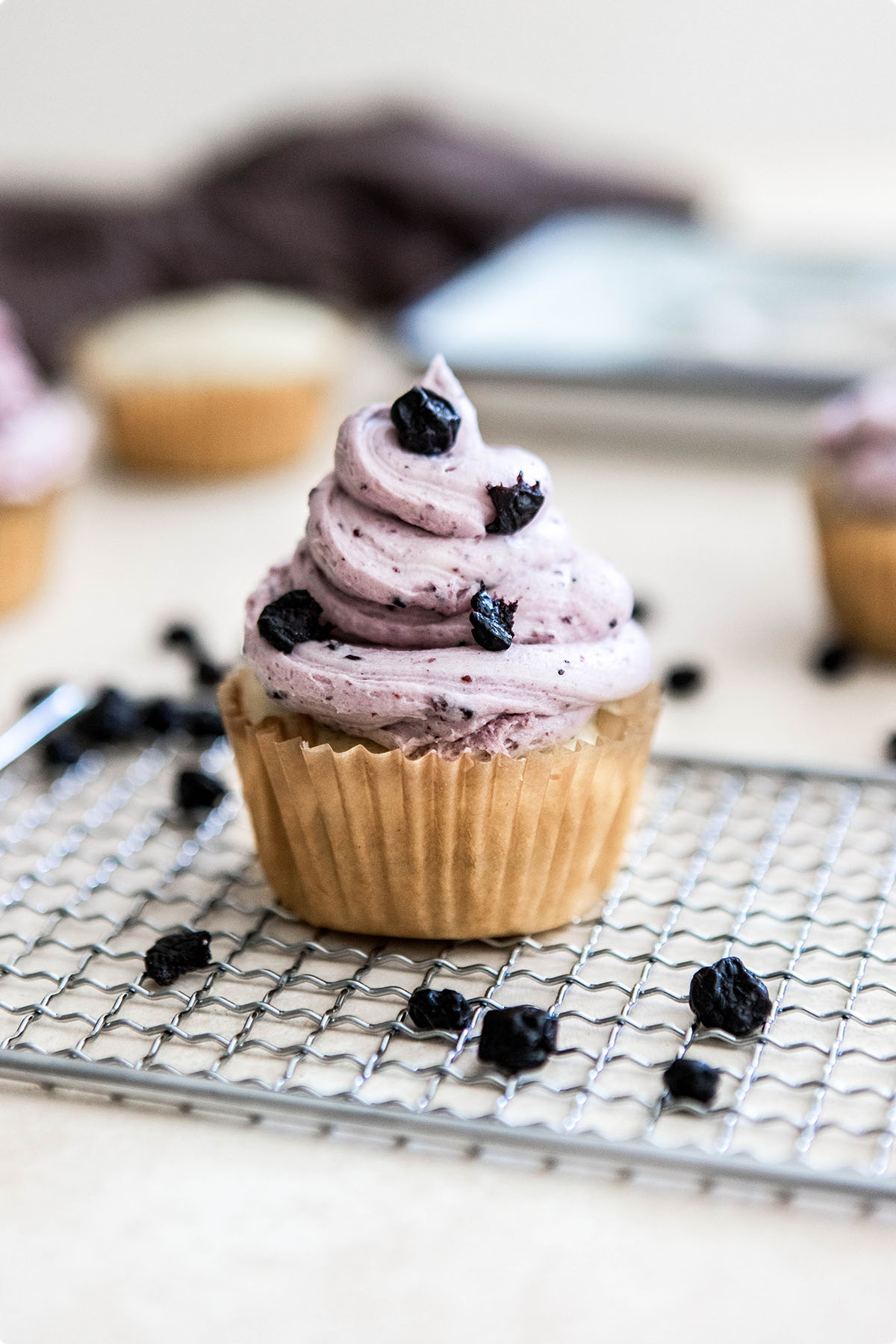 Some minor housekeeping, frosting and buttercream will be used interchangeably in this post. There is not really a difference. Icing and buttercream are both used to frost a cake, therefore a frosting. There are different types of buttercream, however, that is for a different time. In this post, we will be focusing on blueberry frosting aka blueberry buttercream.
Q&A
Q: Do I need to use blue food coloring in order to get color in my blueberry buttercream?
A: No! The color comes from the blueberries. It is all natural in this blueberry buttercream (and it is so pretty).
Q: What flavors pair well with blueberry?
Lemon and blueberry are a pretty classic combination. You can also pair this icing with a vanilla cupcake (or cake), blueberry cupcake. I love it with lemon cake, or a cupcake that has lemon curd inside. If you combine that with the sweet blueberries in this creamy frosting, you will be wondering why you weren't doing this sooner.
Q: Can I use fresh blueberries in this recipe? Or should I use dried or freeze dried blueberries?
A: You can use fresh blueberries if you want to. However, freeze dried blueberries and dried blueberries have a great flavor and will add less moisture to your blueberry buttercream. However, if all you have at home is fresh blueberries, just make sure they are broken down enough, because when you go to pipe you do not want your icing to come out all over the place like this ⤵️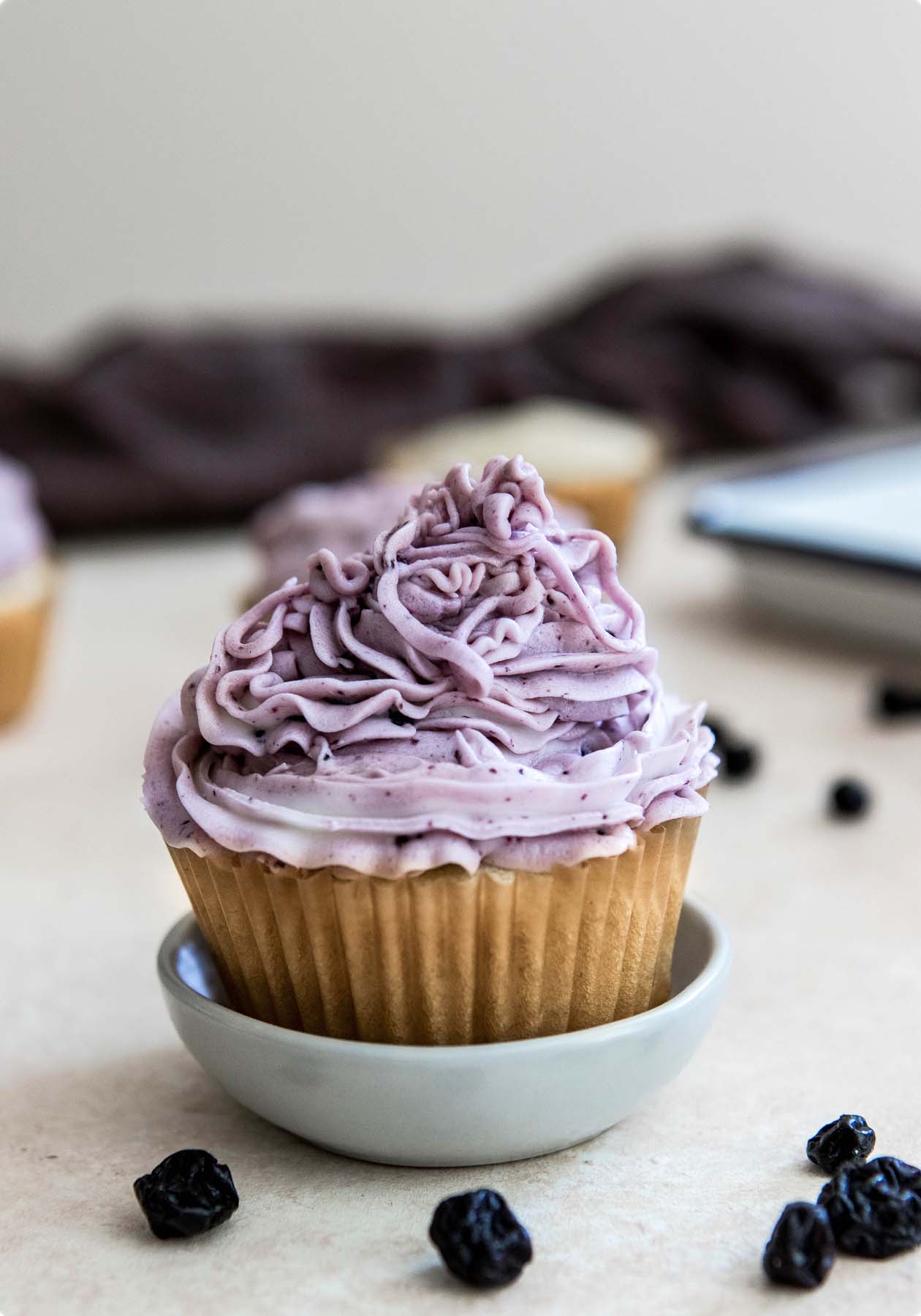 Tips for making blueberry frosting
What happens if you use salted butter for your buttercream? it will simply add a bit of saltiness to your buttercream. In this recipe, we would like to avoid that so stick to using unsalted butter at room temperature.

How to get buttercream blue: in this recipe, there is no food coloring required. The color of the blueberries will naturally change the color of the frosting

What is the best way to thicken runny buttercream icing? By adding more powdered sugar, it will thicken the icing right back up!

What is the best way to loosen up icing that is too thick? Adding 1 tablespoon of milk at a time
Dried Blueberries vs Freeze Dried Blueberries
Freeze dried blueberries are a form of blueberries that have undergone a specific preservation process called freeze drying. Freeze drying involves freezing the blueberries and then placing them in a vacuum environment, where the frozen water in the berries is directly converted into vapor without passing through the liquid phase. This process helps retain the natural flavors, colors, and nutrients of the blueberries while removing the moisture content.

The freeze-drying process results in blueberries that are lightweight, crunchy, and have a longer shelf life compared to fresh or even frozen blueberries. The texture of freeze dried blueberries is crisp and brittle, and they easily crumble or dissolve in the mouth. When rehydrated, freeze-dried blueberries regain much of their original flavor, aroma, and shape, making them a versatile ingredient for various culinary applications.
Dried blueberries are another form of preserved blueberries. Unlike freeze-dried blueberries, which undergo a freeze-drying process, dried blueberries are made by dehydrating fresh blueberries to remove their moisture content. This dehydration process helps prolong the shelf life of blueberries while retaining some of their flavor and nutritional properties.
To make dried blueberries, fresh blueberries are typically washed and sorted before being placed in a dehydrator or an oven set at a low temperature. The low heat gently removes the moisture from the berries over a period of several hours. This process allows the blueberries to retain their shape, albeit in a shriveled form, and intensifies their sweetness.
Does it matter if I use dried, fresh, or freeze dried blueberries for this recipe?
Nope! It just depends on the level of work you want to put into it. The quickest recipe to make will use freeze dried blueberries in the blueberry buttercream. For dried blueberries, you will need to add water and pulverize them. This will produce a bit of a jam. For fresh blueberries, see what I mentioned above.
Ingredients Needed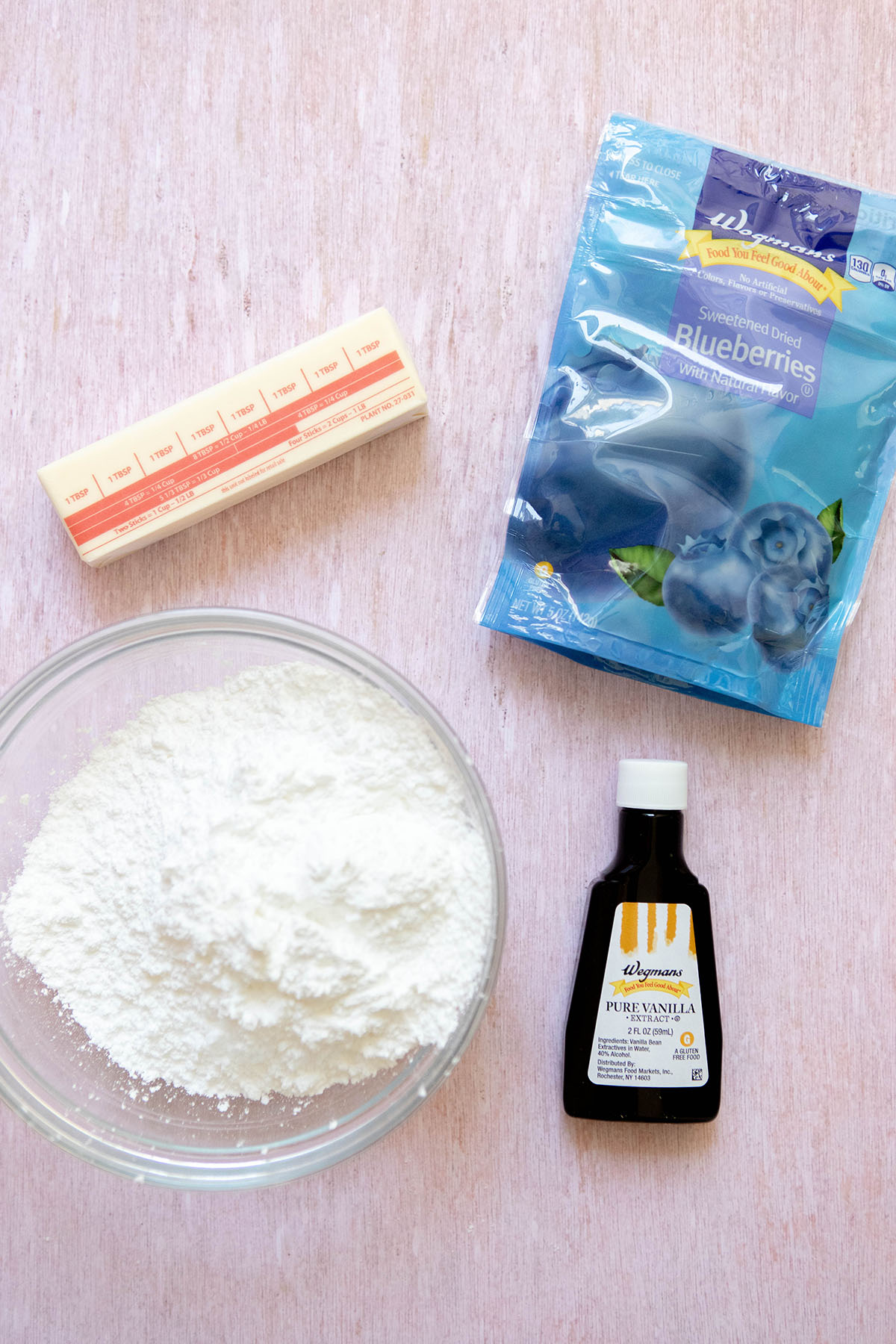 Powdered Sugar: powdered sugar helps thicken your frosting. It is also known as icing sugar
Butter: Every buttercream needs butter, hence the name. If you like a more buttery buttercream, see my Russian Buttercream Recipe.
Vanilla: Vanilla extract adds a delicious splash of flavor. It won't taste like a vanilla buttercream, but, just help boost the blueberry flavor.
Dried Blueberries: Hence the blueberry part of our blueberry buttercream! If you do not have dried blueberries but have freeze dried blueberries, you can use those instead.
Milk: You will only use milk (or cream) if your icing is too thick and you want to loosen your icing a bit. You can also use heavy cream.
How to make Blueberry Buttercream?
Beat the butter: You can use either a handheld electric mixer or a stand mixer. I use a stand, so, I place the softened unsalted butter into the bowl of an electric mixer. Place your softened unsalted butter in the bowl of a stand mixer (or a regular bowl if you are using a hand mixer). Attach the paddle attachment not a whisk attachment) and beat on medium for 3-5 minutes. I like the butter to get fluffy before I add anything else.
Thicken the icing: This is where you will add the powdered sugar (also known as icing sugar). Make sure that you start this on low speed to ensure that the powdered sugar does not fly out of the large bowl. Once it is starting to incorporate, up it to medium speed. Mix until it becomes smooth and the icing is starting to form.
Add the blueberries: In my recipe I use dried blueberries, these will have been needed to be pulsed in a food processor. If you do not wish to use dried blueberries, you can use freeze dried blueberries, or blueberry jam. Add it to the bowl now. Once it mixes for a minute or so, add the vanilla extract. If you want a lemon flavor to your blueberry buttercream, you could add it now by adding a lemon zest, lemon extract, or lemon juice.
Pipe your blueberry buttercream frosting: Place the blueberry buttercream into a piping bag. Pipe onto cake, cupcakes, into cookies, your choice! Make sure that the piping nozzle does not get blocked with blueberry. If it does, a knife or a toothpick will be handy to dislodge it.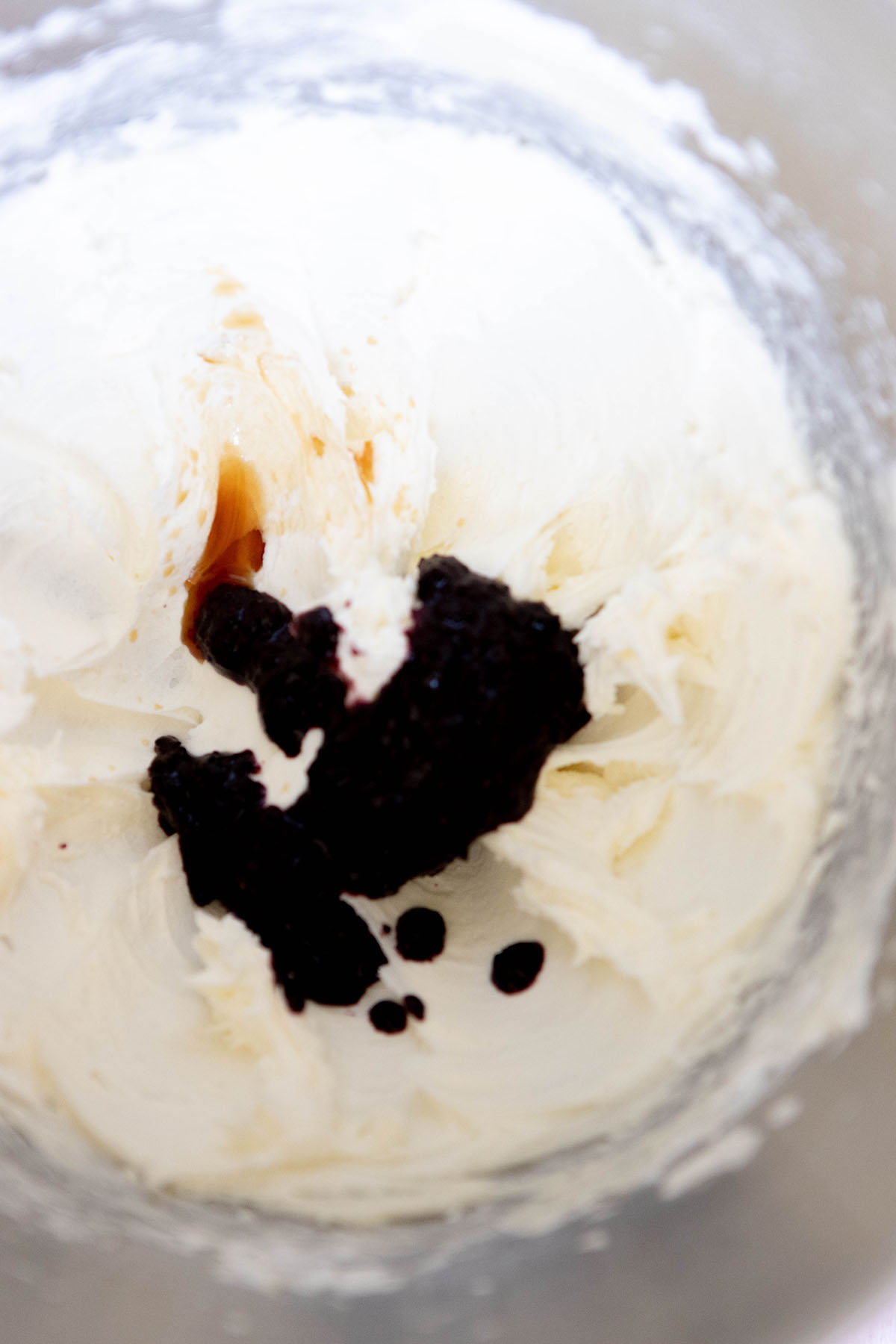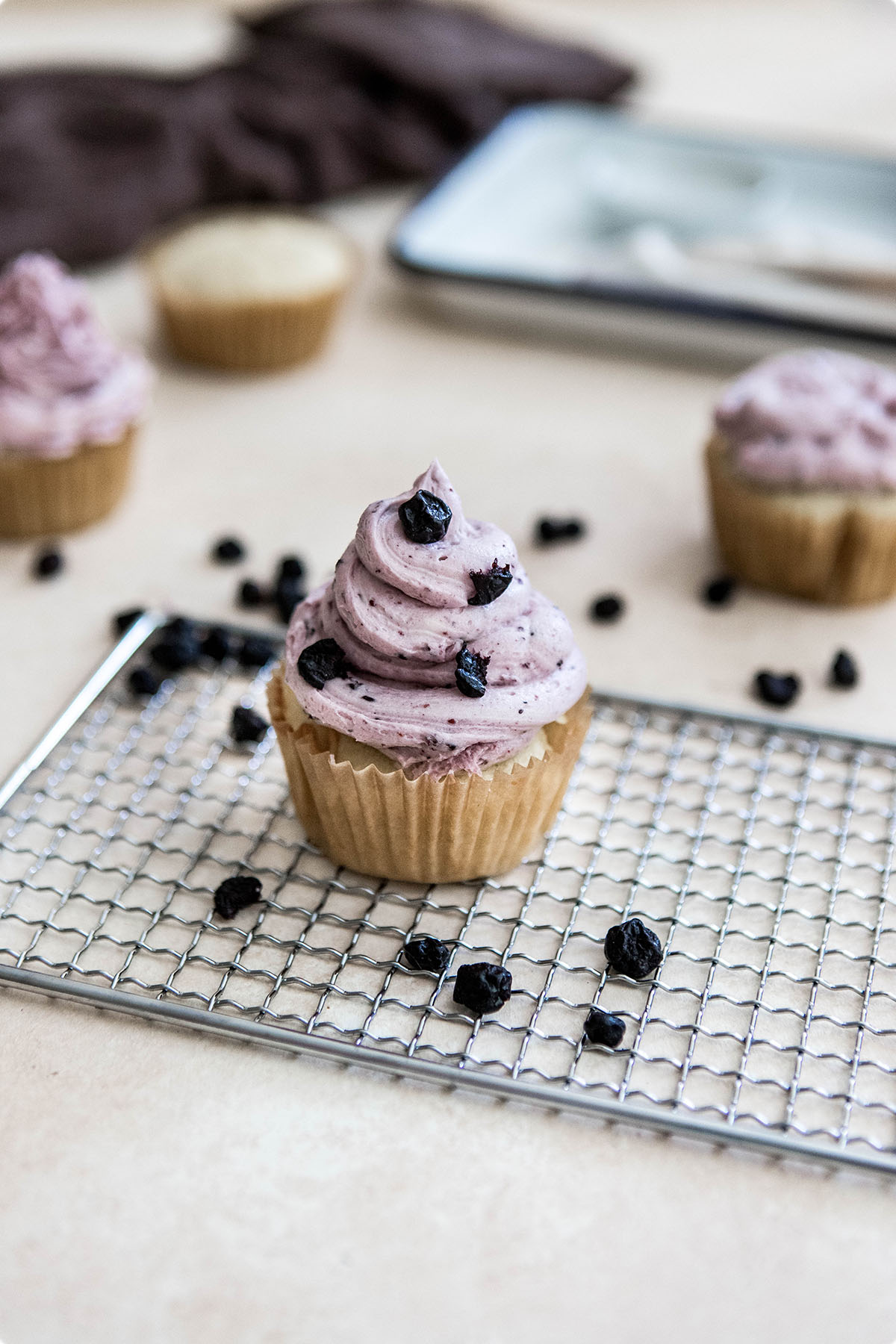 Why should you make this fluffy and easy blueberry buttercream?
This blueberry frosting is so quick and easy to make! As you can see, it is only 4 (or 5 depending on your choice) ingredients. It can be used for so many vehicles, cakes, cupcakes, donuts (I have a blueberry glazed donuts that should you wish to do icing instead, you definitely could), and cookies. The icing itself is all natural and does not involve any processed colors or dyes. It adds such a pop of beautiful color on any dessert table.
How much icing does this recipe make?
It will make enough to ice 12 cupcakes!
Can I store or freeze this blueberry buttercream?
how to store this easy blueberry buttercream frosting:
Transfer the frosting: If you have leftover blueberry buttercream frosting, transfer it to an airtight container. Ensure that the container is clean and dry.
Cover the surface: To prevent the frosting from forming a crust or drying out, place a layer of plastic wrap directly on the surface of the frosting. This helps create a seal and maintain its freshness.
Seal the container: Close the airtight container securely to prevent air from entering. This will help preserve the flavor and texture of the frosting.
Refrigerate: Place the container of blueberry buttercream frosting in the refrigerator. The cool temperature will help prolong its shelf life and maintain its quality.
Proper storage duration: Blueberry buttercream frosting can typically be stored in the refrigerator for up to 3-4 days. However, always check for any signs of spoilage or off flavors before using it.
Before using: When you're ready to use the frosting again, remove it from the refrigerator and let it come to room temperature. Allow it to soften slightly before rewhipping or spreading it on your desired baked goods.
Remember that the storage duration may vary depending on the specific recipe and ingredients used. It's essential to trust your senses and discard the frosting if you notice any unusual odor, discoloration, or signs of spoilage. Always prioritize food safety and enjoy the blueberry buttercream frosting within a reasonable timeframe.
Recipe Variations
If you want instead of using the types of blueberries I listed above, you can use frozen wild blueberries (but thaw them first and then pulse them in a good processor). You could also use a blueberry puree, or a blueberry sauce. Fresh berries are an option as well but again, you would need to pulse them. If you would like to make blueberry lemon frosting, you can use fresh lemon juice as well.
I love to pair this icing with vanilla cake, vanilla cupcakes, or anything with lemon!
Did you love the recipe? If you did, let me know! And let others know too by leaving a comment and star rating. Reviews are incredibly useful in helping other people find my site and make my recipes. Thank you so much!
Laura
Other Recipes
Fast and Easy Blueberry Buttercream
This recipe for blueberry buttercream comes together in a pinch, is only 4 ingredients, and is the perfect blueberry frosting!
Equipment
1 Food Processor

1 Stand Mixer
Ingredients
1

Cup

Unsalted Butter

Softened

3

Cup

Powdered Sugar

1

teaspoon

Vanilla

¼

Dried Blueberries
Instructions
Place the butter into the bowl of the stand mixer and beat for 3-5 minutes until light and fluffy.

Add the powdered sugar and beat for a few more minutes. Once it is smooth and coming together add the vanilla and blueberries. Beat for 3-5 more minutes

Place the blueberry buttercream into a piping bag and pipe away!
Nutrition
Calories:
3040
kcal
Carbohydrates:
360
g
Protein:
2
g
Fat:
184
g
Saturated Fat:
117
g
Polyunsaturated Fat:
7
g
Monounsaturated Fat:
48
g
Trans Fat:
7
g
Cholesterol:
488
mg
Sodium:
33
mg
Potassium:
69
mg
Fiber:
0.03
g
Sugar:
353
g
Vitamin A:
5673
IU
Calcium:
59
mg
Iron:
0.3
mg