Discover the epitome of indulgence with this Easy Russian Buttercream Recipe. With its whipped butter base, this is a simple recipe to make while delivering the most satisfying and flawless results. Get ready to experience a fluffy texture and achieve the perfect frosting like never before.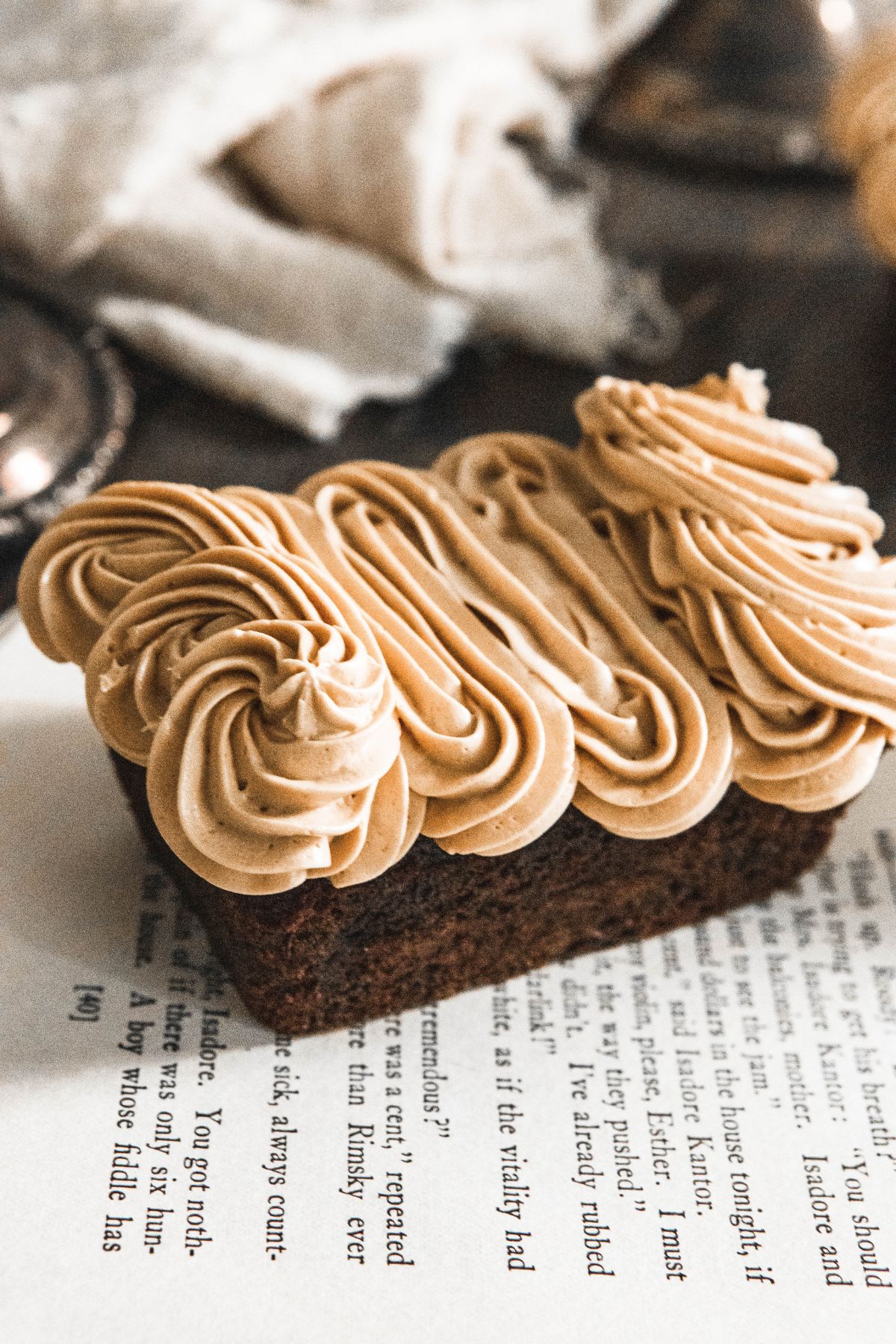 There's nothing quite like discovering a new frosting recipe and exploring various delightful variations. And if you're a fan of simplicity, I've got great news for you! This Russian buttercream recipe is not only incredibly quick and easy to make, but it also guarantees exceptional results every single time. Prepare to indulge in the best frosting imaginable.
The beauty of Russian buttercream lies in its versatility. You can incorporate it into your favorite desserts with absolute ease. From cakes to cupcakes, cookies to pastries, the possibilities are endless. With numerous Russian buttercream uses and countless ways to customize it, why settle for a traditional buttercream when you can effortlessly create the easiest frosting and most delicious frosting? Give it a try and experience the magic for yourself.
What is the difference between American and Russian Buttercream?
The main difference between American buttercream and Russian buttercream lies in their ingredients and preparation methods. Here are the key distinctions:
American Buttercream: Due to the high amount of powdered sugar, American buttercream is very sweet. It has a thicker consistency and can be quite firm, making it suitable for piping decorations and maintaining shape.
Russian Buttercream: Russian buttercream is also sweet, but the sweetness comes from the sweetened condensed milk. It has a softer and creamier consistency, making it easier to spread and creating a smoother finish on cakes.
Stability and Shelf Life:
American Buttercream: American buttercream is known for its stability at room temperature and can hold its shape well, which is advantageous for decorating cakes. However, it can become crusty on the outside over time.
Russian Buttercream: Russian buttercream is also stable but tends to have a shorter shelf life at room temperature due to the inclusion of sweetened condensed milk. It is recommended to refrigerate cakes frosted with Russian buttercream.
American Buttercream: American buttercream has a straightforward buttery and sweet flavor. It serves as a neutral base that can be easily flavored with various extracts, such as almond, lemon, or coconut, to create different tastes.
Russian Buttercream: Russian buttercream has a distinct sweet and creamy flavor from the sweetened condensed milk. While it can also be flavored with extracts, the condensed milk flavor is more pronounced, giving it a unique taste.
Both American and Russian buttercream have their merits and are widely used in cake decorating. The choice between them depends on personal preference, desired consistency, and the specific cake decoration techniques you plan to employ.
What Ingredients do you need for this Russian Buttercream Recipe?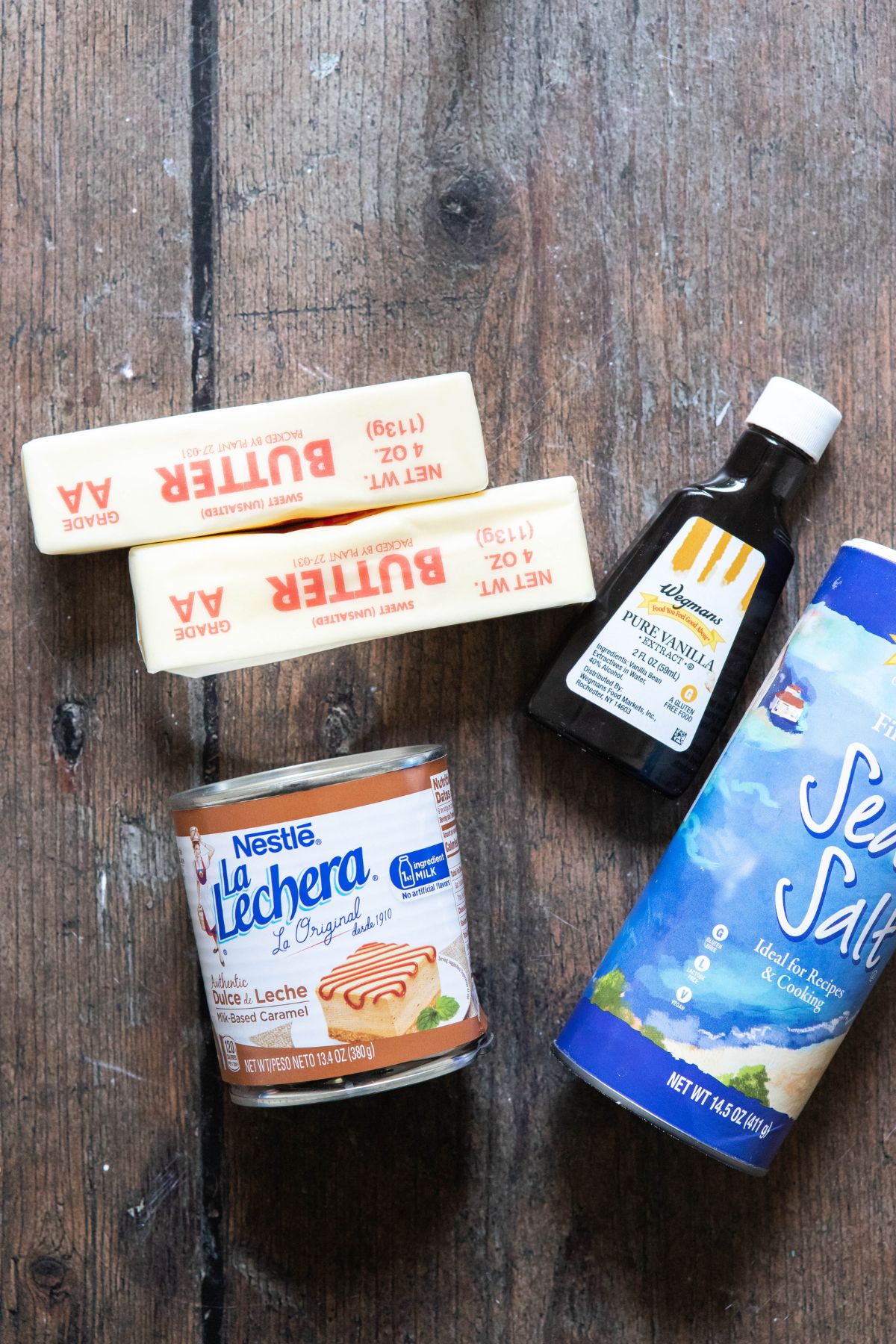 It is minimal ingredients and simple ingredients!
Main Ingredients
Unsalted Butter: You will want to use room temperature butter, it helps give the icing its buttery flavor.
Condensed Milk: You will use a full can (14 oz). This gives a creamy finish and creamy consistency to the Russian buttercream.
Vanilla Extract: For some delicious vanilla flavor
Salt: ​A pinch of salt
Powdered Sugar: The recipe does not call for it, but, it can help you should your Russian buttercream icing split, this is optional
How to make this Russian Buttercream Recipe
This is such an easy recipe with simple steps.
Unsalted Butter: Take the sticks of butter and place it into the bowl of a stand mixer. If you do not have a stand mixer, place it into a large mixing bowl and plan to use a hand mixer. You are going to use a whisk attachment for this recipe, do not use the paddle attachment.
Whip the butter: You need to whip the butter for 5-10 minutes. No need to start on a low speed, start on medium-high speed and move up to high speed.
Add the vanilla: Lower the speed on the mixer and add the vanilla, and the salt. You can then increase the speed.
Slowly add the Condensed Milk: Add ⅓ of the can at a time. You want to only add a little bit at a time rather than large amounts, you do not want it to pool at the bottom. To avoid this, use a rubber spatula to scrape down the sides to make sure everything is being incorporated. Add the final third of the condensed milk to the buttercream and whisk on a medium speed. IT will become a silky smooth texture, and voila, you have your Russian buttercream frosting.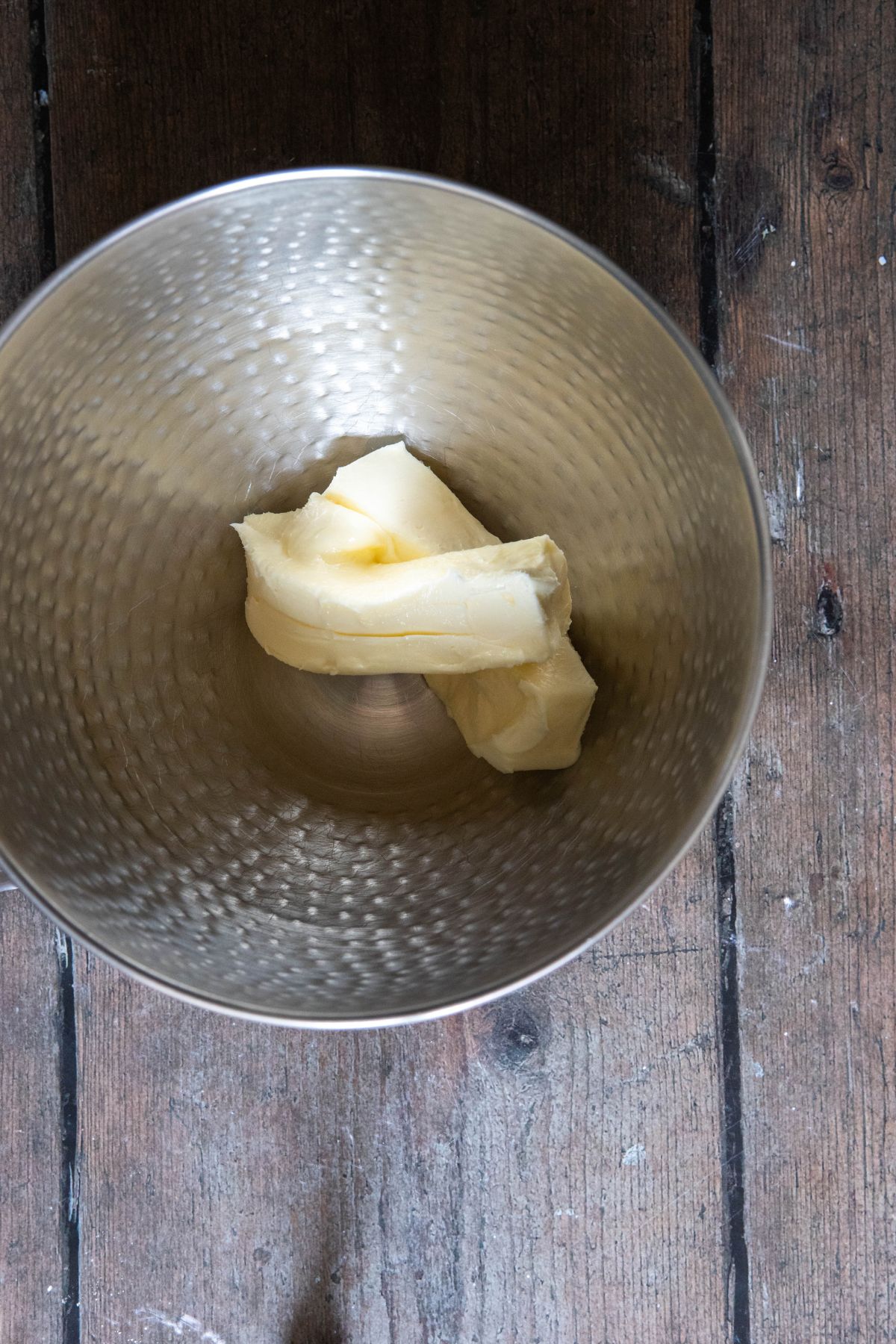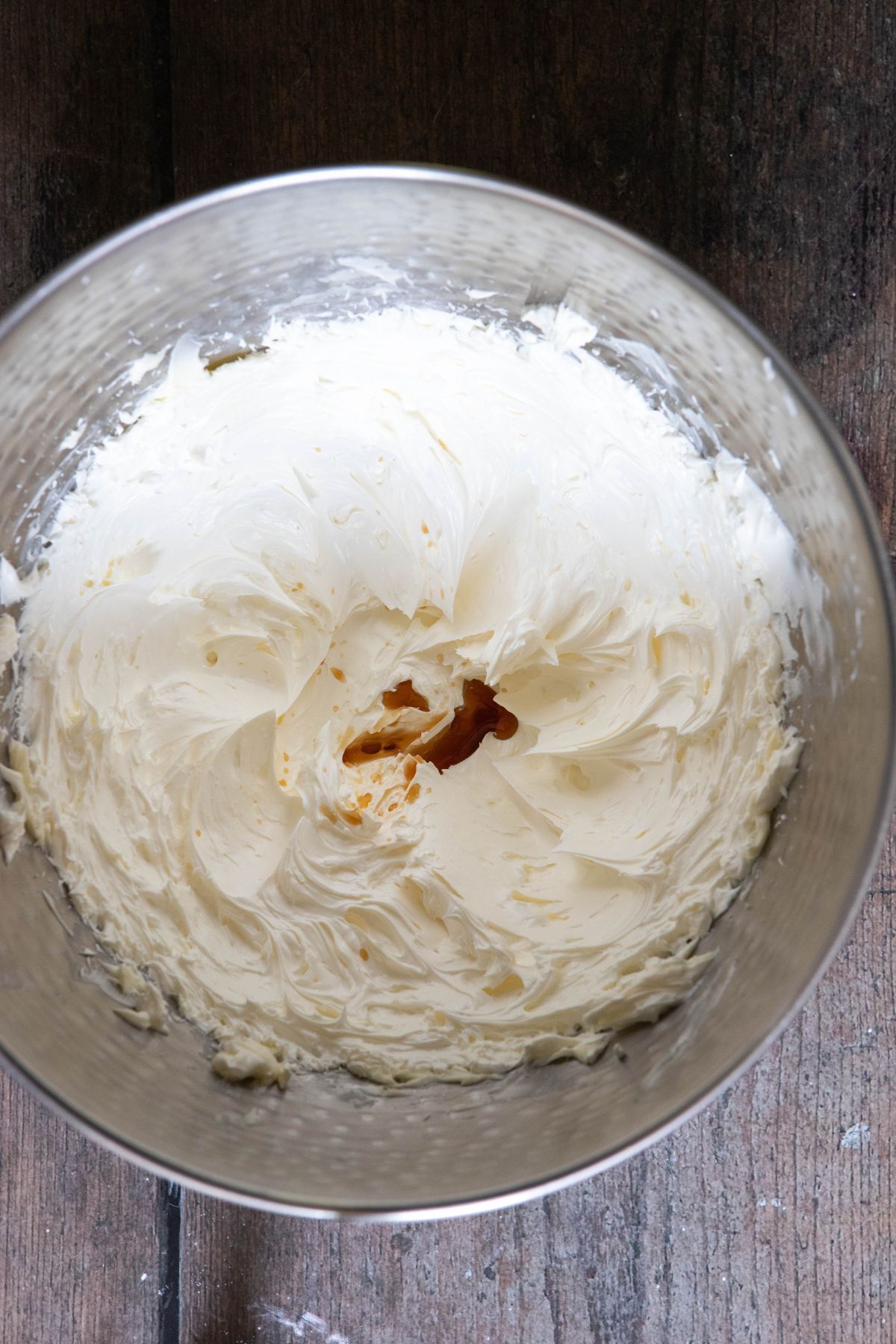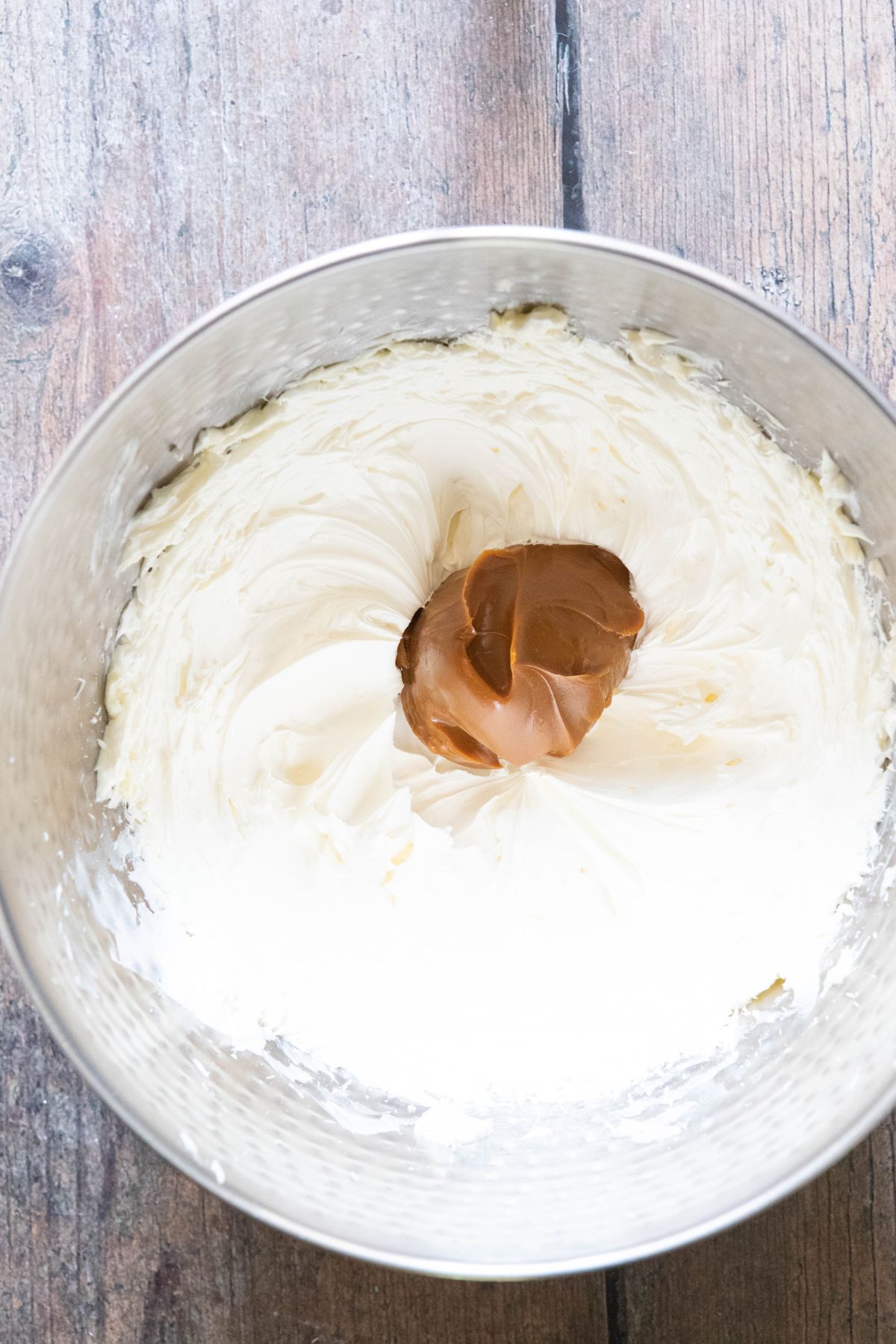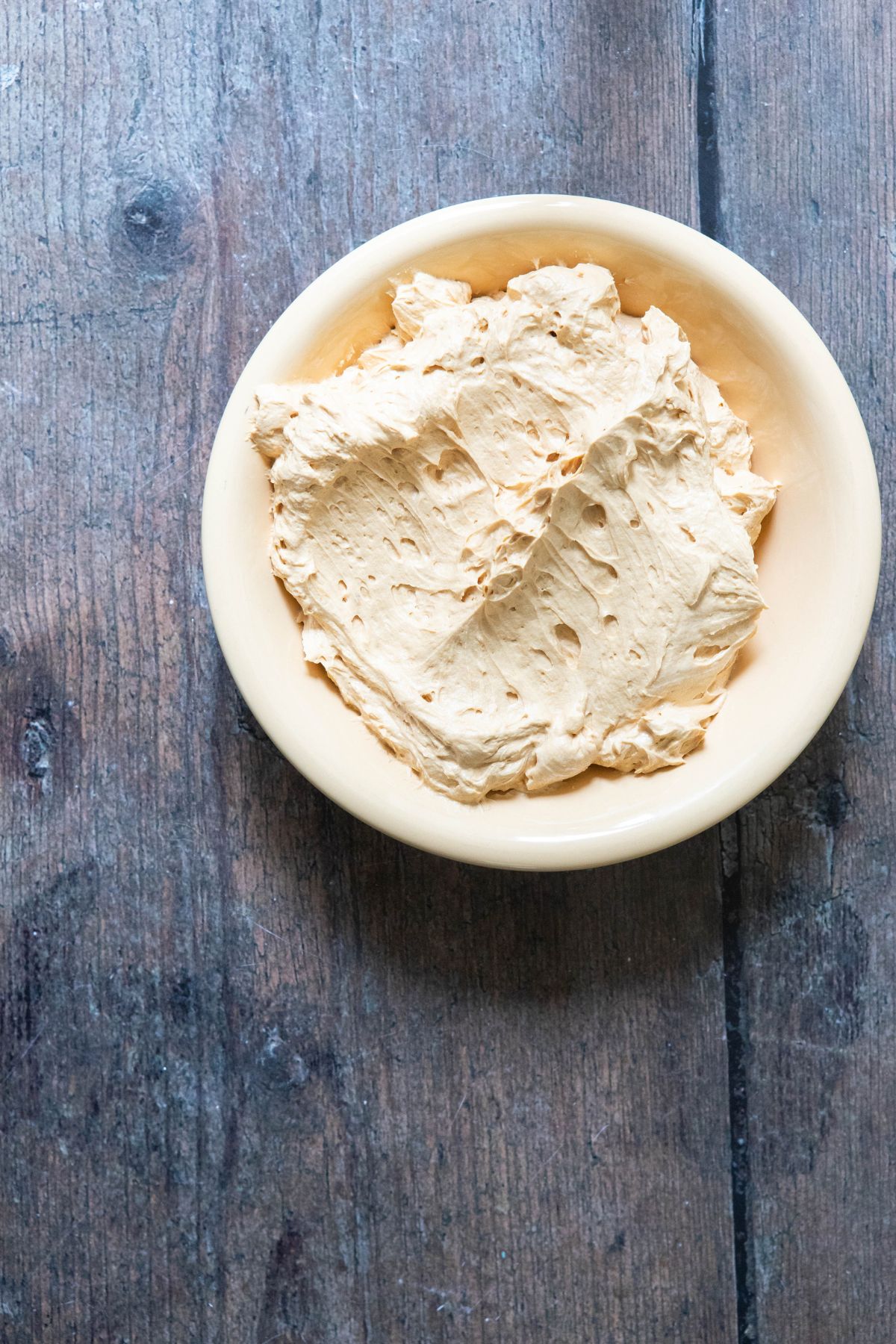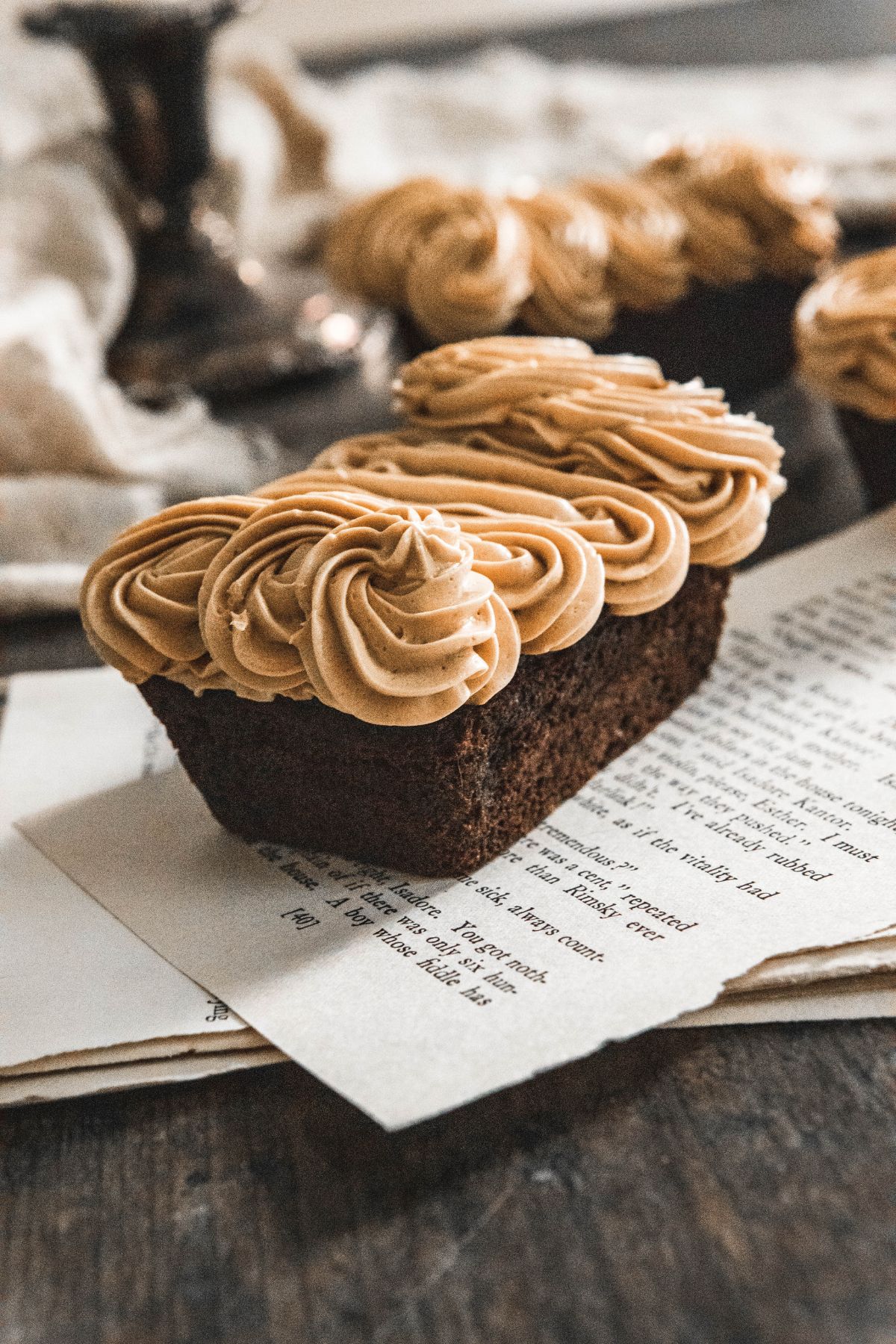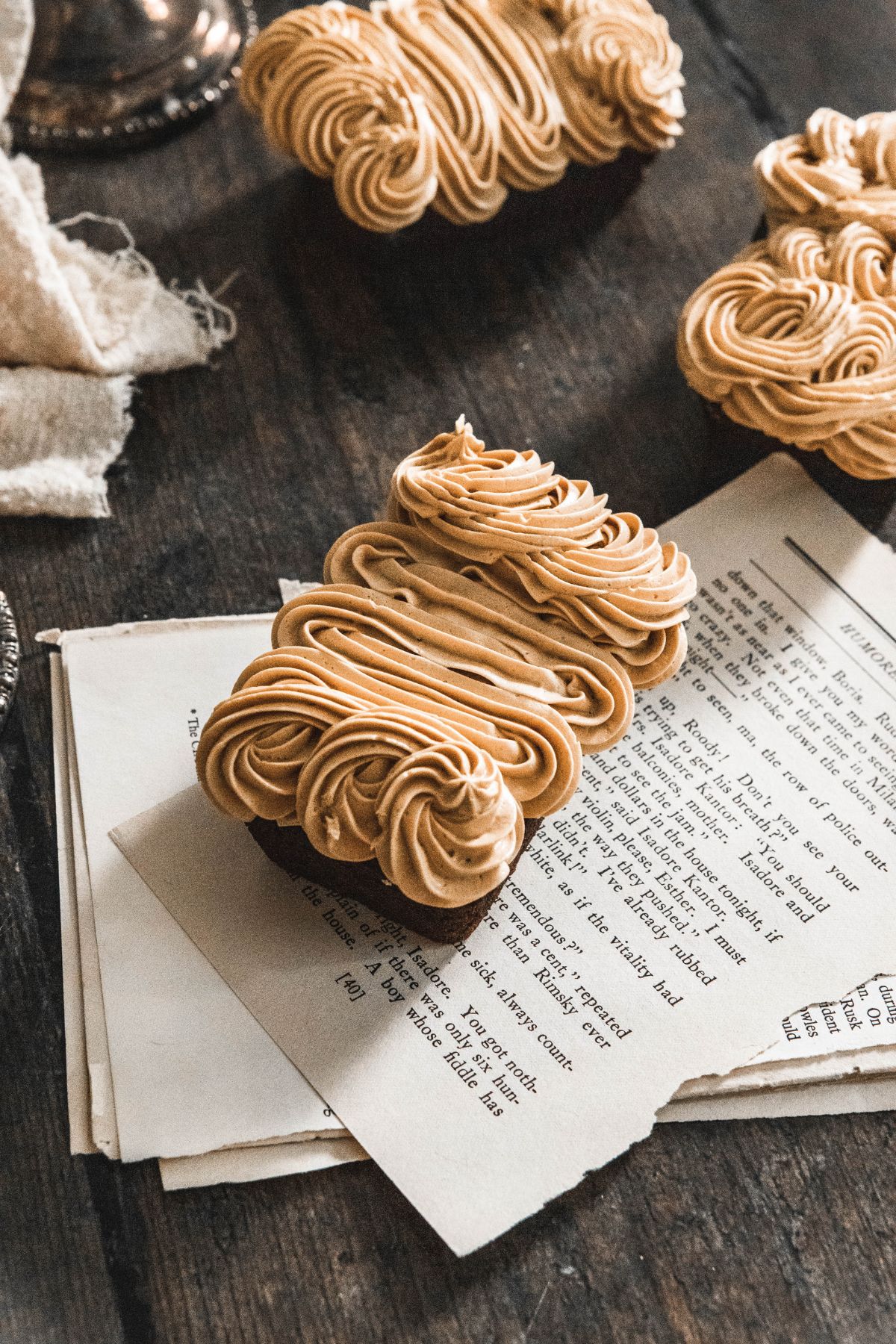 What is Russian Buttercream used for?
Russian buttercream can be used on a variety of baked goods and desserts to add a creamy and flavorful finishing touch. Here are some popular options:
Cakes: Russian buttercream is commonly used to frost and decorate cakes. Whether you're making a classic layer cake, a birthday cake, or a special occasion cake, mini chocolate cake, Russian buttercream can be spread over the cake layers or used for piping decorative patterns and designs.
Cupcakes: Top your chocolate cupcakes with a dollop of Russian buttercream for a delightful and indulgent treat. It can be piped using different nozzles to create various designs or simply spread over the cupcakes for a smooth and creamy finish.
Pastries: Russian buttercream can be used to fill or decorate pastries such as éclairs, cream puffs, or danishes. It adds a creamy and rich element to these delicate treats, enhancing their flavor and texture.
Macarons: Russian buttercream can be sandwiched between two macaron shells to create a luscious filling. Its smooth consistency pairs well with the delicate and chewy texture of macarons, creating a delightful combination.
Cookies: Use Russian buttercream to sandwich cookies together, such as whoopie pies or Linzer cookies. The buttercream adds a creamy layer that complements the sweetness of the cookies.
Dessert Bars: Spread Russian buttercream on top of dessert bars like brownies or blondies for an added layer of indulgence. It can also be swirled or piped on cheesecake bars or cookie bars for an attractive presentation.
Sweet Rolls and Buns: Russian buttercream can be used as a filling or drizzled over sweet rolls, cinnamon buns, or babka to elevate their taste and appearance.
Cake Pops: Dip cake pops into melted Russian buttercream for a smooth and creamy coating. Decorate them further with sprinkles or drizzles for a fun and delicious treat.
Remember, Russian buttercream can be customized with different flavors and colors, allowing you to create a wide range of dessert variations. Its smooth and creamy texture makes it a versatile frosting that can be adapted to suit your creative ideas and personal preferences.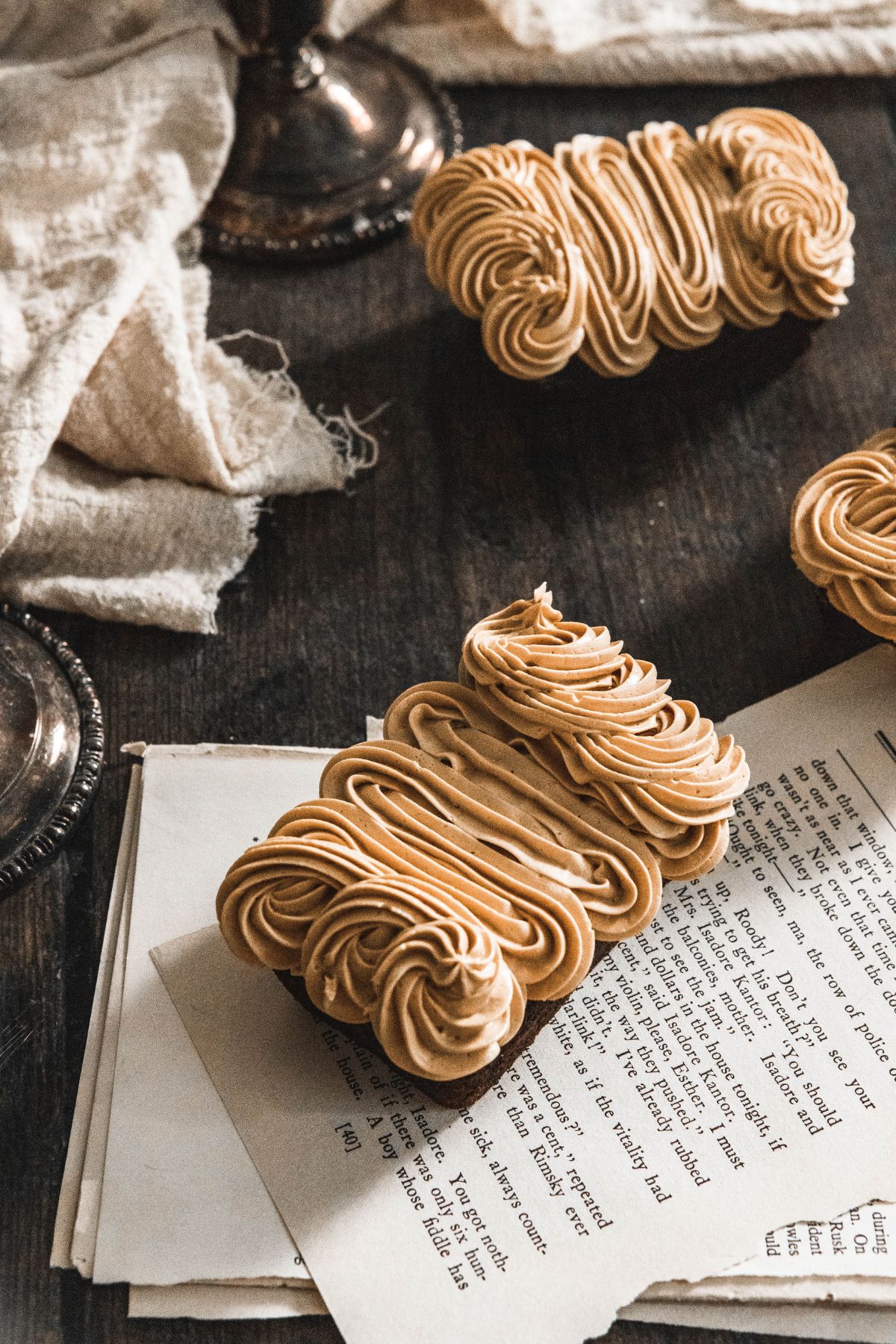 What are other types of Buttercream to Russian Buttercream?
In addition to Russian buttercream, there are several other types of buttercream that are commonly used in baking and cake decorating. Here are a few notable examples:
American Buttercream: American buttercream is one of the most basic and widely used types of buttercream. It is made by creaming together softened butter and powdered sugar, along with flavorings such as vanilla extract. This buttercream is quick to make and has a sweet and creamy flavor. It's commonly used for frosting cakes and cupcakes.
Swiss Buttercream: Swiss meringue buttercream is a light and silky buttercream made by heating egg whites and sugar over a double boiler until the sugar dissolves, and then whipping the mixture to form stiff peaks. Softened butter is gradually incorporated into the meringue, resulting in a smooth and airy frosting. Swiss meringue buttercream has a less sweet taste compared to American buttercream and is known for its stability and versatility in cake decorating.
Italian Meringue Buttercream: Italian meringue buttercream is similar to Swiss meringue buttercream but uses a different method to create the meringue base. It involves whipping a hot sugar syrup into egg whites to create a stable meringue, which is then combined with softened butter. Italian meringue buttercream has a lighter texture and a silky smooth consistency. It's often used for filling and frosting cakes, and it pairs well with fruit flavors.
French Buttercream: French buttercream is made by whisking egg yolks and sugar until pale and fluffy, then adding softened butter and flavorings. This buttercream has a rich and velvety texture and a luxurious taste due to the egg yolks. It's often flavored with vanilla or other extracts and is a popular choice for filling pastries and layer cakes.
German Buttercream: German buttercream, also known as custard buttercream or pastry cream buttercream, combines pastry cream with softened butter. Pastry cream is a thick, egg-based custard made with milk, sugar, eggs, and cornstarch. Once the pastry cream has cooled, it is blended with softened butter to create a creamy and flavorful buttercream. German buttercream is commonly used for filling pastries, cream puffs, and cakes.
Can you freeze Russian Buttercream? How to store:
To store Russian buttercream, follow these guidelines to maintain its freshness and quality:
Refrigeration: Russian buttercream should be stored in the refrigerator to keep it cool and prevent it from spoiling. Transfer the buttercream to an airtight container or cover it tightly with plastic wrap or a sealable bag.
Proper Sealing: Ensure that the container or covering is airtight to prevent any odors or flavors from other foods in the refrigerator from being absorbed by the buttercream. This will also prevent the buttercream from drying out or developing a crust.
Duration: Russian buttercream can typically be stored in the refrigerator for up to 1 week without any significant loss of quality. However, it's best to consume it within a few days for the best taste and texture.
Softening: When you are ready to use the refrigerated Russian buttercream, allow it to come to room temperature before using or spreading it on your baked goods. This will make it easier to work with and restore its creamy consistency.
Freezing: If you have leftover Russian buttercream or want to prepare it in advance, you can freeze it for longer-term storage. Place the buttercream in an airtight container or wrap it tightly in plastic wrap, then place it in the freezer. It can be stored in the freezer for up to 2 to 3 months.
Thawing: When you're ready to use the frozen buttercream, transfer it to the refrigerator and let it thaw overnight. Once thawed, allow it to come to room temperature and give it a good stir or re-whip it briefly to restore its smooth texture before using.
It's important to note that buttercream can soften and melt at warmer temperatures, so avoid leaving it at room temperature for extended periods, especially in hot weather.
By following these storage guidelines, you can preserve the freshness and quality of your Russian buttercream, allowing you to enjoy it for a longer period of time and use it whenever needed.
Recipe Variations:
Vanilla Bean Paste: ​You can use this instead of extract. It will add beautiful flecks of vanilla into the smooth frosting.
Almond Extract: ​If you would prefer an almond flavor rather than vanilla, you can definitely use almond extract.
Dulce de leche: If you would like to swap this for the condensed milk, then go ahead!
Cocoa Powder: ​If you would like to have a chocolate Russian Buttercream recipe then add ¼ cup – ½ cup of cocoa powder.
For Best Results + Recipe Tips for Russian Buttercream Recipe
I love to decorate with a colored frosting and the best way to add color to frosting is with gel food colorings. My favorite brand for this is Americolor.
To pipe your frosting, place the buttercream into a piping bag and along with the nozzle of your choice and pipe. If you have leftover buttercream, take the rest of the buttercream and store it (see the section on freezing it). If you are having a hard time with the piping, make sure that the nozzle is not blocked.

In order to achieve the right consistency for your Russian buttercream frosting, you will want to be sure that you do not use cold butter. That rich flavor comes from the condensed milk so be sure if there is any left in the can to use the rest of the condensed milk, do not leave a drop in there!
Did you love the recipe? If you did, let me know! And let others know too by leaving a comment and star rating. Reviews are incredibly useful in helping other people find my site and make my recipes. Thank you so much!
Laura
Looking for Similar Recipes?
How to Make the Easiest Russian Buttercream Recipe
Ingredients
1

Cup

Butter

softened and unsalted

1

14 oz can

Dulce de Leche

This is condensed milk

1

teaspoon

vanilla

pinch

Salt
Instructions
Add softened butter to the bowl of the mixer

beat for 7-10 minutes with a whisk attachment then add the vanilla and salt and whisk for a minute more

Add the condensed milk (dulce de leche) ⅓ at a time and whisk until it is incorporated

either take the icing and place into a piping bag or see the instructions for freezing

If piping, pick a piping bag and nozzle, fill with Russian buttercream, and decorate
Nutrition
Calories:
137
kcal
Carbohydrates:
0.1
g
Protein:
0.2
g
Fat:
15
g
Saturated Fat:
10
g
Polyunsaturated Fat:
1
g
Monounsaturated Fat:
4
g
Trans Fat:
1
g
Cholesterol:
41
mg
Sodium:
122
mg
Potassium:
5
mg
Sugar:
0.1
g
Vitamin A:
473
IU
Calcium:
5
mg
Iron:
0.004
mg