These quick one-bowl espresso brownies are perfect for satisfying your chocolate and coffee cravings in no time. They're chewy, delicious, and boast a classic crinkly top. This recipe combines the richness of melted chocolate and cocoa powder with the bold flavor of espresso, resulting in an intensely chocolatey and coffee-infused delight. Best of all, you'll only need one bowl, making for an easy cleanup. Get ready to indulge in homemade espresso brownies with minimal fuss and maximum satisfaction!

This one-bowl espresso brownies recipe is a game-changer for baking enthusiasts. It simplifies the entire process, requiring minimal cleanup and effort. The combination of melted chocolate, cocoa powder, and espresso creates an intense and heavenly flavor profile. With its fudgy texture and delightful coffee infusion, these brownies are a quick and delectable way to indulge in a rich and satisfying treat.
Do Espresso Brownies have caffeine?
Yes, espresso brownies typically contain caffeine. Espresso, which is a concentrated form of coffee, is one of the key ingredients in espresso brownies. As a result, the brownies will retain some of the caffeine content from the espresso used in the recipe. The exact amount of caffeine in espresso brownies can vary depending on factors such as the type and quantity of espresso used, but it is generally safe to assume that they will have some level of caffeine.
Normally is there caffeine in brownies?
In general, brownies do not naturally contain caffeine as it is not a standard ingredient in traditional brownie recipes. However, if a brownie recipe includes ingredients like coffee or chocolate that naturally contain caffeine, the brownies will have a small amount of caffeine as a result. The actual caffeine content in brownies will depend on the specific recipe and the amount of caffeine-containing ingredients used. Keep in mind that the caffeine levels in brownies are typically lower compared to a cup of coffee or a chocolate bar, but they can still contribute a small amount of caffeine. If you are specifically concerned about caffeine content, it's best to check the recipe and the ingredients used to have a better understanding of the caffeine levels in the brownies you're consuming.
Can you add espresso to brownies?
Yes! There are a few different ways to incorporate espresso powder to your brownies however for this espresso brownies recipe, we just add the espresso powder straight into the batter!
What should brownie batter look like?
Brownie batter should have a smooth and thick consistency. It should be pourable but not too runny. When properly mixed, the batter should hold its shape when you lift the mixing spoon or whisk, and it should easily spread in the baking pan. I tend to spread mine out with a spatula.
Here is what to keep in mind with brownie batter:
Texture: The batter should be smooth and free of lumps. Mix the ingredients until they are well combined and you achieve a homogeneous mixture.
Thickness: The batter should have a thick consistency, similar to a thick chocolate sauce or melted chocolate. It should flow easily off a spoon but not be watery or runny. If the batter seems too thick, you can add a small amount of liquid (such as milk or water) to achieve the desired consistency. However, if you typically follow the recipe, this should not be a problem!
Glossy appearance: A properly mixed brownie batter will have a glossy or shiny appearance due to the melted chocolate or cocoa powder used. This indicates that the ingredients are well incorporated.
It's important not to overmix the batter, as this can lead to dense and tough brownies. Mix until the ingredients are just combined and there are no streaks of dry ingredients remaining. You do not want to have streaks of flour through your beautiful batter.
Remember that different brownie recipes may have slight variations in the consistency of the batter, depending on the specific ingredients and ratios used. It's always a good idea to follow the instructions in your chosen recipe for the best results.
Ingredients for Espresso Brownies
½ Cup Butter, unsalted- ½ cup is 8 tbsp
1 Cup Milk Chocolate Chips, You can also use semi sweet if you wish
3 Eggs
1 Cup Sugar
½ cup Flour, I used King Arthur Gluten Free Measure for Measure Flour
¼ cup Cocoa Powder
2 tablespoon Espresso Powder
½ Cup Chocolate Covered Coffee Beans
1 teaspoon Vanilla
Kosher Salt, Optional
How do you make Espresso Brownies
Combining the Butter and Chocolate: Melt the butter in a microwavable safe bowl. Once the butter is completely melted, add the chocolate chips to the bowl and whisk together. They should all melt to form a beautiful chocolatey mix.

Adding the Sugar, Vanilla, and Eggs: Add the eggs one at a time and whisk until the batter thickens. Once all three eggs have been added, pour the sugar and vanilla into the brownie batter and whisk again.

Mixing in the dry ingredients: Add the flour, cocoa powder, and espresso powder to the brownie batter. Switch out the whisk for a spatula now and fold in the ingredients. Once they are practically all mixed in, add the chocolate covered coffee beans.

Baking: Set the oven to 350°F. Line a baking dish (I used 9×13 but you can use 8×8) with parchment paper (it is easier if you grease the bottom first) pour the batter into the baking dish and smooth the top with a spatula. Place the baking dish into the oven. If you are using a 9×13, bake for 28 minutes. If you are using an 8×8 bake for 30-35 minutes. Check for doneness when removing from the oven with a toothpick. If you want them to cook up a bit more, place back in for 3 minutes at a time. Allow them to cool before you cut into them.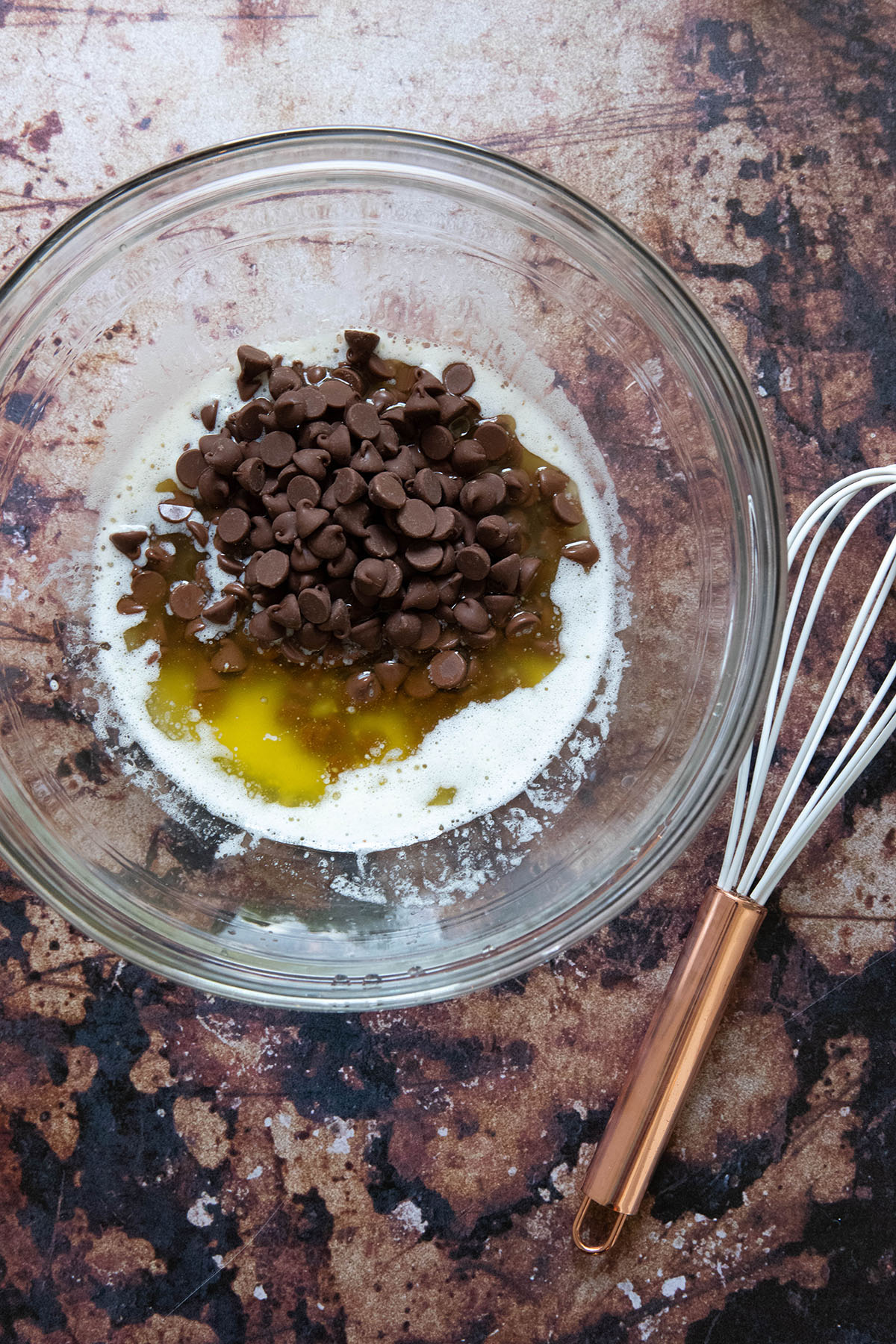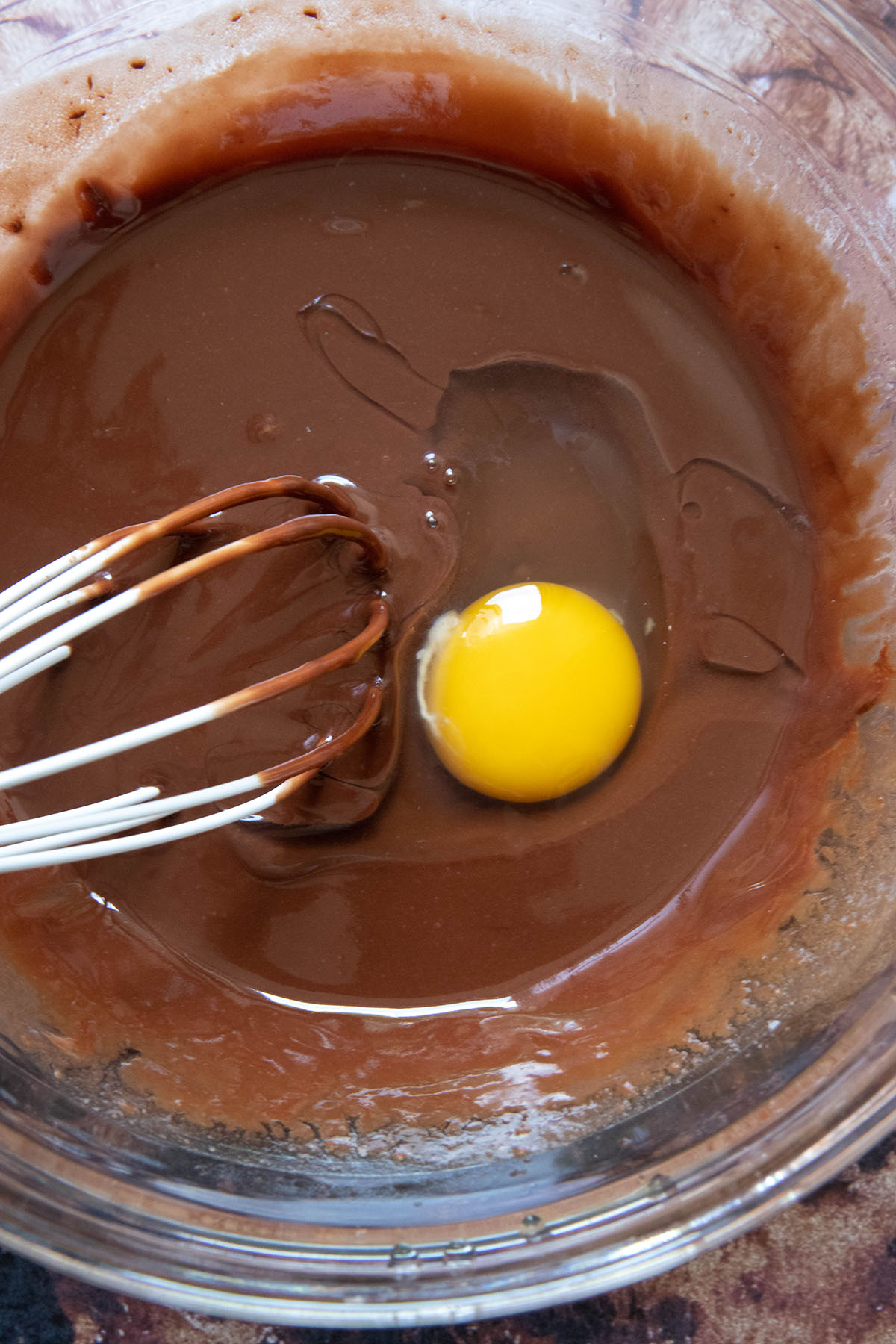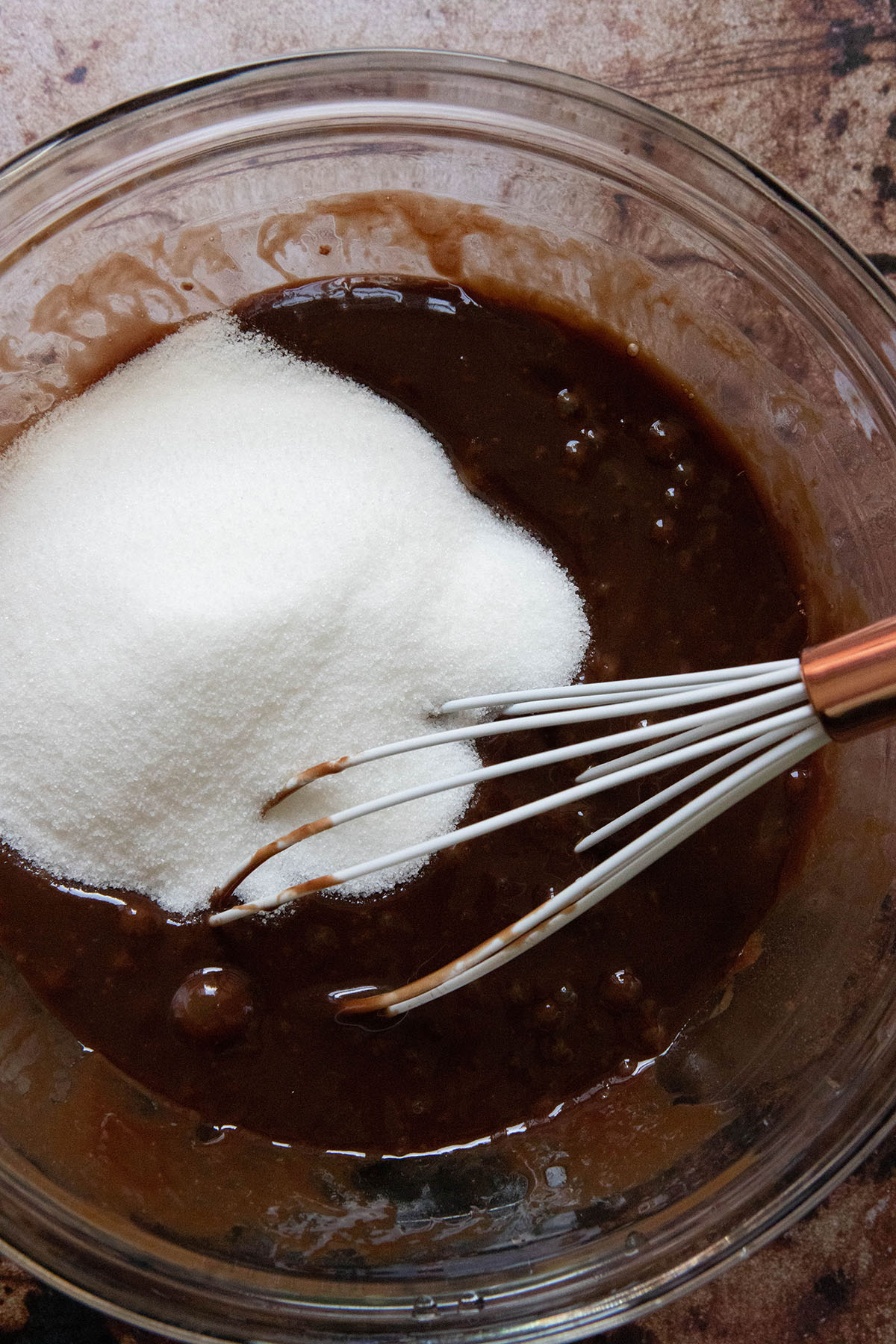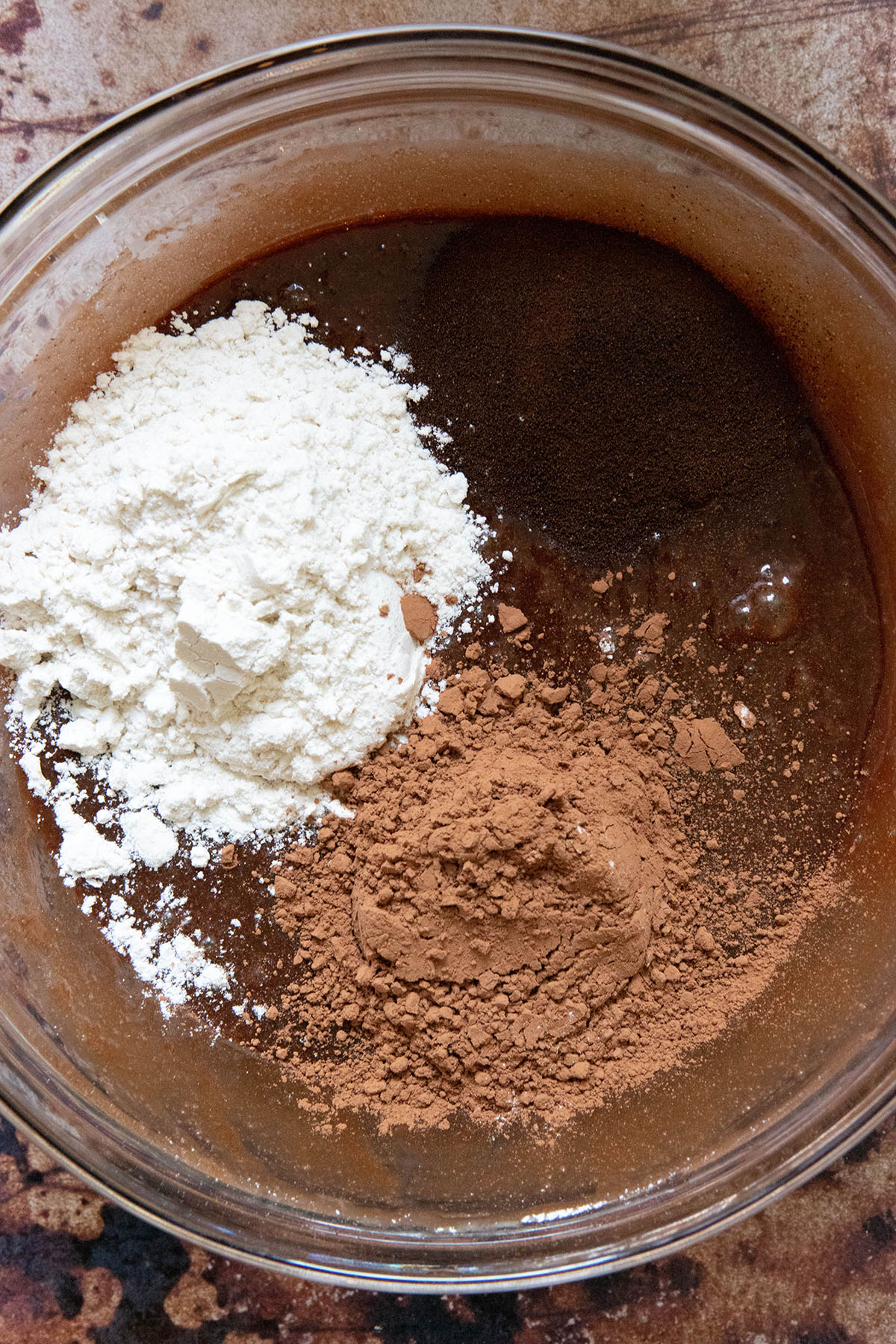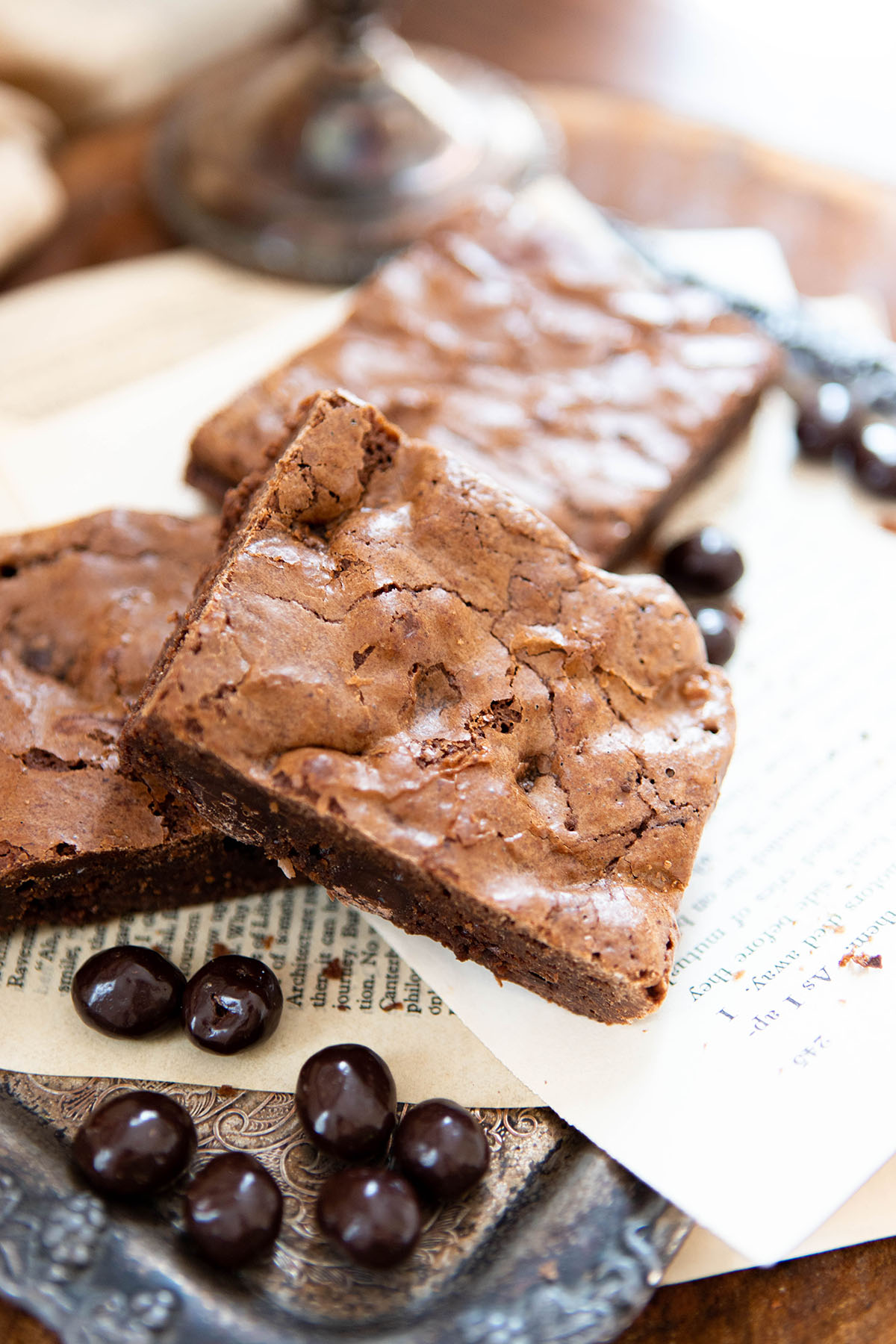 Why You'll love this recipe for Espresso Brownies
Moist and Fudgy
One Bowl Recipe
Ready in under 30 minutes
Made with simple and accessible ingredients
Super simple and easy to make!
Recipe Tips for Success
Use a metal baking pan: Metal baking pans (in my opinion) can control the heat better and this will lead to a better and more even bake
Use a good quality gluten free flour (if making these gluten free- they are fine to be made with regular flour as well): King Arthur Measure for Measure Gluten Free Flour is my gluten free flour of choice when baking bars, brownies, and cookies. They are also great for cakes. This recipe was made using this flour, so remember, if you use a different flour (such as Bobs Redmill 1:1 Gluten Free Flour) you may not get the same result. Each gluten free flour has pros and cons and will produce a different result.

Can I freeze Espresso Brownies? How can I store them?
Allow the brownies to cool completely: Before storing, ensure that the brownies have cooled down to room temperature. This helps to prevent moisture buildup and maintain their texture.
Cut into portions: If your brownies are in a large pan or baking dish, you can cut them into individual portions or squares. This makes it easier to grab a serving when needed without having to cut through the whole batch each time.
Use an airtight container: Place the brownies in an airtight container or a resealable plastic bag. This helps to prevent them from drying out and keeps them fresh for a longer period. Ensure that the container is large enough to accommodate the brownies without squishing them.
Layer with parchment paper or wax paper: To prevent the brownies from sticking together, you can place a layer of parchment paper or wax paper between each layer of brownies in the container. This makes it easier to separate them when you want to enjoy one.
Store at room temperature or in the refrigerator: Brownies can be stored at room temperature for a few days, typically up to 3-4 days. If you live in a warm or humid climate, it might be best to store them in the refrigerator to maintain their freshness and prevent spoilage. Refrigerated brownies can last up to a week.
Freezing option: If you want to store brownies for an extended period, you can freeze them. Wrap each individual brownie tightly in plastic wrap or place them in a freezer-safe container or bag. Frozen brownies can typically be stored for up to 3 months. Thaw them at room temperature or in the refrigerator before consuming.
What is the best type of chocolate for brownies?
Typically, a semisweet chocolate would be best for brownies (you can also use bittersweet chocolate). However for this recipe because you are adding in espresso powder and chocolate covered coffee beans (which tend to be coated in dark chocolate), I opted for milk chocolate. Milk chocolate yields a sweeter brownie. If you would like your espresso brownies to be less sweet, then opt for a semisweet chocolate chip instead.
Did you love the recipe? If you did, let me know! And let others know too by leaving a comment and star rating. Reviews are incredibly useful in helping other people find my site and make my recipes. Thank you so much!
Laura
Looking for Similar Recipes?
Espresso Brownies
Espresso brownies: this quick and easy one-bowl recipe is perfect for coffee lovers, delivering decadent and fudgy brownies in no time.
Equipment
1 Mixing Bowl

1 Whisk

1 Spatula
Ingredients
1

Stick

Butter

unsalted

1

Cup

Chocolate Chips

I used Milk- you can use semisweet as well

1

Cup

Sugar

3

Eggs

½

Cup

Flour

I used King Arthur Gluten Free Measure for Measure Flour

¼

Cup

Cocoa Powder

½

Cup

Chocolate Covered Coffee Beans

2

tablespoon

Espresso Powder

1

teaspoon

Vanilla
Instructions
Melt the butter in a microwavable safe bowl. Add the chocolate chips to the bowl and whisk until they all come together with no lumps.

Whisk in the eggs one at a time. Once fully incorporated, add the sugar and vanilla. Whisk again

Add all the dry ingredients (except the coffee beans) and use a spatula to fold them in. Once the batter is almost fully together, add the chocolate covered coffee beans and fold into the espresso brownie batter

Set oven to 350°F and line your baking dish with parchment paper. Fill the baking dish with the brownie batter. If using a 8×8 bake for 30-35 minutes, if using a 9×13 bake for 28 minutes. Alow to cool before cutting into them
Nutrition
Calories:
2642
kcal
Carbohydrates:
435
g
Protein:
35
g
Fat:
94
g
Saturated Fat:
51
g
Polyunsaturated Fat:
3
g
Monounsaturated Fat:
6
g
Trans Fat:
0.1
g
Cholesterol:
502
mg
Sodium:
222
mg
Potassium:
1746
mg
Fiber:
16
g
Sugar:
340
g
Vitamin A:
714
IU
Calcium:
342
mg
Iron:
11
mg