If you love a crab cake or a fish cake in general, then these Thai salmon fish cakes are the perfect recipe for you. Quick and easy to make, they are a crowd pleaser and absolutely delicious. This recipe is a great appetizer or perfect as a main dish.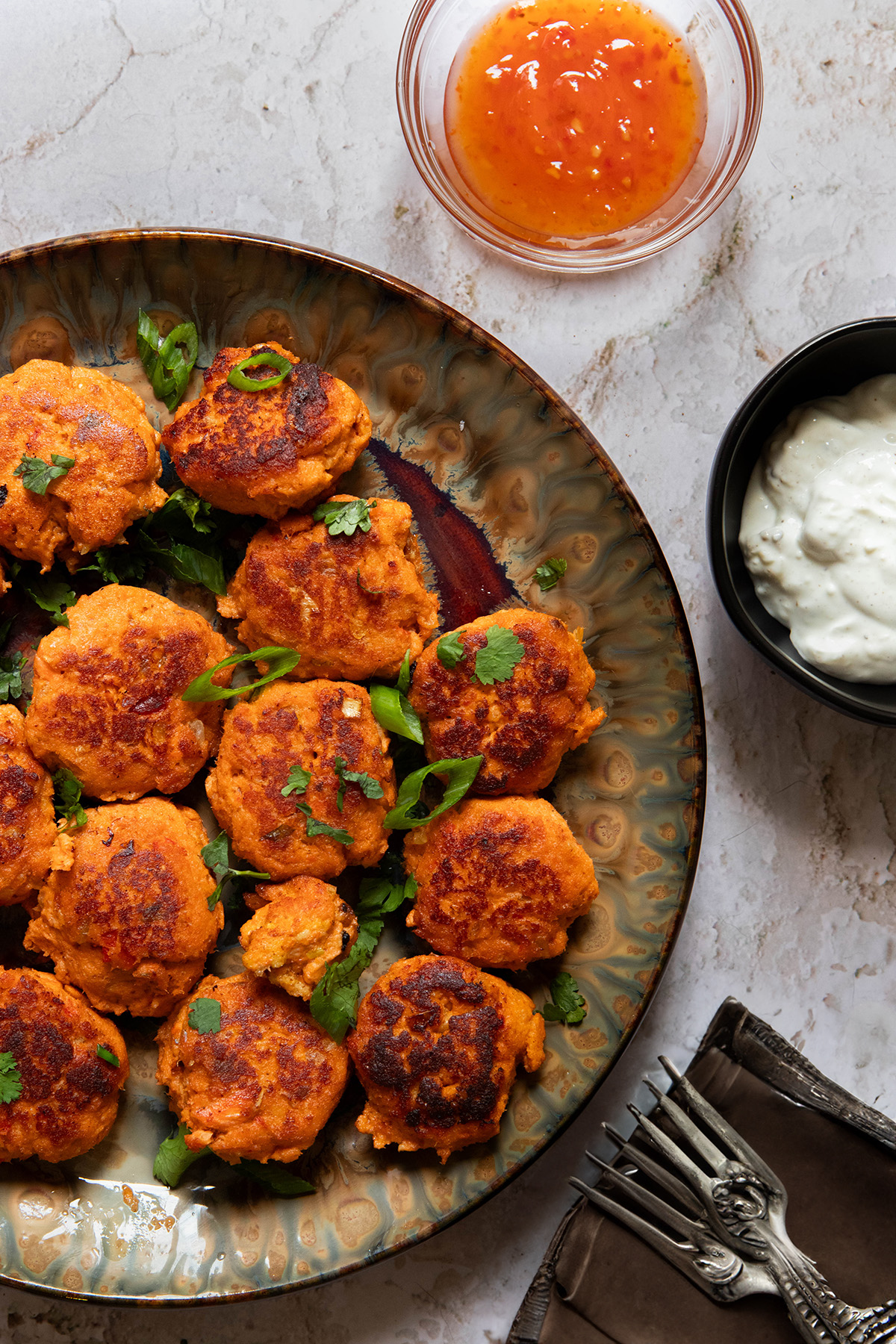 I have been on a salmon kick lately! Getting ready for the holiday season, I have my Christmas salmon, but, I have been craving Thai flavors lately. That is how my red curry salmon and these salmon fish cakes were born. I have been making salmon fish cakes for a long time but I love Thai flavors. With no Thai restaurants near me where I live, I rely on making Thai recipes at home. This recipe is packed full of flavor, is easy to make and can be easily made gluten free (or not). Let's make some Thai salmon cakes!
Jump to:
What equipment do you need to make Thai salmon fish cakes?
Food Processor: You will use this to blend all of your ingredients together
Large frying Pan: A frying pan to sauté the vegetables prior to being blended and to fry the Thai salmon fishcakes
What ingredients do you need for Thai fish cakes?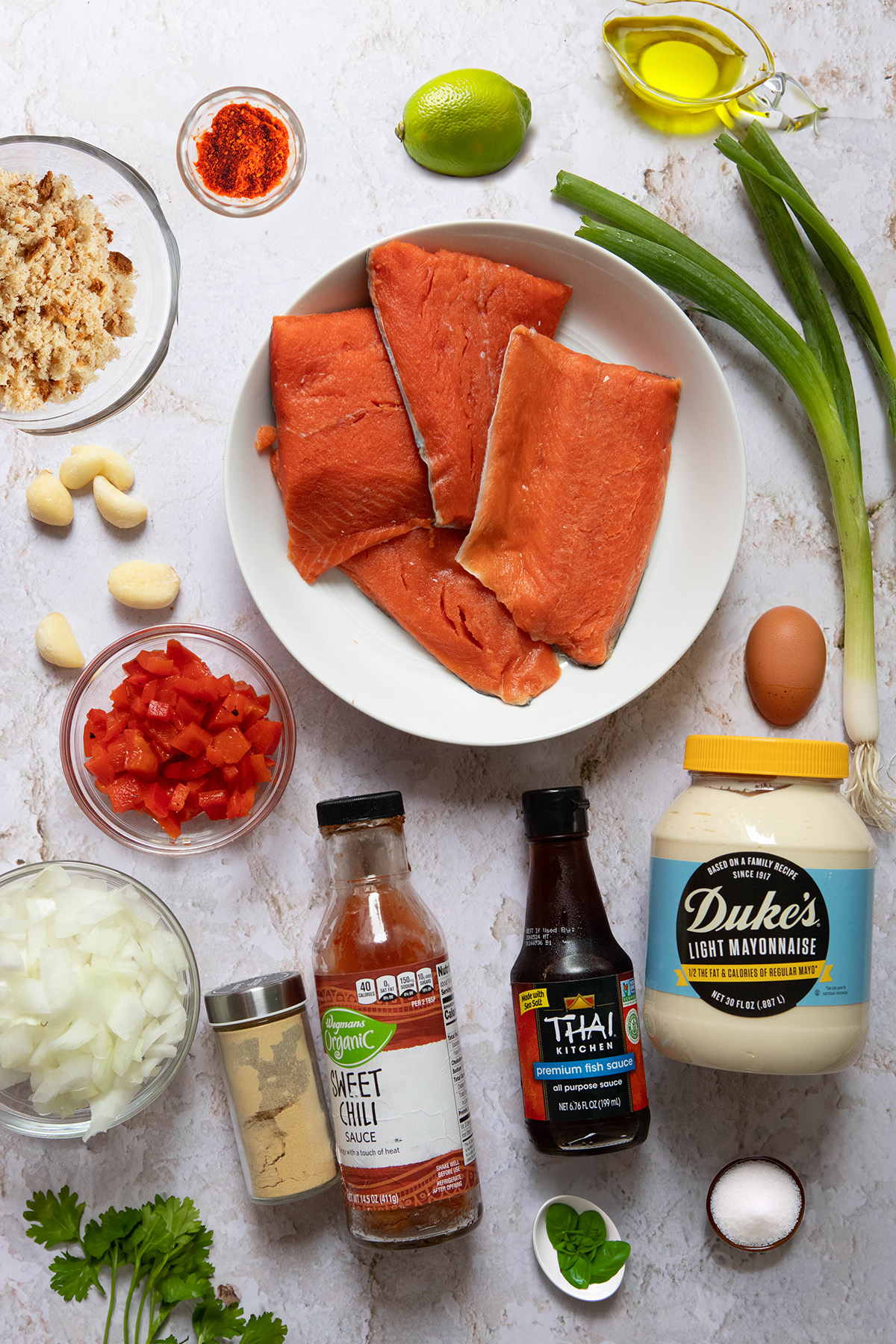 Thai Red Curry Paste: This is part of the essence of our Thai flavor
Salmon Fillets: I like to use sockeye salmon for my thai-style salmon fishcake but you can use regular salmon as well
Garnish: Spring onions (green onions), cilantro, and Thai basil
Lime Juice: Lime flavor is central to Thai cooking as well as having acidity in the dish
Sweet Chili Sauce: I like to add this into the fishcakes themselves and use it as a dipping sauce
Egg: Eggs help bind the dish together
Thai fish sauce: Fish sauce is integral to Thai cooking
Bread crumbs: Bread crumbs are the other binding agent. I use gluten free but you can use regular or panko breadcrumbs
Sugar: Adding a bit of sugar to this dish helps balance the flavors
Onion: In addition to the fish and breadcrumb we have flavor from the onion
Red Pepper: I like to use roasted red pepper in this dish but regular red pepper is fine
Oil: for frying the vegetables and the cakes
Mayo: Mayo is often paired with fish in Thai cooking
Garlic: Help adds to the flavor of the fish cakes
Ginger: Helps to flavor the dish
How do you make Thai salmon fish cakes?
Set oven to 400°
Prep time: the prep time for this dish is to dice up the roasted red pepper and the onion. You can also make your own breadcrumbs by pulsing bread in a food processor or you can purchase pre-made breadcrumbs or panko.
Place oil in the pan: and sauté the green onion, onion, and red pepper until they are golden brown. Add the garlic and fry for a minute. Then add the ginger and the sweet chili sauce.
Meanwhile bake your salmon: Season your salmon with a pinch of salt and black pepper. Place on parchment paper (or a baking sheet) and put them on the baking tray. Place in the oven and bake for 10 minutes. If the internal temperature of the salmon is not 145° that is okay because they will finish cooking when you fry the cakes.
When the fish is done: place in the bowl of a food processor in addition to the rest of the ingredients. Blend together and form the cakes.
Reuse the frying pan: from sautéing the vegetables. Add more oil and place the fish cakes in the pan. The cooking time for the salmon fish cakes is about 2-3 minutes per side. If they are golden brown, they are good to go. You can also check the internal temperature to see if it is 145°F.
Place on a platter: top with the garnishes of your choice and serve immediately.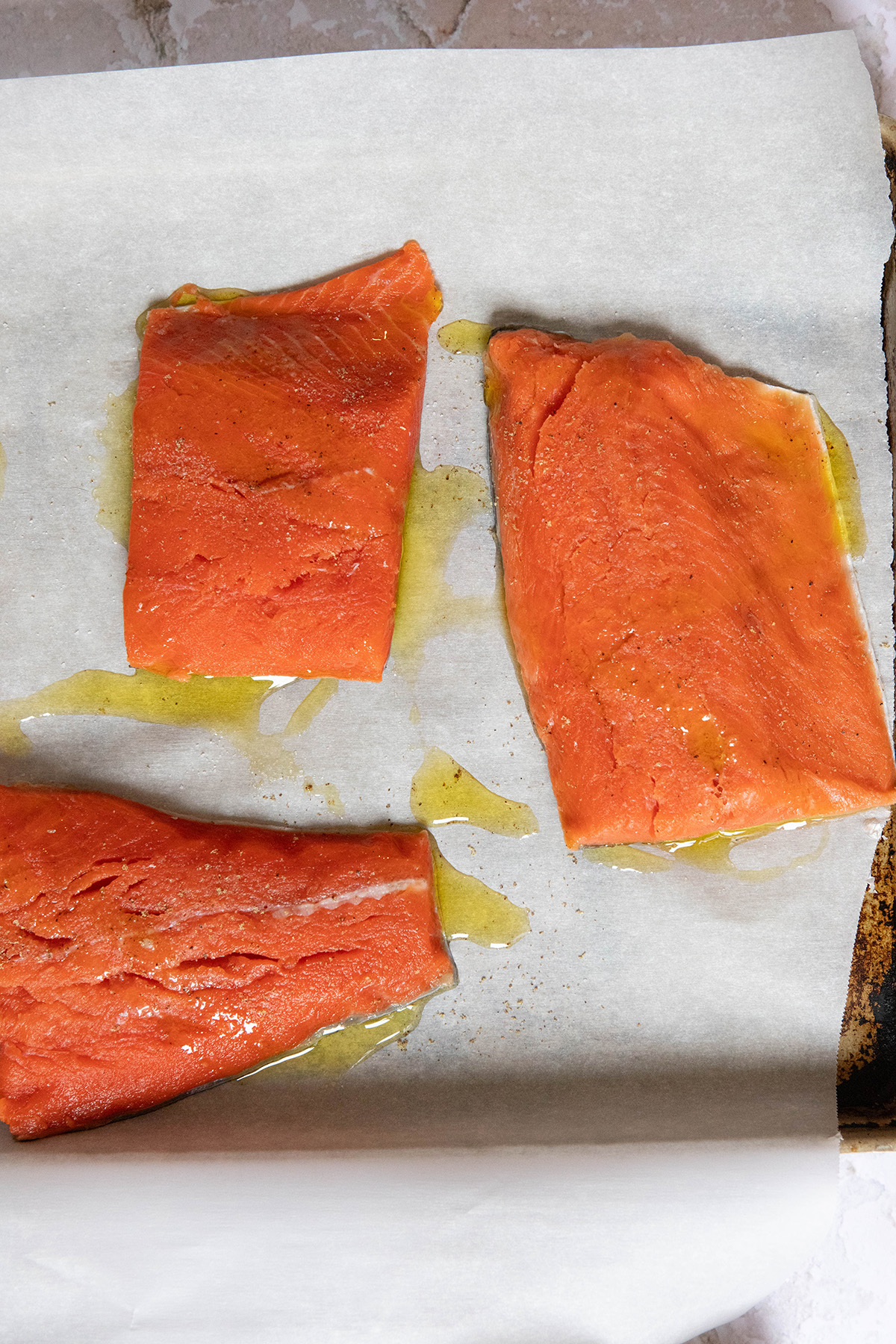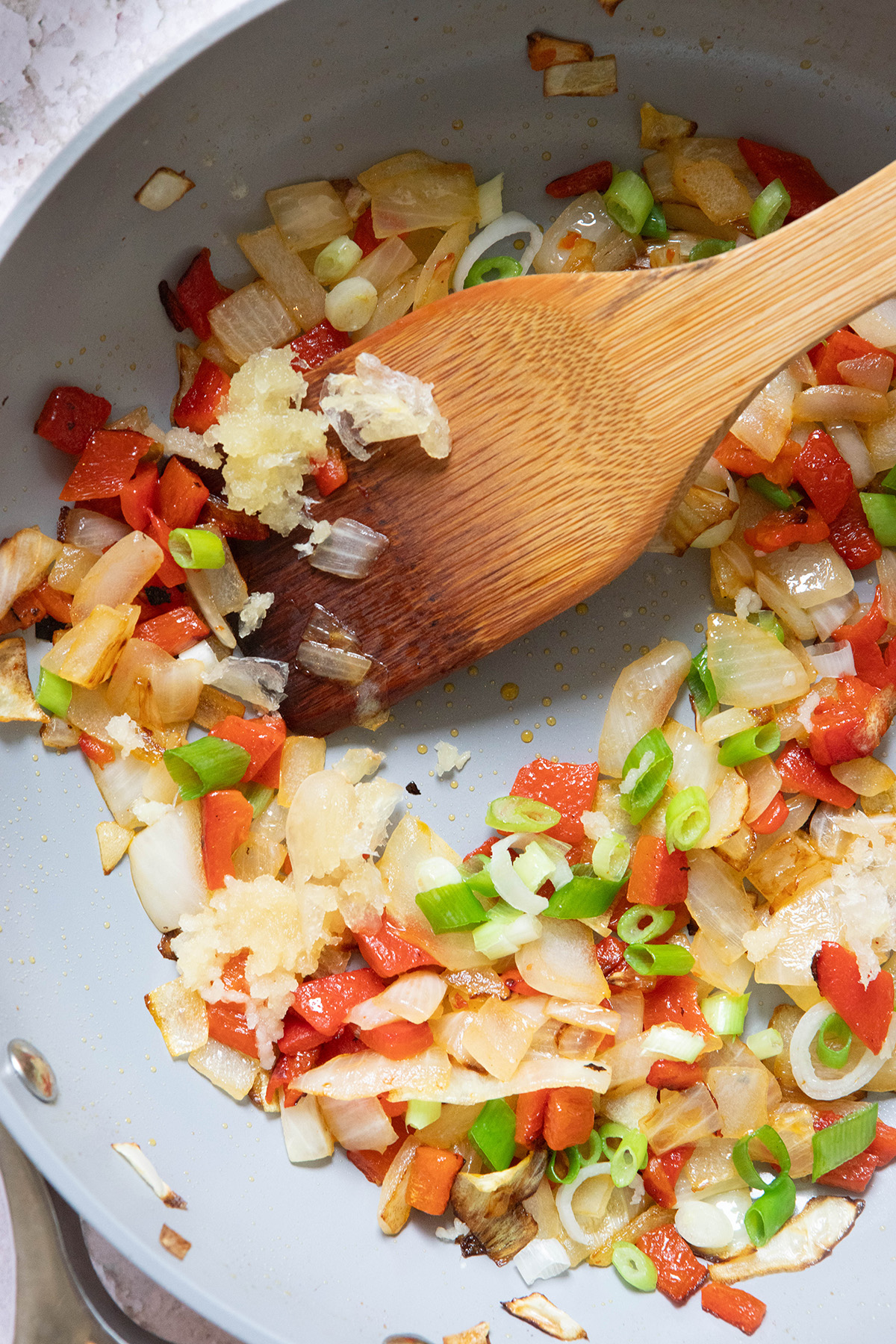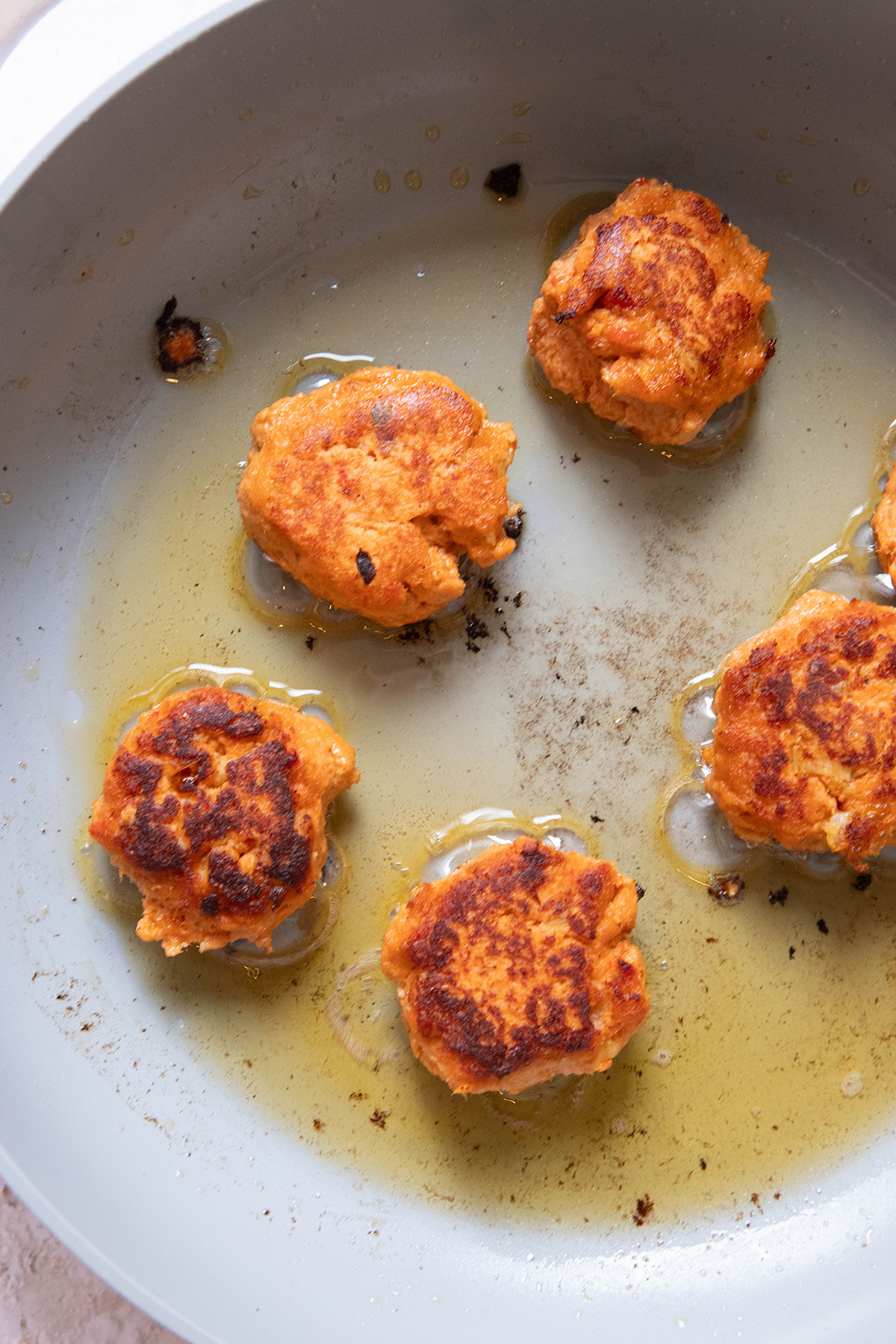 When you are done with this recipe, make my Zaatar Salmon
How do I store these Thai salmon fish cakes?
In an airtight container. If you want to reheat them the next day then you can reheat them in the microwave or fry again in a pan. You can also place them in the oven if you wish.
What do I serve these with?
A great way to serve these is with my garlic yogurt or with sweet chilli sauce. If you really want you could serve them with soy sauce (or a gluten free alternative like tamari or coconut aminos) but you don't need to!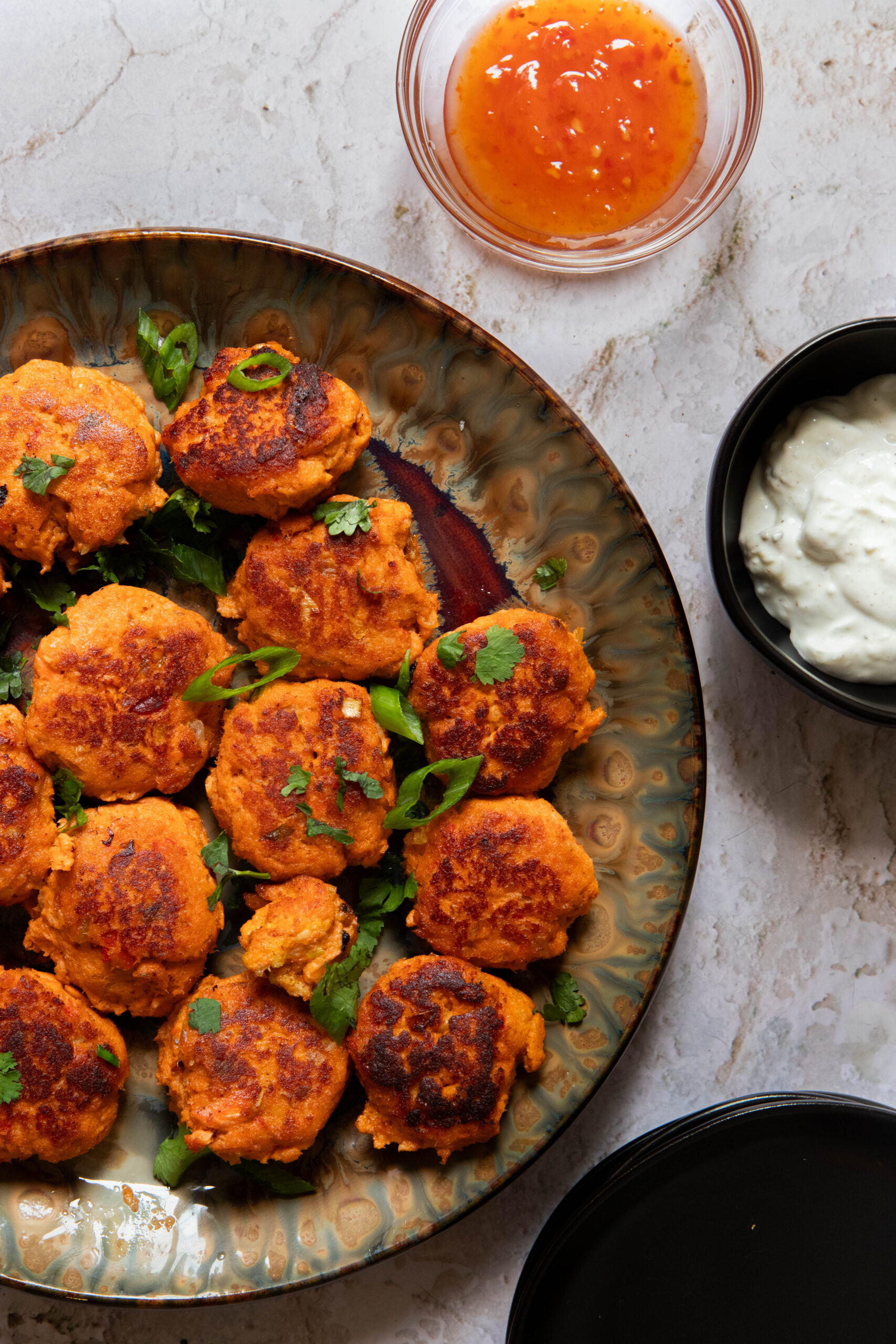 Fresh Salmon vs Frozen Salmon
Something to keep in mind when cooking with fish that a lot of people like to look down on frozen fish. The reality is that all fish at your supermarket has been frozen at one point or another. If you purchase "fresh salmon" from the fish counter, that is fish that was frozen and then thawed to be presented at the store. Buying frozen salmon means you can use it whenever you want and not have to worry about using the fish that night for dinner. Both are good options.
LEAVE A RATING AND REVIEW!
Did you love this recipe? If you did, let me know! And let others know too by leaving a comment and star rating. Reviews are incredibly useful in helping other people find my site and make my recipes. Thank you so much!
Laura
CHECK OUT OTHER RECIPES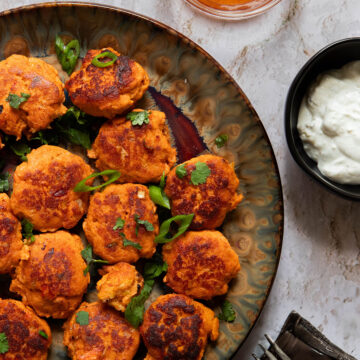 Thai salmon fish cakes: Thai-style Fishcakes Recipe
If you love a crab cake or a fish cake in general, then these Thai salmon fish cakes are the perfect recipe for you. Quick and easy to make, they are a crowd pleaser and absolutely delicious. This recipe is a great appetizer or perfect as a main dish. 
Equipment
1 Large Pan

1 Food Processor
Ingredients
5

Garlic Clove

Minced

4

Salmon Fillet

I use sockeye salmon

1

tablespoon

Mayo

t

teaspoon

Ginger

I use ground ginger

1

Egg

1

Cup

Breadcrumbs

I use fresh gluten free breadcrumbs

¼

Cup

Green Onion

1

Roasted red pepper

a regular red pepper is fine

1

Small

Onion

4

tablespoon

Olive Oil

1

tablespoon

Sugar

2

teaspoon

Fish Sauce

1

tablespoon

Red Thai Chili Paste

3

tablespoon

Sweet Chili Sauce

Cilantro

Garnish, optional
Instructions
Set oven to 400°

Prep time: the prep time for this dish is to dice up the roasted red pepper and the onion. You can also make your own breadcrumbs by pulsing bread in a food processor or you can purchase pre-made breadcrumbs or panko.

Place oil in the pan: and sauté the green onion, onion, and red pepper until they are golden brown. Add the garlic and fry for a minute. Then add the ginger and the sweet chili sauce.

Meanwhile bake your salmon:  drizzle with olive oil and season the salmon with a pinch of salt and black pepper. Place on parchment paper (or a baking sheet) and put them on the baking tray. Place in the oven and bake for 10 minutes. If the internal temperature of the salmon is not 145° that is okay because they will finish cooking when you fry the cakes.

When the fish is done: place in the bowl of a food processor in addition to the rest of the ingredients. Blend together and form the cakes. 

Reuse the frying pan: from sautéing the vegetables. Add more oil and place the fish cakes in the pan. The cooking time for the salmon fish cakes is about 2-3 minutes per side. If they are golden brown, they are good to go. You can also check the internal temperature to see if it is 145°F.

Place on a platter: top with the garnishes of your choice and serve immediately
Nutrition
Serving:
4
g
Calories:
566
kcal
Carbohydrates:
33
g
Protein:
40
g
Fat:
30
g
Saturated Fat:
5
g
Polyunsaturated Fat:
8
g
Monounsaturated Fat:
15
g
Trans Fat:
0.01
g
Cholesterol:
136
mg
Sodium:
803
mg
Potassium:
982
mg
Fiber:
2
g
Sugar:
12
g
Vitamin A:
241
IU
Vitamin C:
8
mg
Calcium:
97
mg
Iron:
3
mg