If you love Mediterranean inspired dishes and love salmon, then you will love this zaatar salmon. This dish is ready in under 30 minutes and packed full of flavor.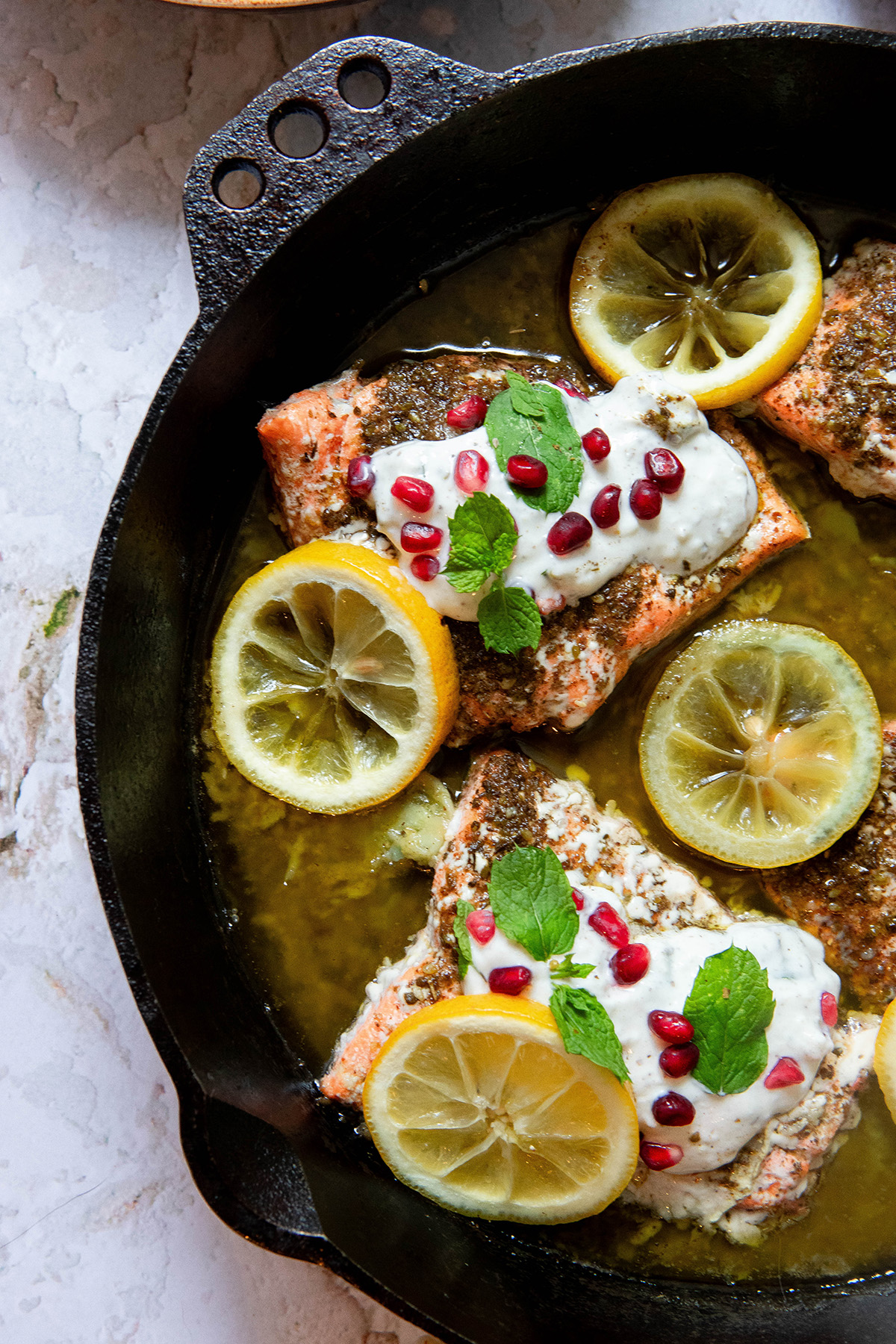 We always have salmon fillets in our freezer as it is a fish that we love and there are so many ways to make it. We are big fans of Middle Eastern flavors and spices, specifically harissa and zaatar. It finally occured to me one night that we had salmon in the freezer and a bunch of zaatar in our pantry, and thus this dish was born.
What is zaatar?
Zaatar is an aromatic spice blend and popular spice blend or seasoning mixture used in Middle Eastern and Mediterranean cuisines. It is known for its distinctive flavor and aroma, which is both savory and slightly tangy. The primary ingredients in zaatar typically include:
Thyme: The base of most zaatar blends is dried thyme leaves. Thyme contributes a earthy and herbal flavor to the mixture.
Sesame Seeds: Toasted sesame seeds are a common addition to zaatar, providing a nutty and slightly crunchy texture.
Sumac: Sumac is a tangy spice made from dried and ground berries. It gives zaatar its characteristic tartness and bright red color.
Salt: Salt is added to season the mixture and enhance the overall flavor.
These core ingredients form the base of zaatar, but variations exist, and additional spices like oregano, marjoram, cumin, coriander, or even dried lemon zest may be included in different recipes. Zaatar is versatile and can be used in various ways:
Spice Blend: Zaatar can be used as a dry spice blend to season meats, vegetables, and grains. It's often sprinkled on flatbreads or used as a rub for grilled meats.
Dip or Spread: Zaatar is frequently mixed with olive oil to create a paste that can be used as a dip for bread or a spread for sandwiches and wraps.
Flavoring for Dishes: It can also be used as a flavor enhancer in dishes like salads, roasted vegetables, and soups.

Zaatar is a staple in Middle Eastern cuisine and is cherished for its unique flavor profile. Its popularity has spread to other parts of the world, and you can find it in many international grocery stores or make your own blend by combining the individual ingredients to suit your taste.
Ingredients for zaatar salmon
Salmon: Salmon is our fish for this dish!
Butter: Butter helps add some creaminess to the sauce
Olive oil: Olive oil is used in our sauce
Lemon juice: Helps give a tangy flavor to the dish
Zaatar: I would describe it as herbaceous za'atar. It is earthy and so flavorful. 
Garlic: Garlic cloves helps add to the flavor of the dish
Garlic Yogurt: This sauce will go on top of the salmon and is so delicious
​What equipment do you need?
oven-safe sauté pan or a cast iron skillet
tablespoon
teaspoon
whisk
medium bowl
How do you make zaatar salmon?
Set oven to 400°F: and pat down your salmon with a paper towel.
Melt the butter: in medium bowl. Add it to the olive oil and lemon juice. Dip the salmon into the sauce and set aside.
Add a tablespoon of oil: into a cast-iron or a large ovenproof sauté pan, set it to a medium-high heat. Allow it to heat and place the salmon in skin side down for 2 minutes. 
Mince the garlic: add the minced garlic to the remaining sauce Pour the sauce into the pan.
Cover the filets:​ in zaatar while it is in the pan. Cover with lemon slices and bake for 15 minutes.
Remove from the oven: and place the garlic yogurt on the top of the fish. Then take some of the sauce from the pan and place that on top of the yogurt. Place on a serving platter or on your plate and eat immediately.
* a note on salmon: fish is cooked when the internal temperature is 145°F.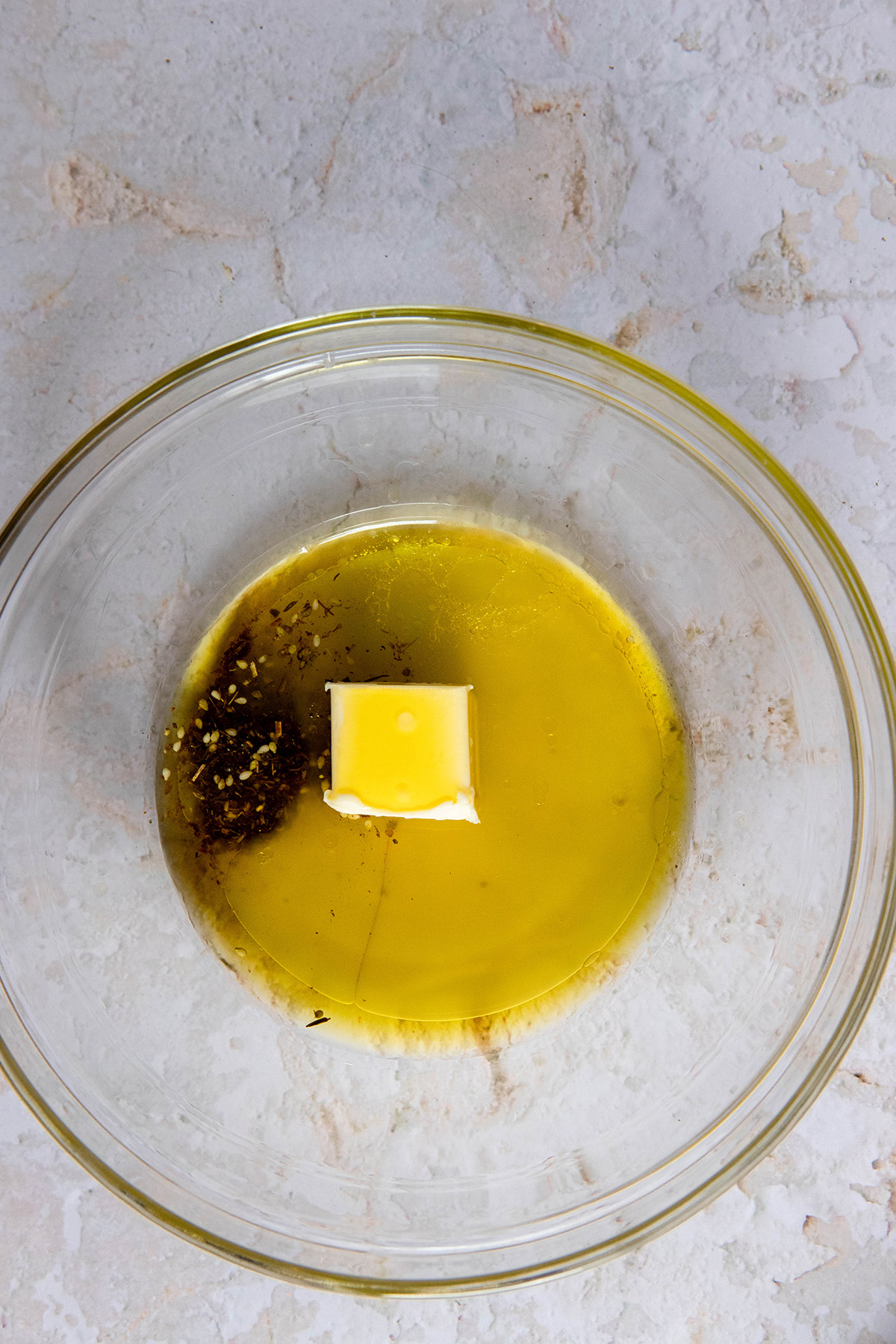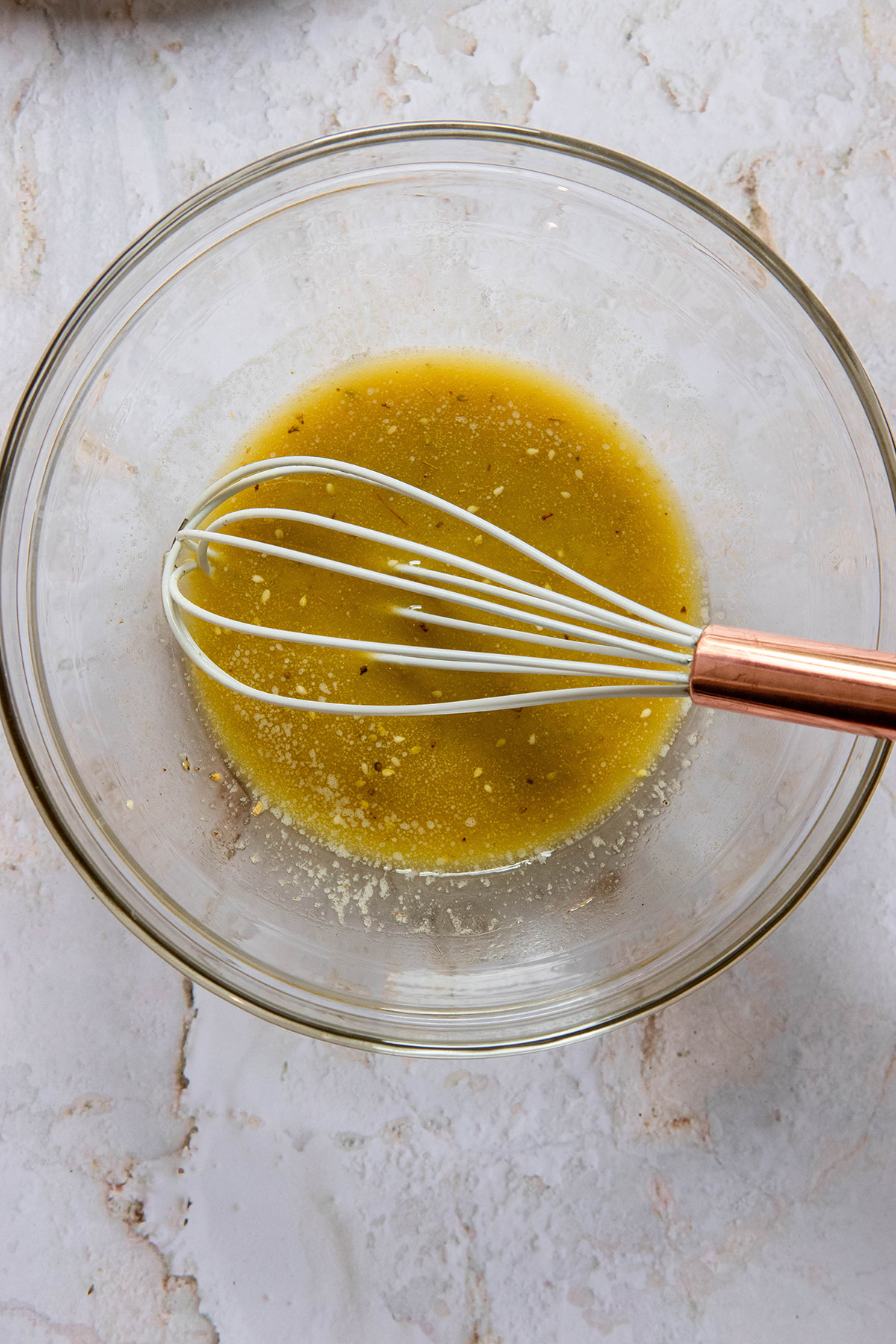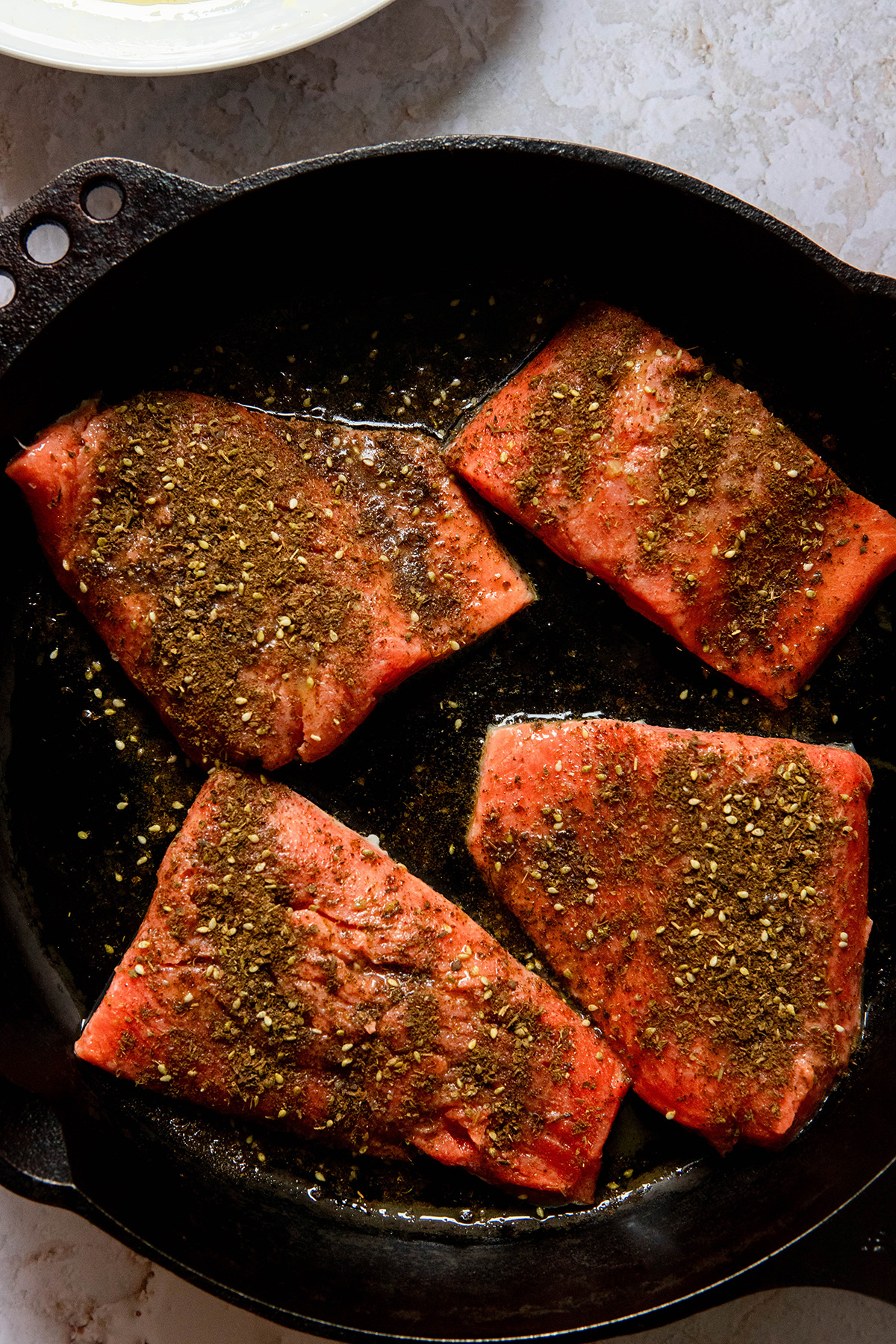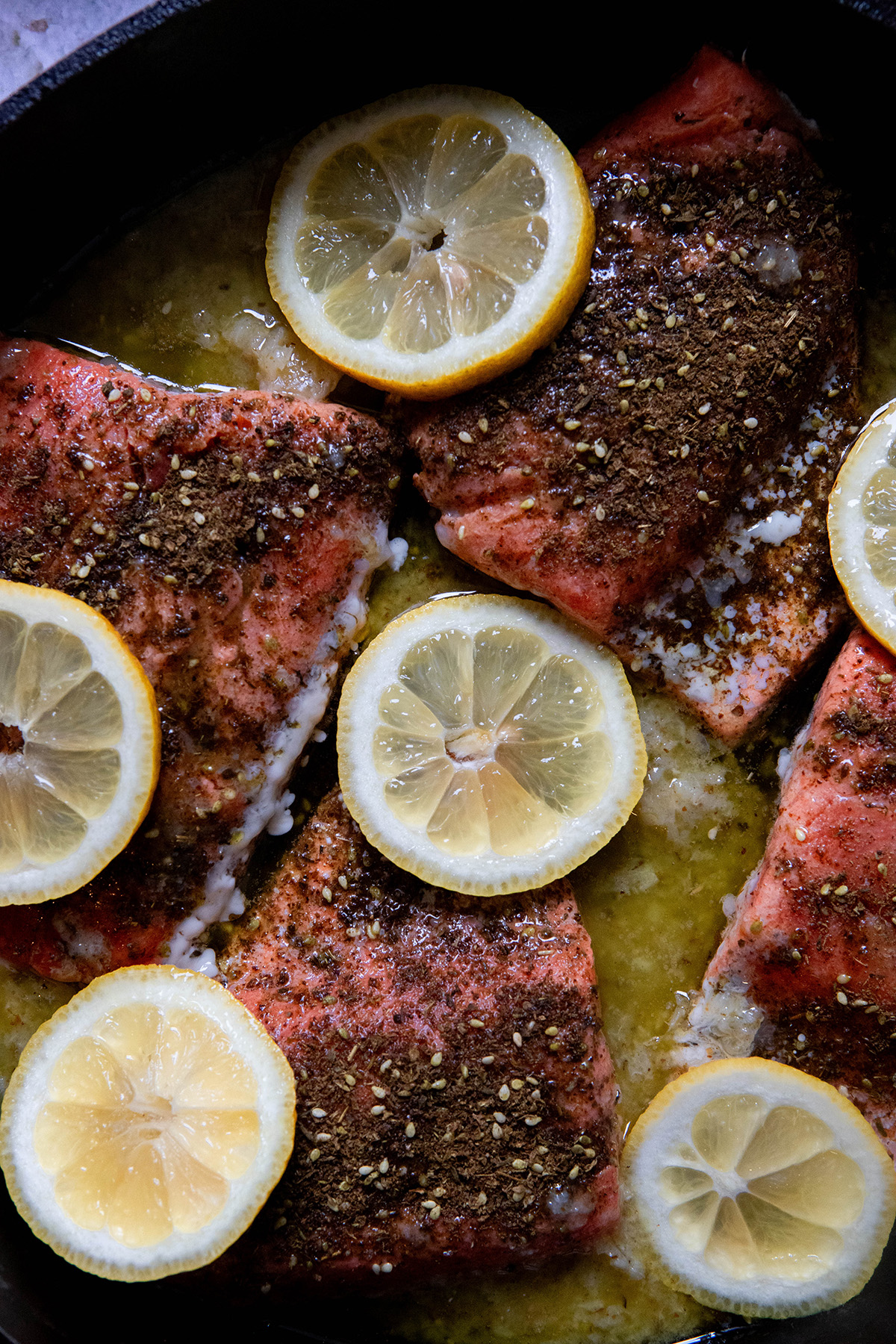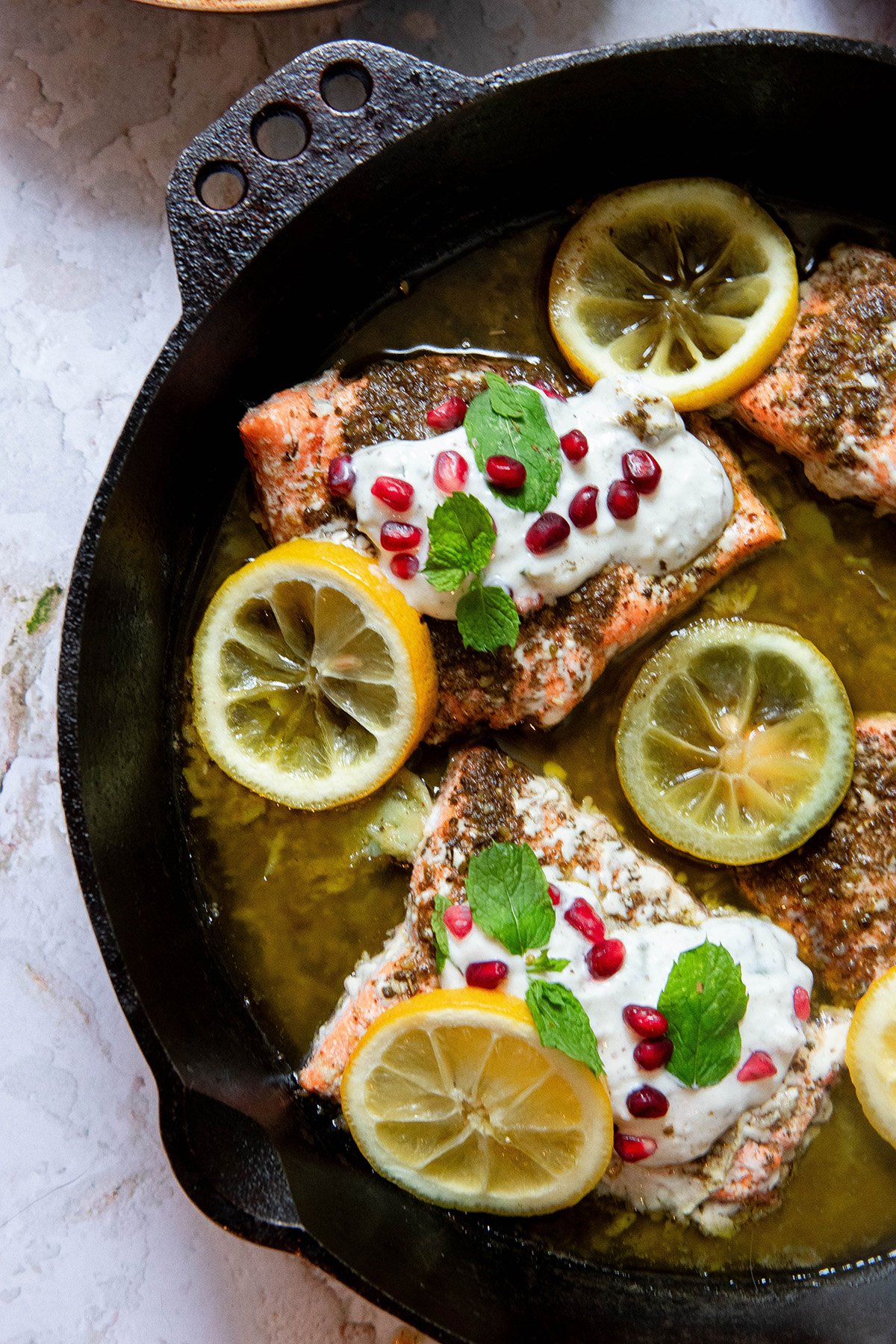 Why should you make this zaatar salmon?
This dish is so amazing for the great flavor it packs in. This will be the new way you cook salmon. It is a delicious meal and perfect for those on a Mediterranean diet (and those who are not). This will be your go to salmon recipe. it is relatively healthy with only a few tablespoons of oil, and all of the ingredients are readily available at your local grocery store.
​Tips and Tricks for zaatar salmon:
If you do not want to make garlic yogurt then tahini pairs really nicely with this. The nutty tahini flavor helps enhance the za'atar spice. Another alternative is labne dips (cava makes really delicious ones if you can find them). Baby spinach is also a great idea if you'd like to toss a leafy green in there. I make my garlic yogurt sauce with Greek yogurt but you could also use labne if you wanted to. Zaatar is an incredible spice mixture that you will love to have in your kitchen and you'll find it will become one of your go to key ingredients!
My favorite thing to pair with this dish is my roasted potatoes with zaatar and harissa.
LEAVE A RATING AND REVIEW!
Did you make this recipe? If you did, let me know! And let others know too by leaving a comment and star rating. Reviews are incredibly useful in helping other people find my site and make my recipes. Thank you so much!
Laura
CHECK OUT OTHER RECIPES HERE
Zaatar Salmon: Mediterranean Baked Za'atar crusted Salmon
Ingredients
2

tablespoon

Butter

4

tablespoon

Olive Oil

3

tablespoon

Lemon Juice

1

teaspoon

Zaatar

4

Salmon Fillets

I use sockeye salmon

1

Cup

Garlic Yogurt

See my recipe
Instructions
Set oven to 400°F: and pat down the salmon with a paper towel.

Melt the butter: in medium bowl. Add it to the olive oil and lemon juice. Dip the salmon into the sauce and set aside.

Add a tablespoon of oil: into a cast-iron or a large ovenproof sauté pan, set it to a medium-high heat. Allow it to heat and place the salmon in skin side down for 2 minutes. 

Mince the garlic: add the minced garlic to the remaining sauce Pour the sauce into the pan.

Cover the filets:​ in zaatar while it is in the pan. Cover with lemon slices and bake for 15 minutes

Remove from the oven: and place the garlic yogurt on the top of the fish. Then take some of the sauce from the pan and place that on top of the yogurt. Place on a serving platter or on your plate and eat immediately
Nutrition
Calories:
419
kcal
Carbohydrates:
1
g
Protein:
34
g
Fat:
31
g
Saturated Fat:
7
g
Polyunsaturated Fat:
6
g
Monounsaturated Fat:
15
g
Trans Fat:
0.2
g
Cholesterol:
109
mg
Sodium:
120
mg
Potassium:
848
mg
Fiber:
0.1
g
Sugar:
0.3
g
Vitamin A:
253
IU
Vitamin C:
4
mg
Calcium:
28
mg
Iron:
2
mg