If you have ever been to the heart of Cornwall, then chances are you have heard of pasties. If you have bought them premade and frozen, or if you gave simply stored ones that you have made yourself from home, you may be wondering how to cook frozen pasties. In this post I'll guide you through.
What are Cornish Pasties?
The Cornish pasty is a baked pastry filled with a delicious combination of ingredients. The history of Cornish pasties dates back to the 17th century when they were commonly eaten by Cornish miners and workers as a portable and hearty meal. The thick crimped edge was designed as a handle so that the miners could hold the pasty with dirty hands and discard the crimped edge afterward, minimizing waste.
What equipment / tools will I need to cook frozen pasties?
Parchment paper (if you do not have this, then wax paper is fine)
Baking tray (or a baking sheet or cookie sheet)
Egg Wash Brush / Pastry Brush
How to cook frozen pasties
For the best results, if you have made the pasties yourself (check out my gluten free pasty recipe) I like to let the pasty come to room temperature. However, if you want to work with a completely frozen pasty that is completely fine.
Set your oven to 350°F.
Place pasties onto a baking tray: that is lined with parchment paper
Make sure that each of the pasties: has an a cut in it so that the heat can escape while baking and they won't explode.
Make the egg wash: in a bowl, whisk an egg. Using a pastry brush, brush the egg wash onto each pasty. Make sure that they are covered. The best way to make sure is to do 2 coats of egg wash.
Bake: Place the pasties in the preheated oven and bake until they are golden brown. The cooking time for that is usually 25-30 minutes. If you feel that they are not golden enough then place them back to the center of the oven and make for an additional
Remove from the oven: Take the hot tray out of the oven and let them sit out for 10-15 minutes to ensure that you do not burn your mouth. If you want to be risky, give it 3-4 minutes.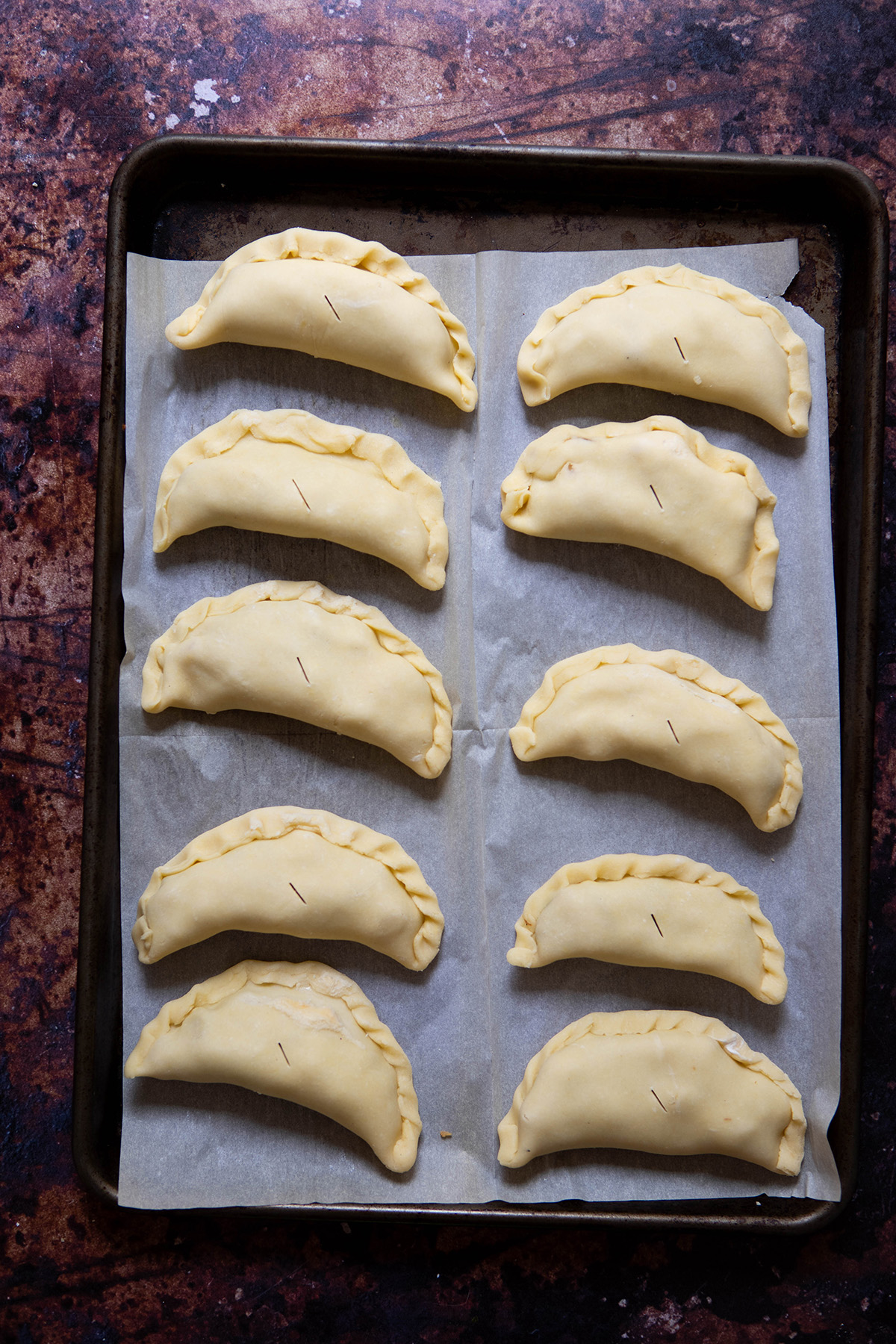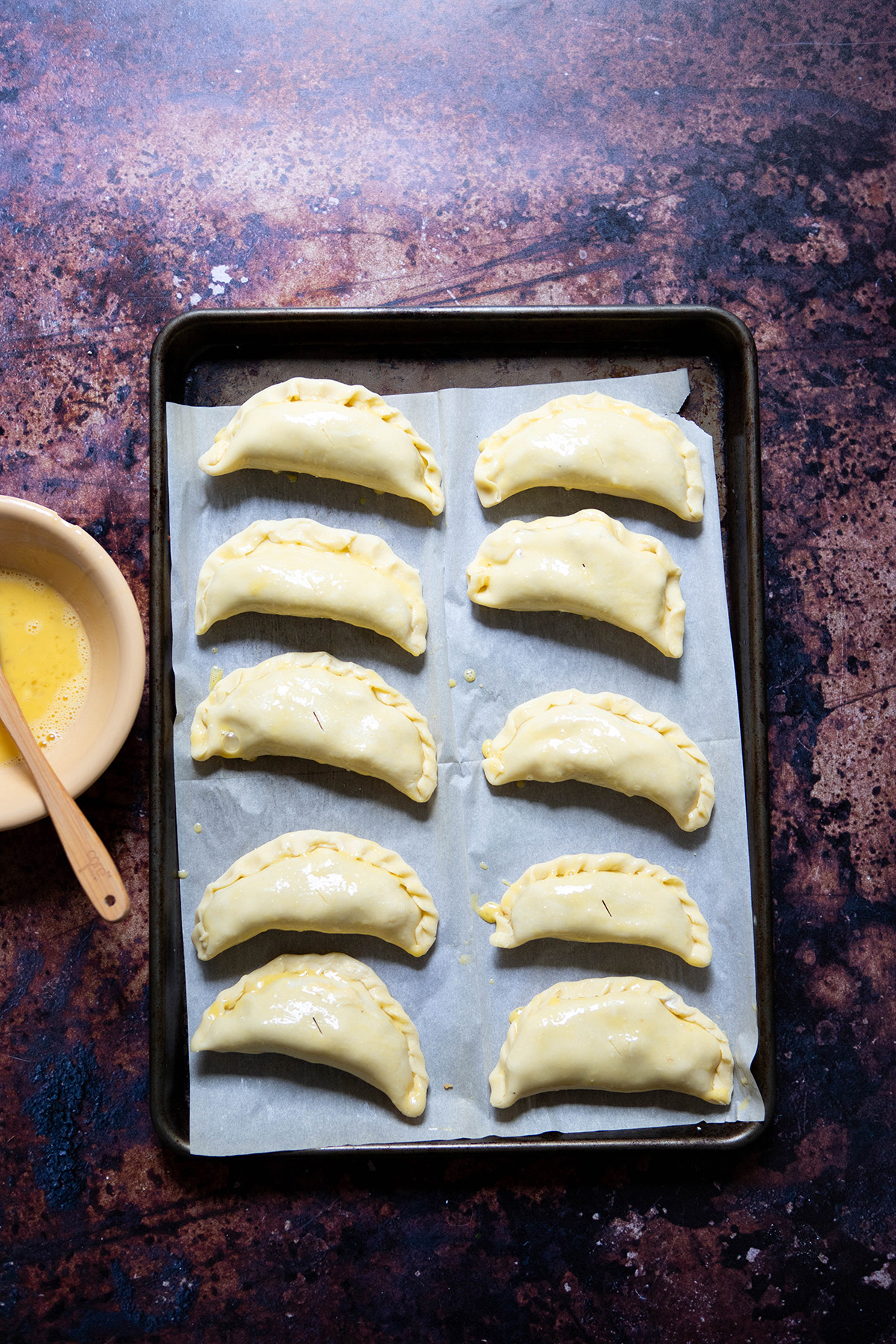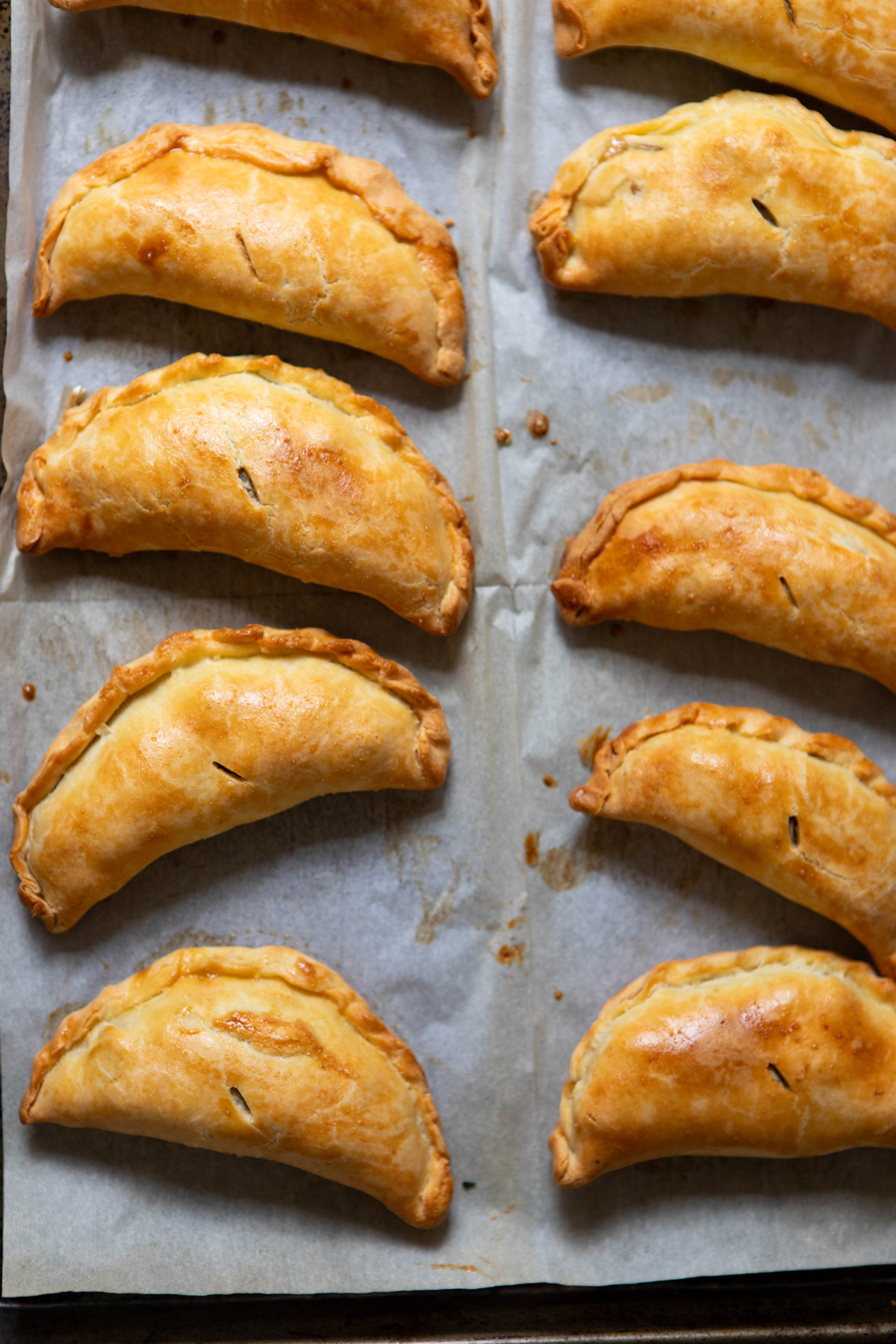 If you are making frozen pasties from a premade pasty that you yourself did not make, the best methods for those are to follow the cooking instructions that come on the packaging.
Larger pasties may take a bit longer. Aim to bake those for at least 35-40 minutes.
If you wish to take the temperature of your pasties to make sure that when you bake pasties they are fully cooked inside, look for an internal temperature 165°F to know that they are baked.
The cooking process of homemade pasties or store-bought pasties is so simple. Uncooked pasties and their delicious filling are such a good option for dinner (or lunch, or breakfast). Traditional Cornish recipes, like pasties, are the best option if you are wishing you were on vacation on the beautiful Cornish coast. The half-moon shape makes them a super fun meal that every member of the family will love. It will soon be on the list of family favorites recipes.
History of Cornish Pasties
Cornish pasties are a traditional British pastry that originated in Cornwall, a county in the southwest of England. They are a type of hand-held pie or turnover filled with a delicious combination of ingredients.
The classic Cornish pasty is made with a simple pastry dough, consisting of flour, butter, or lard, water, and sometimes a pinch of salt. The dough is rolled out into a circular shape and then filled with a mixture of diced beef, potatoes, onions, and swede (rutabaga). These ingredients are typically raw when placed inside the pastry, and they cook as the pasty bakes in the oven.
Once the filling is placed on one half of the pastry circle, the other half is folded over the top to create a semicircular shape. The edges are then crimped together, either by hand or using a fork, to seal the pasty. This crimped edge not only ensures that the filling remains enclosed during baking but also serves as a handle for eating the pasty while holding it.
The origins of Cornish pasties date back several centuries and are often associated with the region's mining communities. The pasties were favored by miners as a convenient and portable meal that provided a hearty and filling option for their long shifts underground. The thick crimped edge allowed the miners to hold the pasty with their dirty hands and then discard it without eating the edge, reducing waste.
Cornish pasties have become a culinary icon of Cornwall and are popular throughout the United Kingdom and beyond. While the traditional filling consists of beef, potatoes, onions, and swede, there are now many variations available, including vegetarian and vegan options, as well as creative combinations with different meats and vegetables.
Authentic Cornish pasties are protected under the European Union's Protected Geographical Indication (PGI) status, meaning that for a pasty to be labeled as "Cornish," it must adhere to specific traditional standards and be made in Cornwall.
LEAVE A RATING AND REVIEW!
Did you find this helpful? If you did, let me know! And let others know too by leaving a comment and star rating. Reviews are incredibly useful in helping other people find my site and make my recipes. Thank you so much!
Laura
Check out other recipes here