Do you love donuts? Do you specifically love krispy kreme doughnuts? If you have celiac disease or a gluten intolerance and wonder "is krispy kreme gluten free?" we will answer that in this post!
Krispy Kreme is a popular American doughnut company that was founded in 1937. It is known for its signature Original Glazed doughnut, which is a yeast-raised doughnut with a light and airy texture, covered in a sweet glaze. Krispy Kreme has since expanded its menu to include a variety of doughnut flavors, including chocolate glazed, filled doughnuts, and seasonal offerings.
Is Krispy Kreme gluten free?
Krispy Kreme, a popular doughnut chain, does not have a wide selection of gluten-free options. While they may occasionally introduce limited-time gluten-free doughnuts or products, they are not a regular part of their menu. It's important to note that cross-contamination is possible in a bakery setting, so individuals with celiac disease or severe gluten allergies should exercise caution when consuming products from establishments that handle gluten-containing ingredients. It is recommended to contact your local Krispy Kreme store for the most up-to-date information on their gluten-free offerings.
So this means that Krispy Kreme donut shops are not a great option when looking for those on a gluten-free diet. In addition to donuts only occasionally being gluten free Krispy Kreme donuts, you run a strong possibility of cross contamination. According to their FAQ page "Our facilities produce products with peanuts, tree nuts, soy, milk, eggs, and wheat. We cannot guarantee that any other products are safe to consume for people with any of these allergies."
Is the original Krispy Kreme donut gluten free?
Here are the ingredients:
Doughnut (73%) (Wheat Flour, Sugar, Vegetable Shortenings (Contains Soy), Water, Salt, Wheat Gluten, Yeast, Acidity Regulator (341), Emulsifier (471-Soy), Yeast Dough Concentrate (Mineral Salts (516), Acidity Regulator (341,342), Antioxidant (300), Stabiliser (1100)), Preservative (263), Egg Powder, Milk Solids, Thickener (466)), Glaze (27%) (Sugar, Wheat Starch, Stabiliser (Mineral Salt (170), Thickeners (406), Emulsifiers (471-Soy, 491)), Flavours). CONTAINS: Wheat, Egg, Milk and Soy. MAY CONTAIN: Peanuts, Tree Nuts, Lupin and Sulphites.
As we can see, it contains wheat and is therefore not gluten free.
Best Brands for gluten free flour for gluten free donuts (aka how to make your at home copycat Krispy Kreme donuts)
The main ingredient for donut batter is flour. There are several gluten-free flour brands available in the market that cater to individuals who follow a gluten-free diet. Here are some popular gluten-free flour brands in the United States
Bob's Red Mill: Bob's Red Mill offers a wide range of gluten-free flours, including options like gluten-free all-purpose flour, almond flour, coconut flour, and more.
King Arthur Flour: King Arthur Flour has a selection of gluten-free flours, including gluten-free all-purpose flour, almond flour, and coconut flour. They also provide gluten-free baking mixes.
Cup4Cup: Cup4Cup is a well-known brand that offers a gluten-free flour blend designed to be a one-to-one substitute for all-purpose flour in recipes.
Pamela's Products: Pamela's Products produces a variety of gluten-free flours, including their popular gluten-free all-purpose flour blend. They also offer other specialty flour blends like almond flour and coconut flour.
Namaste Foods: Namaste Foods specializes in gluten-free products, including flour blends like their Perfect Flour Blend, which can be used as a one-to-one replacement for wheat flour.
Authentic Foods: Authentic Foods offers a range of gluten-free flours, such as their multi-blend flour, almond flour, and brown rice flour.
Glutino: Glutino produces gluten-free flours, including all-purpose flour blends, to cater to those with gluten sensitivities or celiac disease.
Enjoy Life Foods: Enjoy Life Foods offers a variety of gluten-free baking mixes and flours, including their all-purpose flour blend.
Arrowhead Mills: Arrowhead Mills offers gluten-free flours like their all-purpose gluten-free flour blend, which is made from a mix of whole grain flours.
Orgran: Orgran specializes in gluten-free and allergen-friendly products, including gluten-free flour blends suitable for baking.
Remember, not every flour mixture is equal. I find the easiest way to make the best gluten free donuts is to make sure you are using a quality gluten free flour blend (make sure it has xanthan gum in it). My preference is King Arthur.
These are just a few examples of gluten-free flour brands available in the market. It's always a good idea to check the specific ingredients and certifications of each brand to ensure they meet your dietary needs and preferences.
What equipment do you need for gluten free donuts?
If you have a sweet tooth and you would like to make gluten free donuts at home (where there is zero risk of cross-contamination) you will need the following equipment if you are going to bake your donuts: donut pan, pastry bag, gluten-free flour. You do not need a stand mixer. You can mix your dry ingredients by hand.
If you are planning to make fried donuts, you will need hot oil.
Once you have made gluten free donuts at home a few times, you can make your own gluten-free donuts and you can try your own krispy kreme copycat recipe!
The first time you make gluten free donuts at home for a saturday morning breakfast or to just get over that craving.
Gluten Free Donut Recipes because Krispy Kreme is not gluten free
To help get you through your donut fix, you can get the majority (if not all) the ingredients you will need at your local grocery store. Who needs a Krispy Kreme shop when you can make the best gluten free homemade donuts? The best place the make donuts is at home so you know they are safe for you to eat The gluten-free community has come up with amazing donut recipes, let's look at these gluten free donut recipes that will be great for any gluten sensitivity
Blueberry Glazed Donuts
Baked donuts are fun baked goods to make at home! These blueberry glazed donuts are not overly sweet but are the perfect treat for breakfast with your morning coffee, or, just as a snack. Follow the video tutorial for a step by step guide as to how to see how to perfect baked donuts! Click Here
Baked Apple Cider Donuts
This recipe for gluten free baked apple cider donuts is super easy, beyond delicious, and is ready in under 30 minutes! This how to guide will show you step by step how to make this perfect seasonal treat. Click Here
Chocolate Glazed Donuts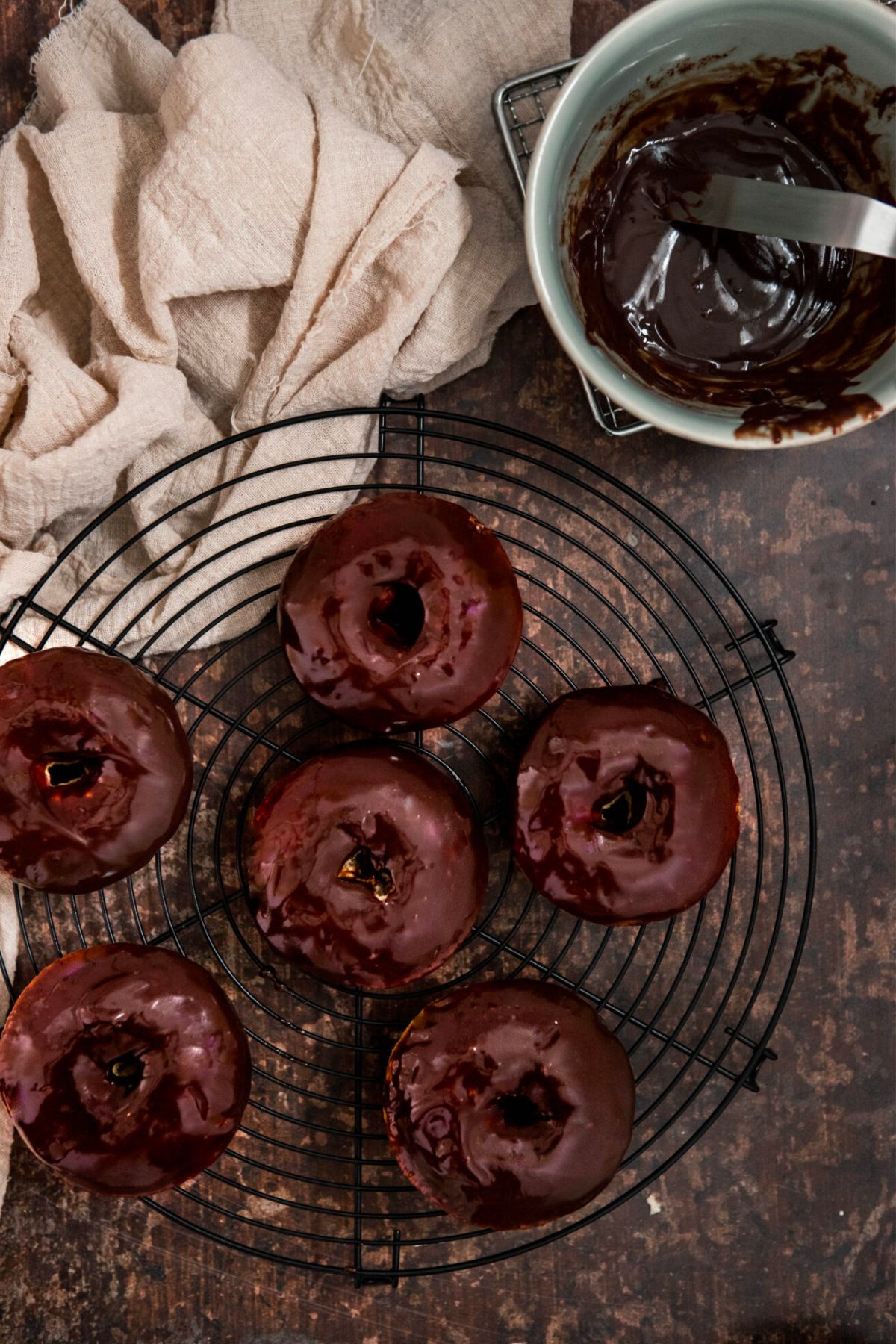 Looking for the best gluten free donut recipe? Don't worry, we have you covered. These baked donuts are super quick to make, easy, and it is a super delicious recipe! Click Here
Gluten Free Maple Doughnuts
Maple doughnuts (or maple donuts, we accept all spellings here!) are a quick and easy recipe. Follow the video tutorial for step by step instructions as to how to make this recipe! Click Here
Gluten Free Mochi Donuts
You can make these Japanese-style donuts right at home! Gluten Free Mochi Donuts are wonderfully soft with a sweet vanilla glaze that makes them absolutely delightful. Click Here
Pumpkin Spice Gluten Free Donuts
Gluten free donuts get a fall makeover. Baked pumpkin and warm spices, they are perfect with a cup of coffee or cider. Click Here
GLUTEN FREE CINNAMON SUGAR DONUTS
Gluten Free Cinnamon Sugar Donuts are baked and made with almond flour. You only need 8 ingredients to make this healthy donut recipe! Click Here
Perfect Gluten-Free Doughnuts with Chai Glaze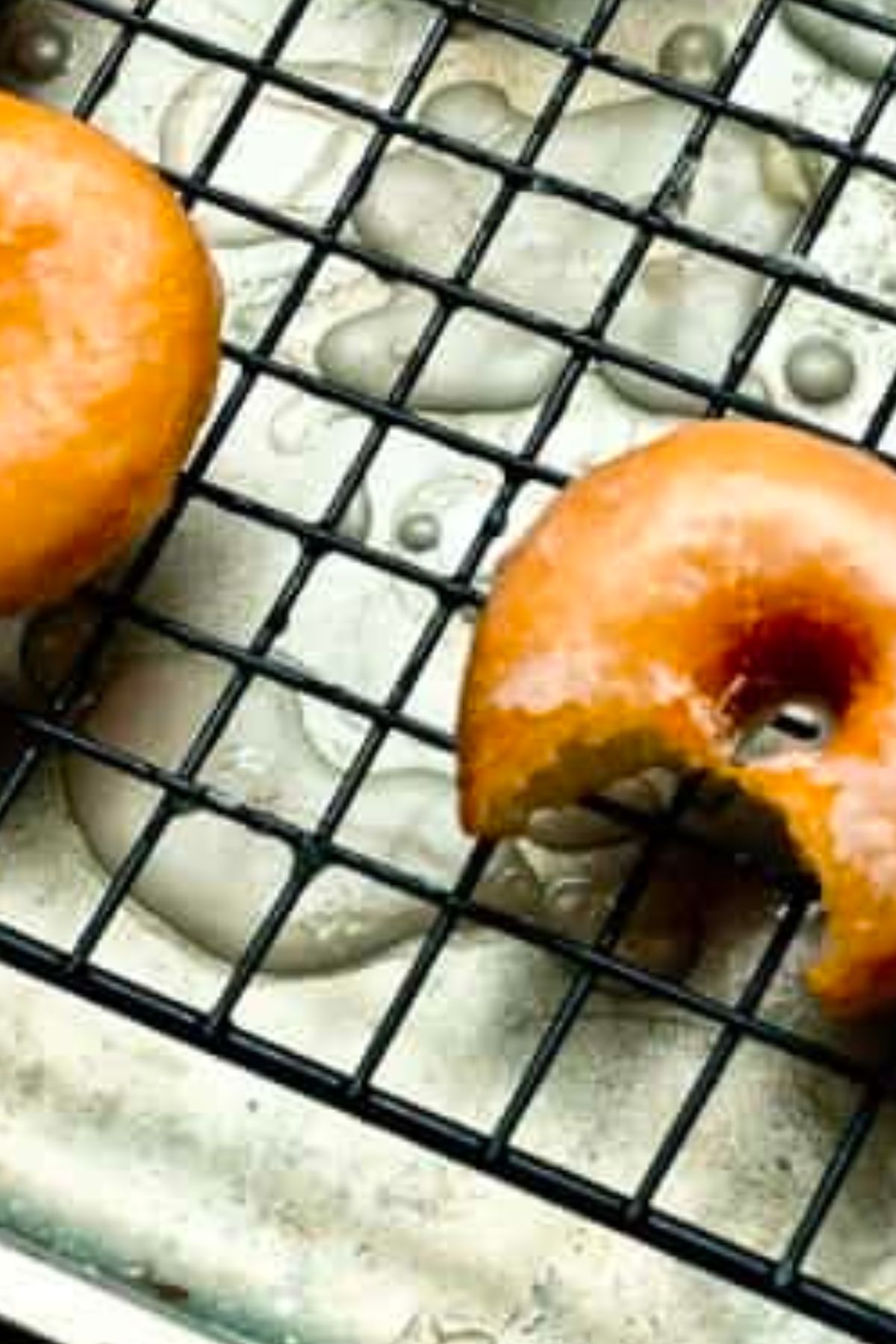 Amazingly delicious real fried gluten-free doughnuts with an addictive chai-spiced glaze. Click Here
Gluten-Free Chocolate Doughnuts with Chocolate Glaze
Chocolate cake on the next level: Dark Chocolate Cake Doughnuts with an incredibly rich and delicious chocolate glaze! Click Here
GLUTEN FREE DONUTS With Vanilla Frosting
These gluten free donuts are soft, sweet and classic! They are vanilla with a delicious glaze. Click Here
Should you decide to make your own Krispy Kreme gluten free donuts, here is how to store them:
To store donuts and keep them fresh for as long as possible, follow these general guidelines:
Allow donuts to cool: Before storing, ensure that the donuts have completely cooled down to room temperature. Storing warm or hot donuts can lead to condensation, making them soggy.
Choose appropriate containers: Select a container that provides an airtight or nearly airtight seal to help maintain freshness. This could be a food storage container with a tight-fitting lid or a zip-top plastic bag.
Separate layers: If you're stacking multiple donuts, consider placing parchment or wax paper between the layers to prevent sticking and preserve their appearance.
Refrigerate or freeze (optional): If you want to extend the shelf life of the donuts, you can refrigerate them for up to a week or freeze them for several weeks. However, note that refrigeration can affect the texture and taste of donuts, making them denser. Freezing is a better option for longer-term storage.
Properly wrap for freezing: If freezing, individually wrap each donut in plastic wrap or place them in a freezer-safe bag. Squeeze out excess air to minimize freezer burn and maintain freshness.
Thawing frozen donuts: When you're ready to eat frozen donuts, allow them to thaw at room temperature or in the refrigerator. To refresh the texture, you can briefly warm them in a microwave or oven.
Avoid excessive moisture: Keep donuts away from moisture, as it can make them soggy. Avoid storing them near sources of humidity, such as open windows or steamy kitchen areas.
Consume within a reasonable time: While the storage methods mentioned above can help preserve the donuts, they are still best enjoyed within a few days of being made.
Remember, different types of donuts may have different shelf lives due to variations in ingredients and toppings. Always consider the specific characteristics of the donuts you have and adjust the storage methods accordingly.
To conclude, is Krispy Kreme Gluten Free?
For the majority of the time, no. They have the odd donut that is gluten free, but, it is safest to buy donuts from a gluten free brand or make them yourself at home.
Did you find this helpful? If you did, let me know! And let others know too by leaving a comment and star rating. Reviews are incredibly useful in helping other people find my site and make my recipes. Thank you so much!
Laura
CHECK OUT OTHER ARTICLES AND RECIPES
Check out my article on "is kitkat gluten free?"