Jump to Recipe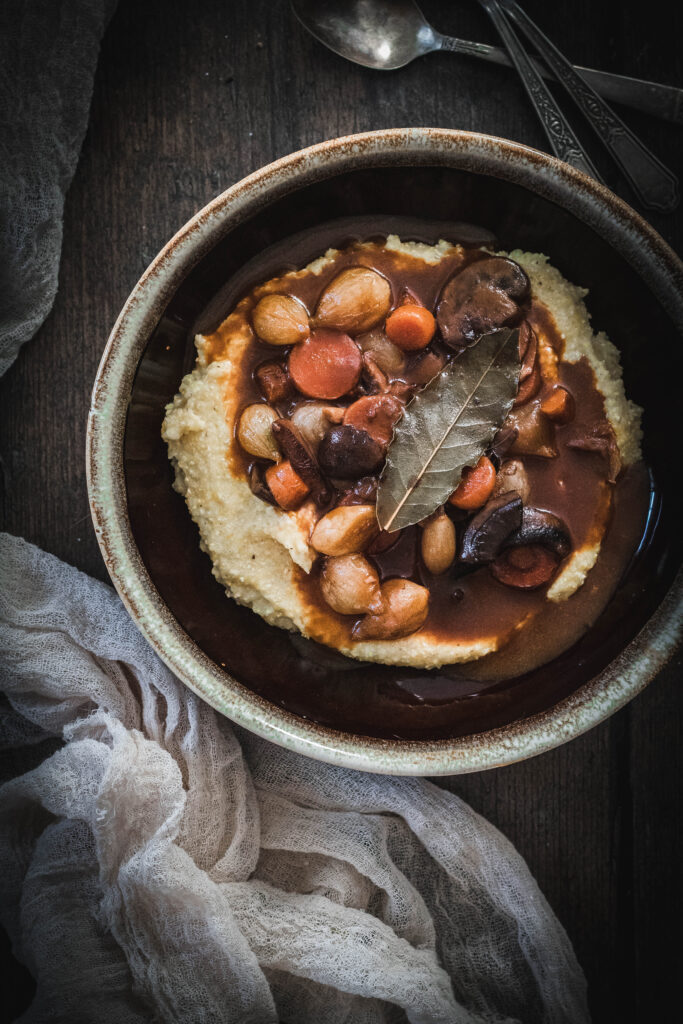 Vegetarian Bourguignon
Vegetarian Bourguignon does not roll off the tongue the same way that beef Bourguignon or in the proper French Boeuf Bourguignon does. I love
Julia Child. She is one of the people I would have to my fictitious dinner party should the opportunity ever arise.
We are living in strange times right now.
We are trying to continue to eat as best we can even though times have been rough. We are making meals that we know we can have leftovers from. I feel the norm right now is that there is no norm.
What you need for this recipe
You will need the following:
1. Butter – about 6tbsp – or use olive oil
2. I use about 3 packages of the mixed gourmet mushrooms from the store
3. 1 bag of frozen pearl onions (these are so much easier as you don't have to peel them)
4. 2 cups red wine- I use cabernet
5. 2 cups vegetable stock
6. 3 carrots
7. 1.5 tablespoon of tomato paste
8. 3 garlic cloves minced
9. 3 or 4 thyme sprigs
10. 1 bay leaf
11. Polenta (we'll get back to this later).
12. 3 tablespoon coconut aminos or soy sauce
13. 2 tablespoon flour (I use gluten free flour)
How to make the veggie bourg.
You are going to want to melt about half of your butter and or heat up your olive oil in a pan. Add your mushrooms and your pearl onions. Do not stir them frequently. You want them to brown on each side.
Do this for about 7-10 minutes. Once they are all browned, remove them from the pan.

Melt the rest of your butter and add your carrots. Sauté them for about 5 minutes until they are soft and golden. Place garlic in the pot for 1 minute, and then add your tomato paste and coconut aminos. Add your flour and make sure the carrots and garlic are covered.

Pour your wine and veggie stock into your pot. Put the mushrooms and onions back in. Add your thyme and bay leaf. Mostly cover your your pot with its lid and allow it to simmer on medium heat for about 28-30 minutes. It will thicken and become absolutely delicious.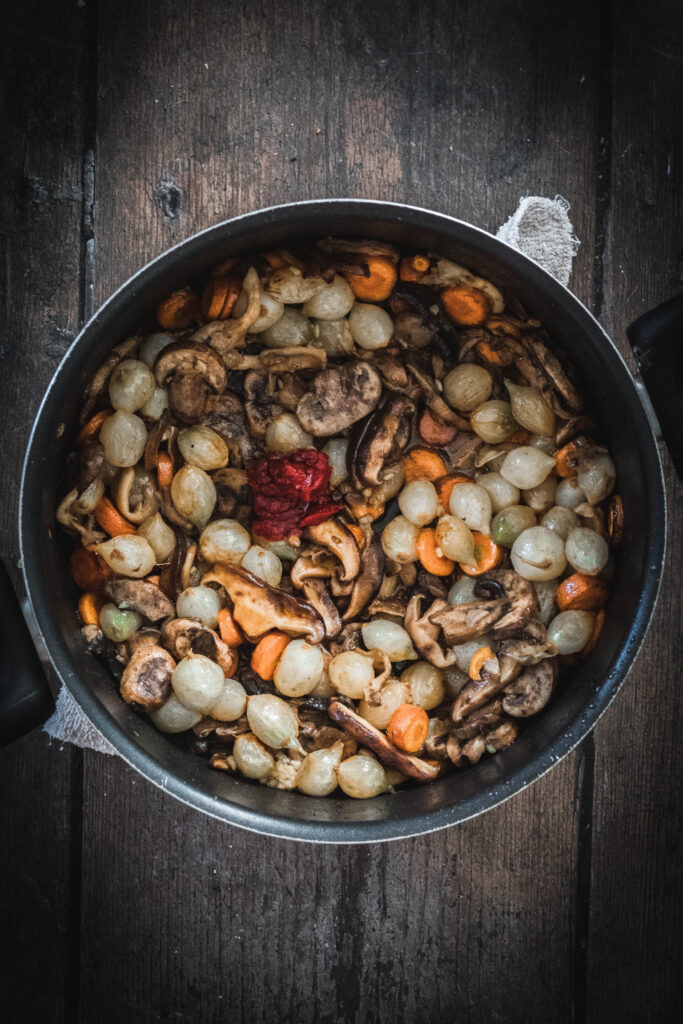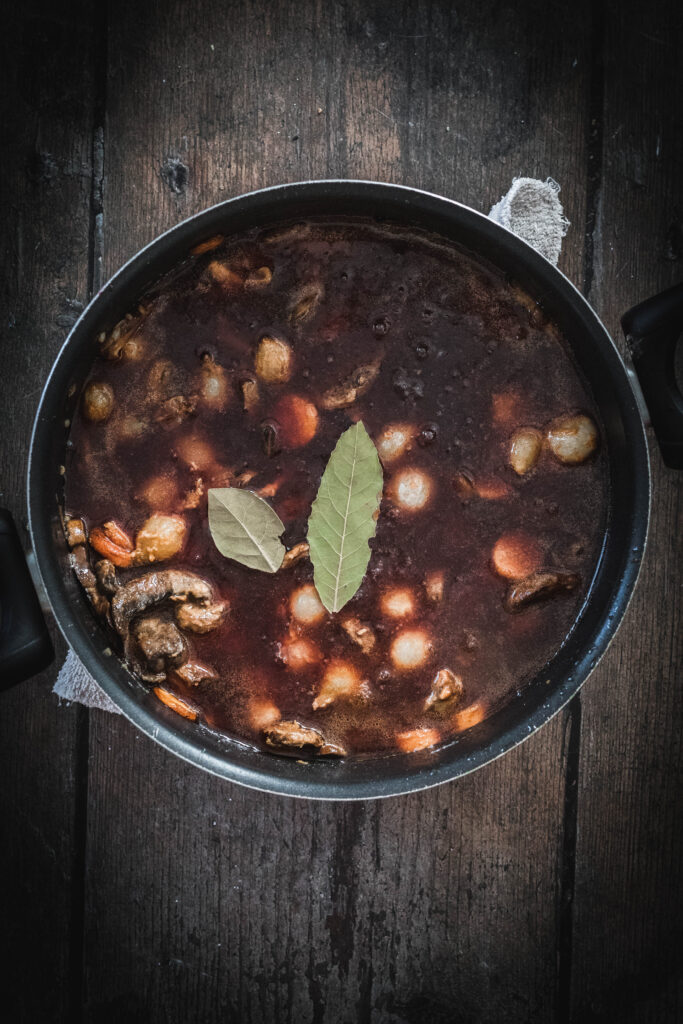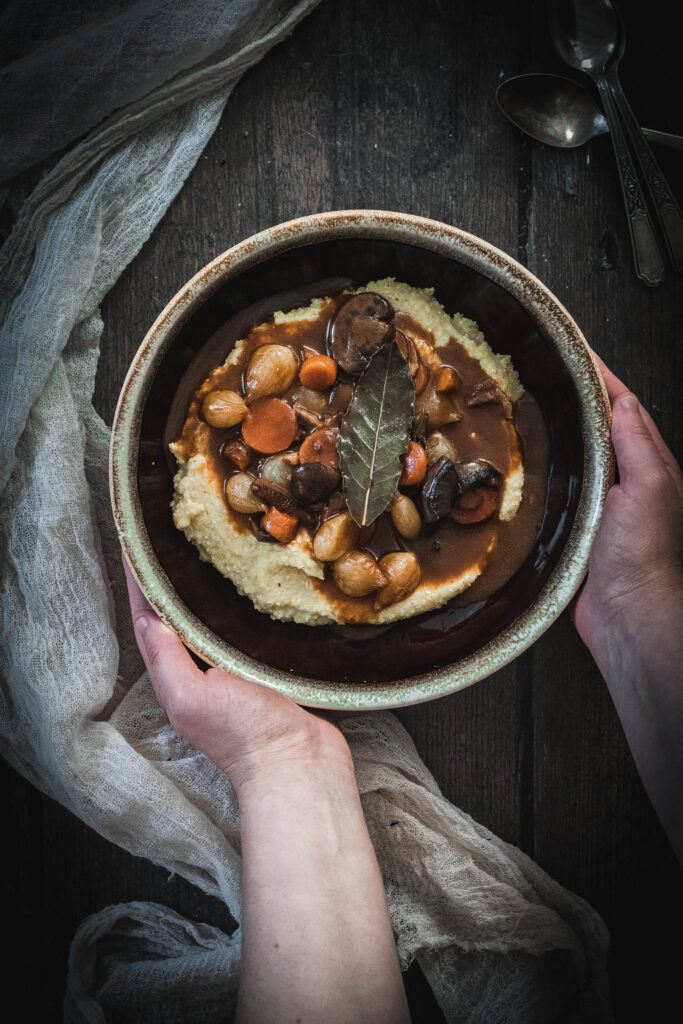 Now, Polenta. I do love polenta.
How you cook your polenta is up to you. For 1.5 cups polenta I use 2.5 cups milk and 1.5 cup veggie stock. I also add pepper, parmesan cheese, and gruyere to my polenta mixture. You do not have to do any of these things especially if you want it to be vegan. Butter is added into mine in the end.

Once your polenta is ready (cook yours according to the package and add what you like) top your polenta with your vegetarian bourguignon.
Storing
This will last for several days in your fridge and reheats really nicely.
Looking for something similar?
Poached Eggs, Polenta, and Kale click here
Stuffed Pasta Shells with Ricotta and Spinach click here
Vegan Polenta click here
Linguine and Clams click here
Ratatouille click here
Lentils and Eggplant click here
Vegetarian Mushroom Bourguingnon
Inspired by Julia Child, this mushroom and vegetarian version (with a vegan option!) is the perfect dinner.
Ingredients
3

carrots

chopped into slices

3

garlic cloves

minced

2

cups

Red Wine

Cabernet

2

cups

Vegetable Stock

6

tablespoon

butter or olive oil

1

bag

pearl onions

Frozen are easier to use

3

packages

gourmet mixed mushrooms

1.5

tablespoon

tomato paste

3

tablespoon

coconut aminos

soy sauce if you cannot find them

3

tablespoon

flour

I use gluten free flour

1

bay leaf

3 – 4

thyme sprigs

polenta

Your choice how you make it. See above for how I make mine.
Instructions
Melt 3 4 tablespoon of butter or heat up 4 tablespoon of olive oil. Once warmed, add your mushrooms and onions to your pot. You do not want to mix them often as you want them to brown on all sides.

Once they are all browned, add your remaining butter or olive oil and add your carrots. Brown them for about 5-10 minutes. Once browned, add in your minced garlic for 1 minute. Add your tomato paste and your coconut aminos.

After a minute, add your flour and cover your carrots and garlic. Add your vegetable stock and red wine. Put your mushrooms and onions back in the pot along with the thyme sprigs and bay leaf. Raise the heat to medium and allow it to simmer for 28-30 minutes. You want a thick looking sauce at the end, almost like a stew.

Make your polenta however you like and serve it up when your bourguignon is ready!
Nutrition
Calories:
356
kcal
Carbohydrates:
23
g
Protein:
7
g
Fat:
18
g
Saturated Fat:
11
g
Polyunsaturated Fat:
1
g
Monounsaturated Fat:
4
g
Trans Fat:
1
g
Cholesterol:
45
mg
Sodium:
952
mg
Potassium:
930
mg
Fiber:
4
g
Sugar:
8
g
Vitamin A:
8597
IU
Vitamin C:
11
mg
Calcium:
49
mg
Iron:
2
mg