Soft Shell Crab Sandwich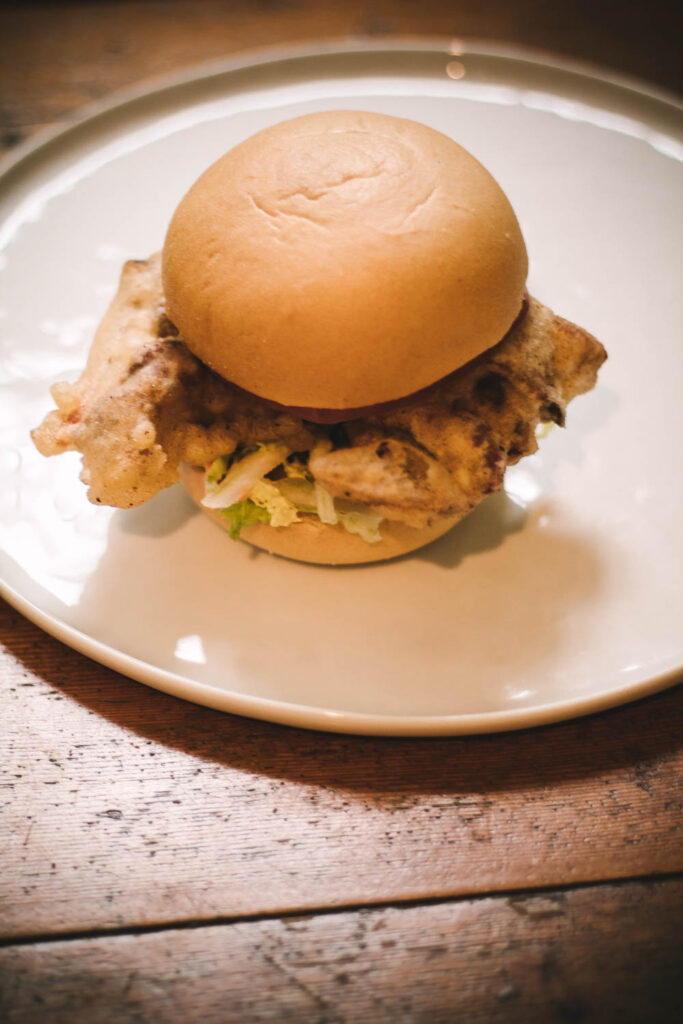 So much has happened in life, guys! First and foremost, we moved to Maryland. If you are thinking "moving during a pandemic, what is that like?" I can tell you that the answer is pretty crazy. It was really stressful to have people visit our home. We would clean like crazy and then get everything sorted before and after anyone entered. We had been wanting to move to Maryland for a long time, and honestly, our dream house kind of just happened. It is a magical 200 year old dream house, so, I call this soft shell crab sandwich our welcome to Maryland sandwich.
What is life like here?
Much slower paced than in Richmond. We have more land and therefore there is more distance between us and our neighbors. We moved while everything was still in bloom (in the middle of July) and everything was just so beautiful.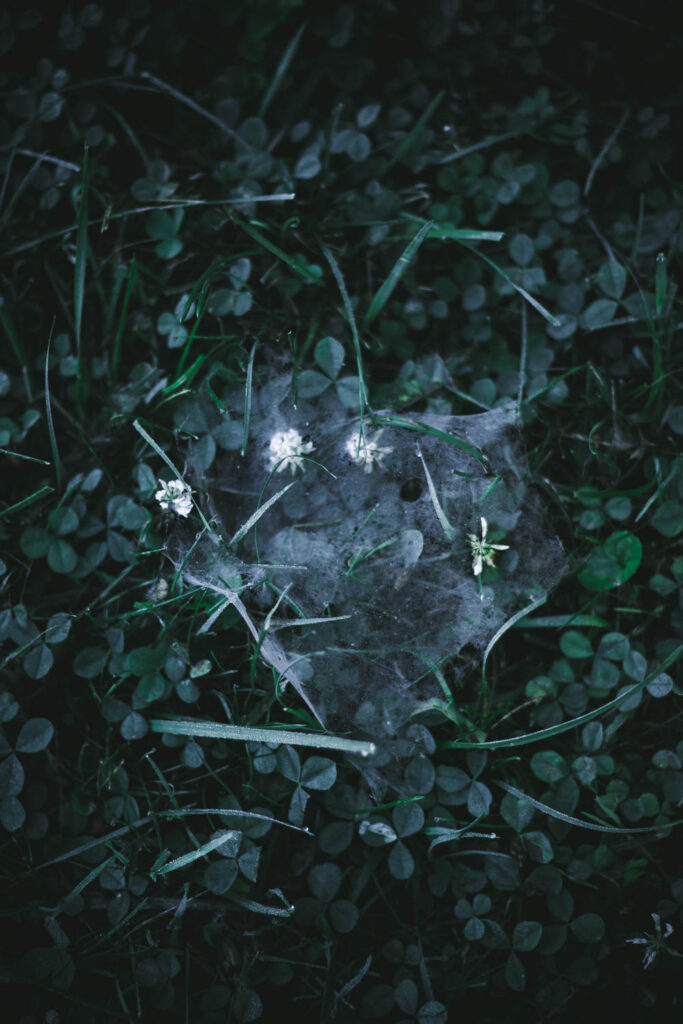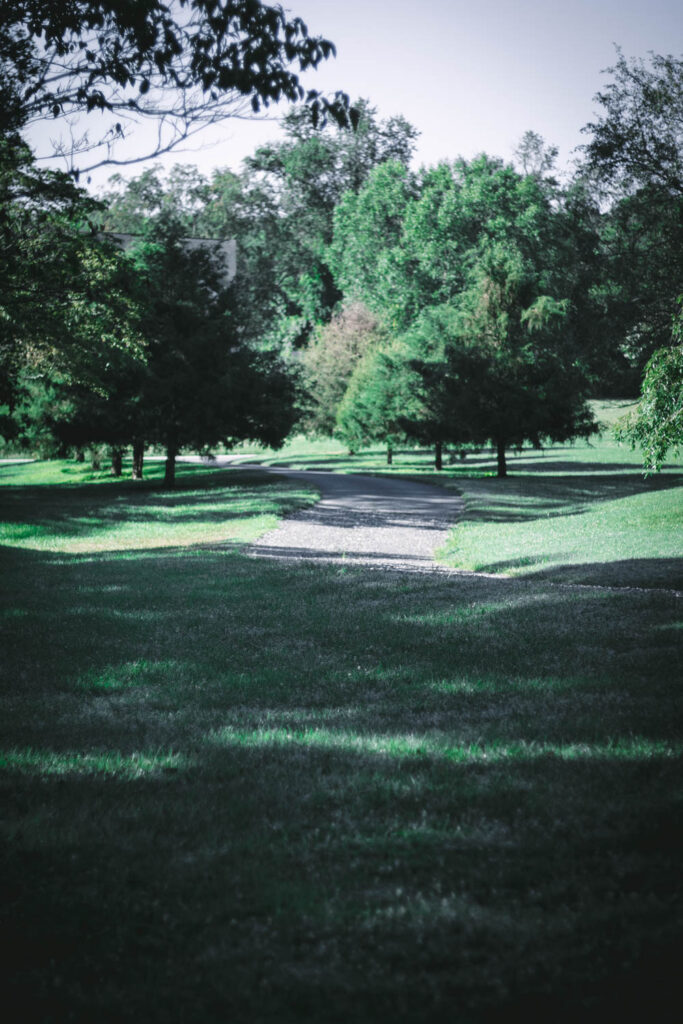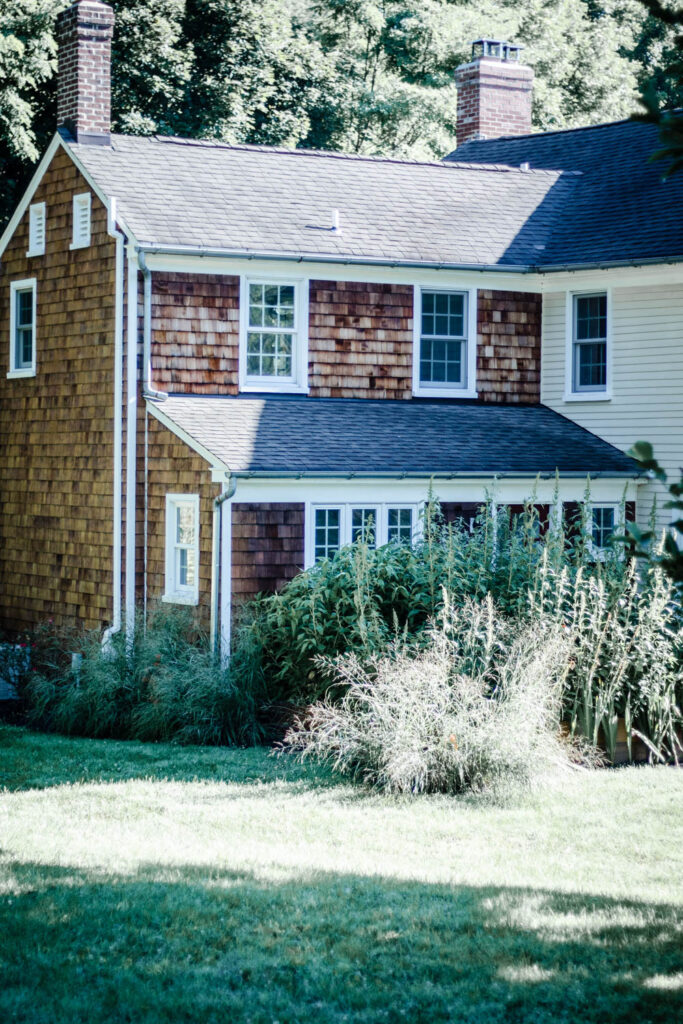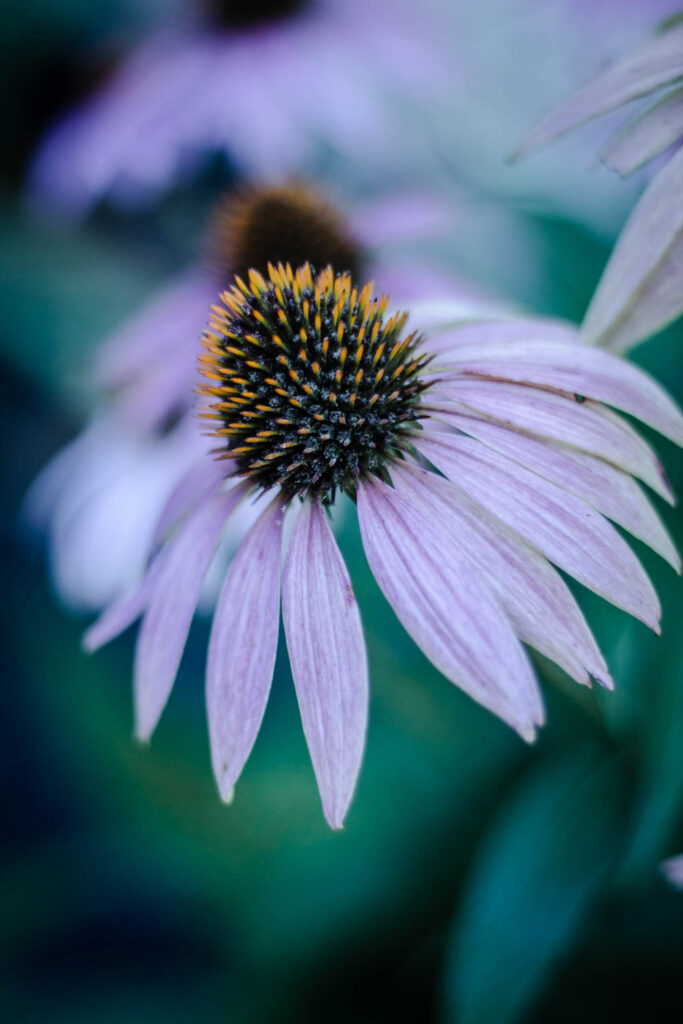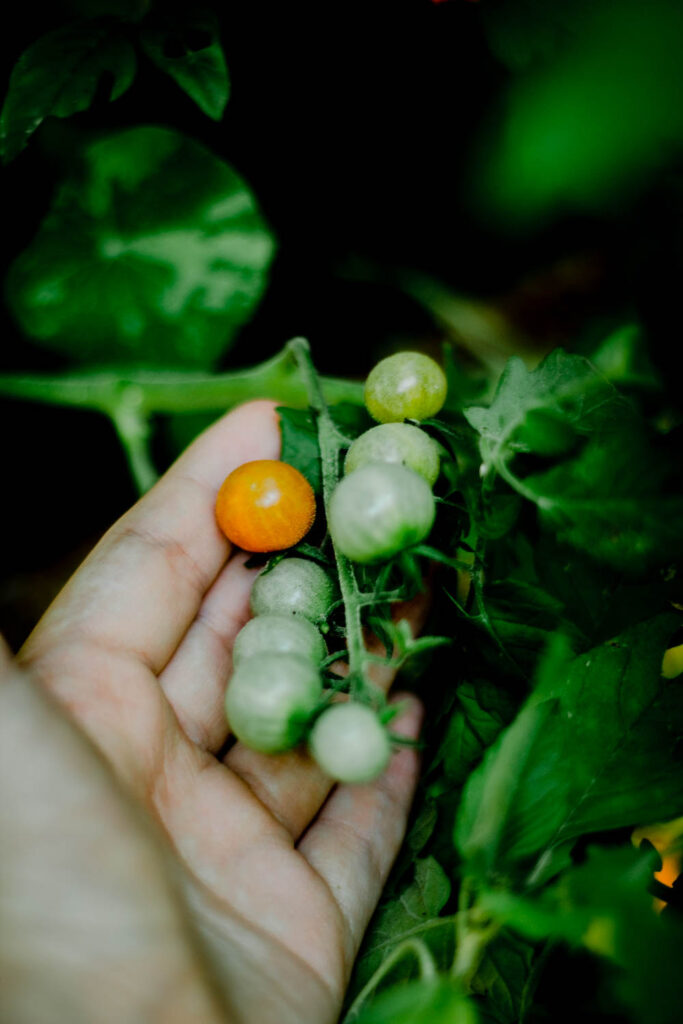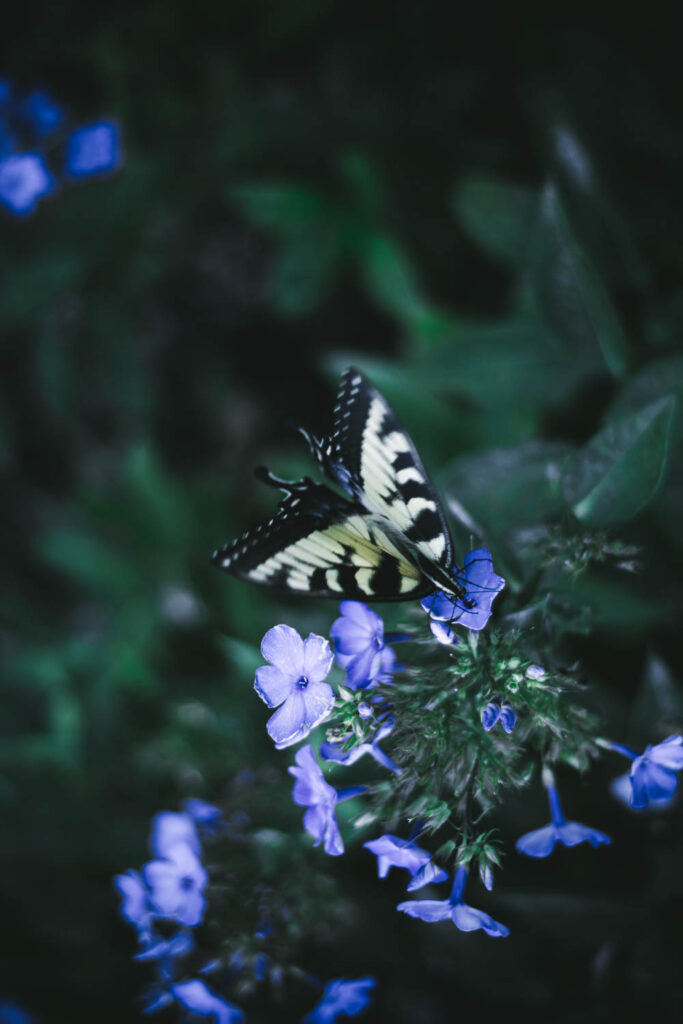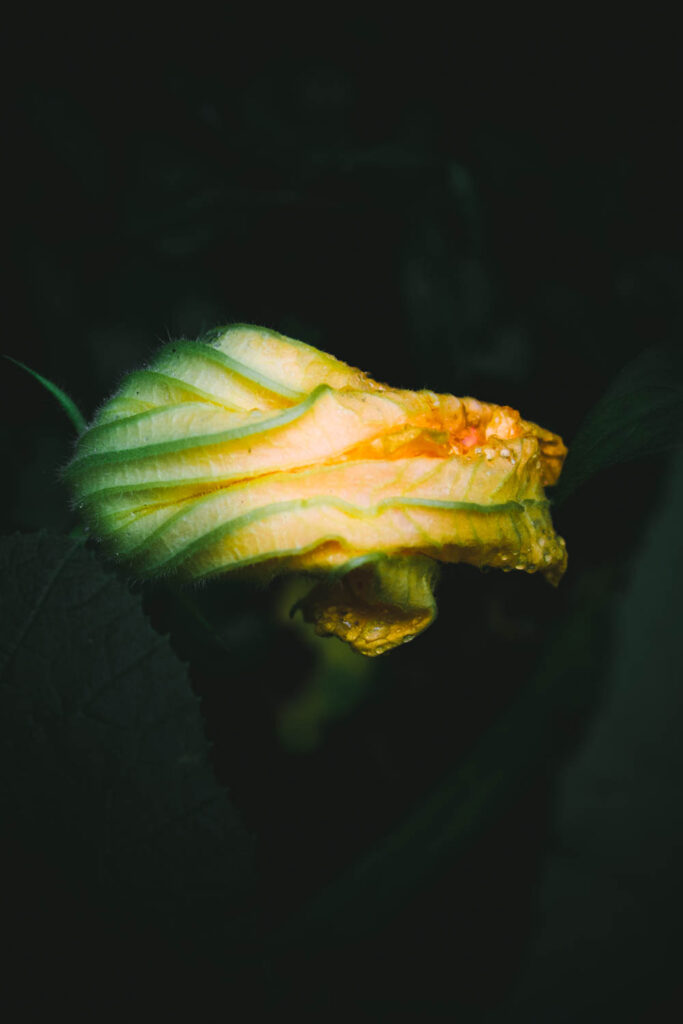 I love soft shell crab. There is a sushi restaurant in Charlottesville, Virginia named Ten that makes really delicious gluten free soft shell crab rolls. In my mind, crabs are basically the state dish of Maryland so it only made sense to make a gluten free soft shell crab sandwich once we were all settled in.
What will you need for your soft shell crab sandwich?
Not a lot, partially why I love this recipe!
Soft Shell crabs (this recipe is ideally for 4)
Buns! I used Schar gluten free hamburger buns and they worked nicely.
Coleslaw or cabbage that you will put as much tartar sauce on as you like
1 slice heirloom tomato per sandwich
3 cups rice flour
2 cups water
Canola oil for frying
Hot sauce (optional)
How do you make them?
Again, so easy!
In a bowl mix together your slaw with tartar sauce. It is kind of up to you how much you want to use. I did just enough that when I stirred everything together, all the pieces were lightly coated.
Set aside your bowl with the slaw.
Heat up your oil in a dutch oven.
In one bowl, have 1 cup of the rice flour. In another, mix the 2 remaining cups of rice flour and water together to make your batter. If you are going to add hot sauce, now is the time to do it (in the batter).
Dip your crab into the flour, and then into the batter. Let a bit drip off, and then place in the oil once the oil is 375°F. You can fry two at a time. Fry for about 3 minutes per side, or, until they are nice and golden brown.
Slice up your tomato while they are frying.
On the base of your bun, add the slaw, then once the crab is done, place it on top of the slaw. Then your tomato slice, and your bun on top! Tada!
Serve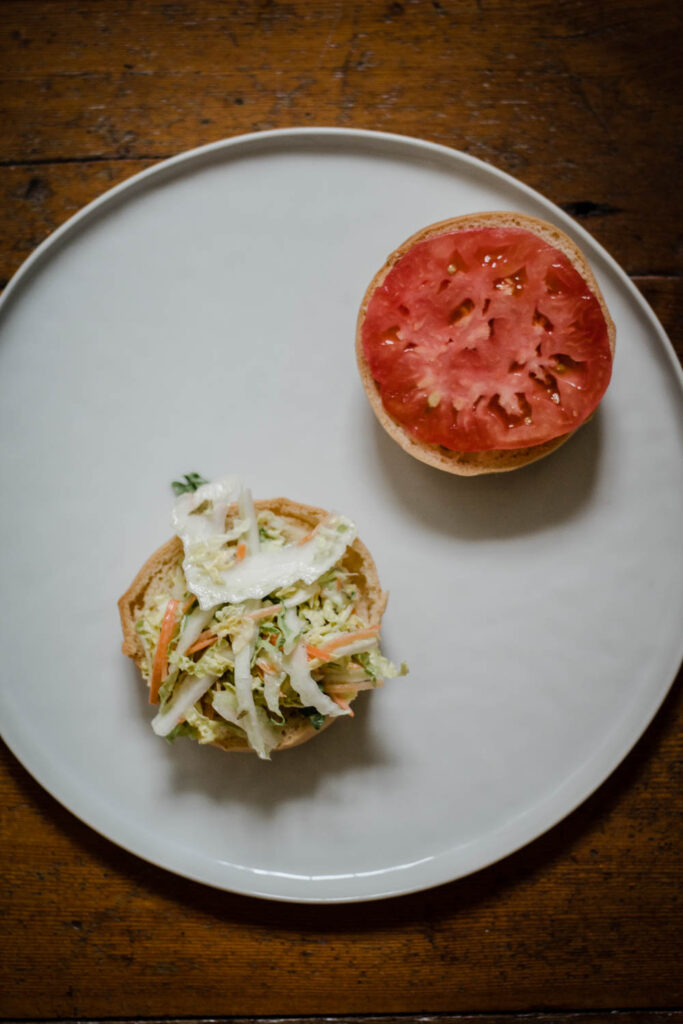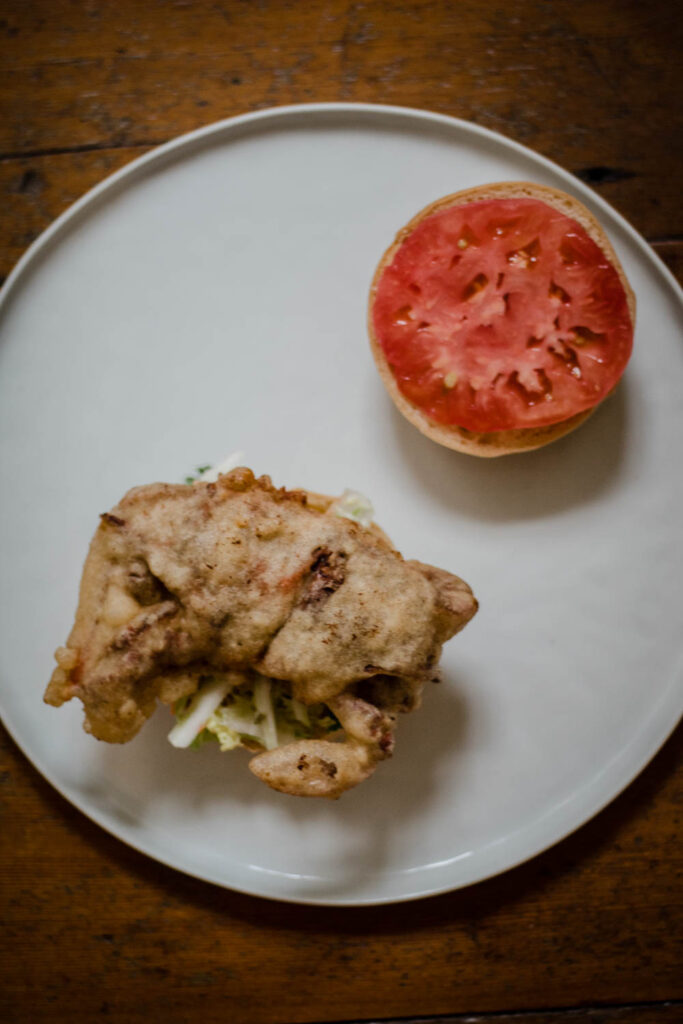 Why should you make this soft shell crab sandwich?
For one, it is really easy, delicious, and gives those of us who have to eat gluten free an option to have tempura. it is a fun sandwich to have even if you have not moved to Maryland.
Looking for something similar?
Other fish based recipes:
Cajun Catfish click here
Linguine and Clams click here
Beer Steamed Mussels click here

Soft Shell Crab Sandwich
This gluten free soft shell crab sandwich is the perfect game day menu item. An homage to the state of Maryland, it is not to be missed.
Ingredients
Soft Shell crabs

this recipe is ideally for 4

Buns! I used Schar gluten free hamburger buns and they worked nicely.

Coleslaw or cabbage that you will put as much tartar sauce on as you like

1

slice

heirloom tomato per sandwich

3

cups

rice flour

2

cups

water

Canola oil for frying

Hot sauce

optional
Instructions
In a bowl mix together your slaw with tartar sauce. It is kind of up to you how much you want to use. I did just enough that when I stirred everything together, all the pieces were lightly coated.

Set aside your bowl with the slaw.

Heat up your oil in a dutch oven.

In one bowl, have 1 cup of the rice flour. In another, mix the 2 remaining cups of rice flour and water together to make your batter. If you are going to add hot sauce, now is the time to do it (in the batter).

Dip your crab into the flour, and then into the batter. Let a bit drip off, and then place in the oil once the oil is 375°F. You can fry two at a time. Fry for about 3 minutes per side, or, until they are nice and golden brown.

Slice up your tomato while they are frying.

On the base of your bun, add the slaw, then once the crab is done, place it on top of the slaw. Then your tomato slice, and your bun on top! Tada!

Serve
Nutrition
Calories:
1763
kcal
Carbohydrates:
386
g
Protein:
29
g
Fat:
7
g
Saturated Fat:
2
g
Polyunsaturated Fat:
2
g
Monounsaturated Fat:
2
g
Sodium:
369
mg
Potassium:
448
mg
Fiber:
12
g
Sugar:
1
g
Vitamin A:
246
IU
Vitamin C:
13
mg
Calcium:
66
mg
Iron:
2
mg