Mexican Rice! So easy, so delicious. Growing up, my mom liked to make plain rice. It was with this chicken dish that I never liked and canned corn. If I ever walked into the kitchen and saw that being made for dinner, I frequently lost my appetite.
Why Mexican Rice?
My favorite restaurant as a child, Mexicali Rosas, made the best chimichanga and it came with a delicious side of Mexican rice. This is an attempt to recreate their delicious dish.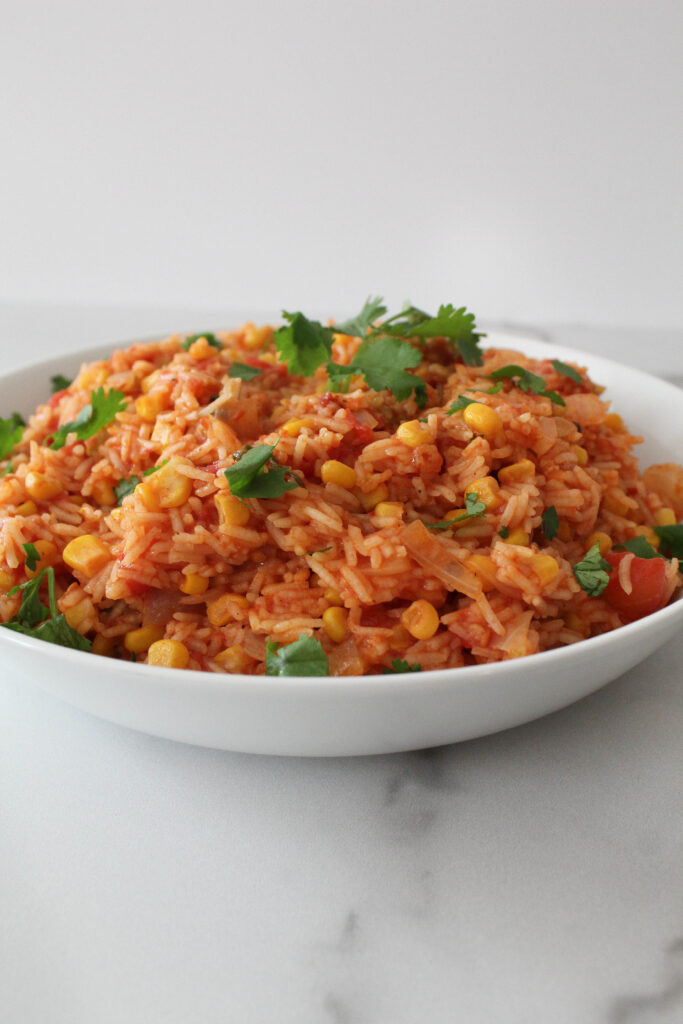 I talk in my post on Veggie Enchiladas that I love Mexican food and my memories with a restaurant when I was growing up. The side to the chicken chimichanga that would frequent my plate was either Mexican rice (or if I wanted to be super North American) fries.
How does one make this?
Simply, it is basically all in one pot, which make the best recipes, right?
Heat olive oil in a large skillet over medium heat. Add garlic and onion, and cook, stirring frequently, until onions have become translucent, about 2-3 minutes. Stir in rice until toasted, about 2 minutes.
Stir in tomato sauce and vegetable broth, and bring to a simmer, about 2 minutes. Stir in corn, carrots, peas, chili powder and cumin; season with salt and pepper, to taste. Bring to a boil; cover, reduce heat and simmer until rice is cooked through, about 13-16 minutes. Stir in tomatoes.
Add cilantro and serve immediately.