Before planning our IVF timeline, we planned a trip to Santa Fe. Learn all the pros and cons of our stay here!
It has been a hot minute since I have written and posted a blog post. I was feeling burnout from a lot that has been going on in my life and honestly, I stepped away from this, even though I should not have. The way I have been describing it to people is that it felt that I had seventeen fires raging around me at once and I could not get any of them under control. The past little while has been my attempts at putting out each fire and moving onto the next.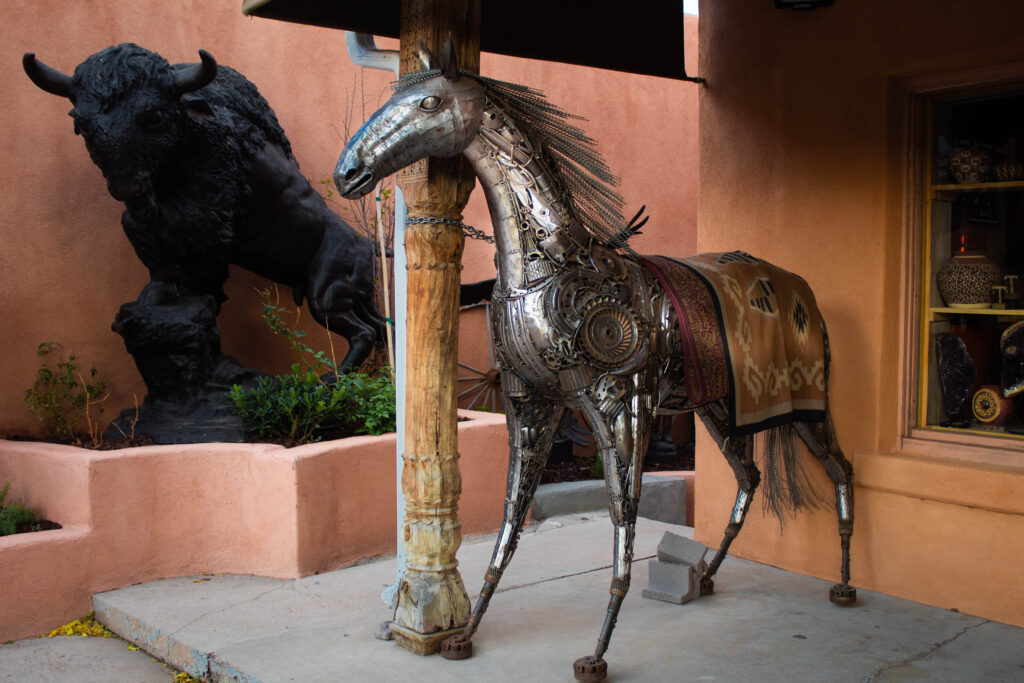 If you follow me on Instagram then you know I have been talking about infertility for a while. It has been a long and arduous journey for Josh and I. We have been trying to get pregnant for over 3 years. In January of 2021 we started fertility treatments for IUI (intrauterine insemination). We did four rounds of this with no success. It was becoming clearer and clearer that we would need to have an IVF timeline in place. We started planning and decided we would likely start in early July. That way, I could have some time off between treatments but still get the necessary testing done in order to proceed. The main thing for me on the IVF timeline was to make sure we took a vacation before I began injecting myself with what looks like a million needles.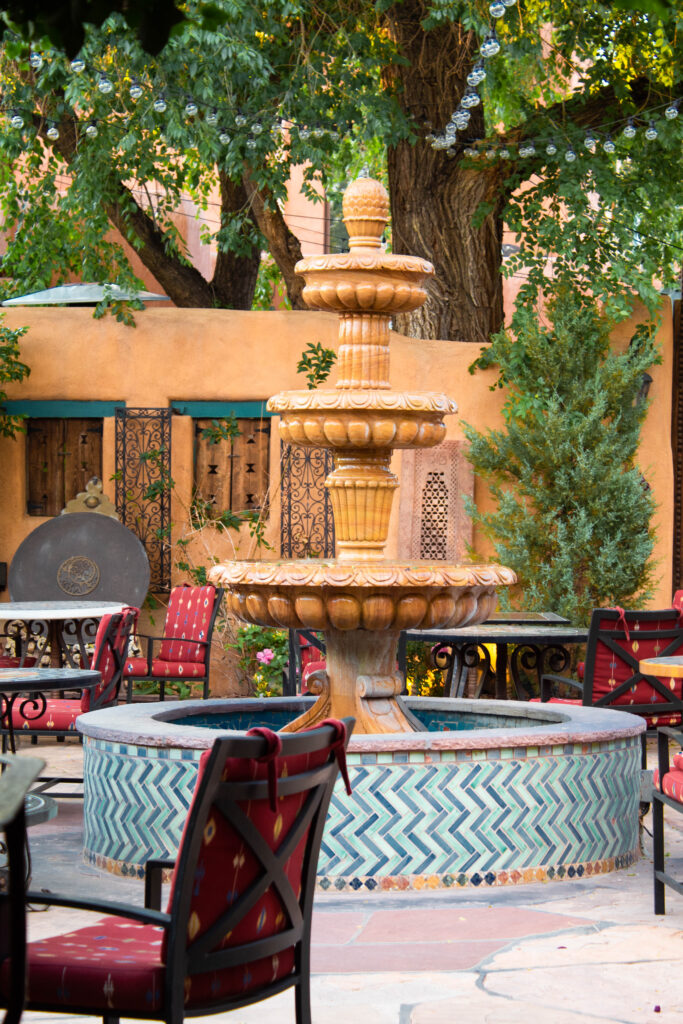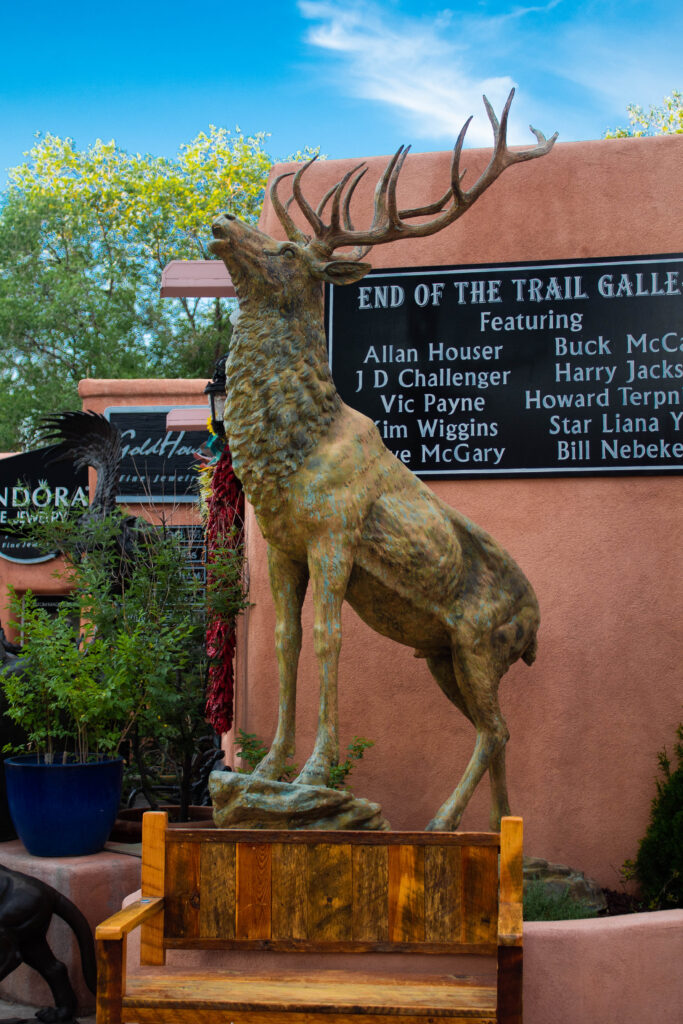 We have taken some vacations where we have loved every aspect of it (see our trip to Vermont or Dartmoor). While we enjoyed certain aspects of this trip, I definitely believe it is best to be honest of our experiences in case it can inform anyone else's trips (or if you too have an ivf timeline) going forward. Let's get into it!
Where did we stay in Santa Fe?
We stayed at a luxury hotel called The Inn of the Five Graces. Like most things in life, there are pros and cons to it. So, let's dive in.
Pros
The hotel is absolutely beautiful. The owners did a wonderful job in decorating. We stayed in two rooms over the course of our stay, Magnolia and Cottonwood. Magnolia was the superior of the rooms (despite being the cheaper one). The bathroom was magazine worthy. Pics will follow.
Cons
Despite the hotel being as nice to look at as it is, we never slept great here. While we were in the Magnolia room, a delivery truck for food across the street would arrive at 5:00 am and make a ton of noise. While in Cottonwood, the walls were so thin that we were bombarded with noise all night (I literally mean this. The noise did not stop).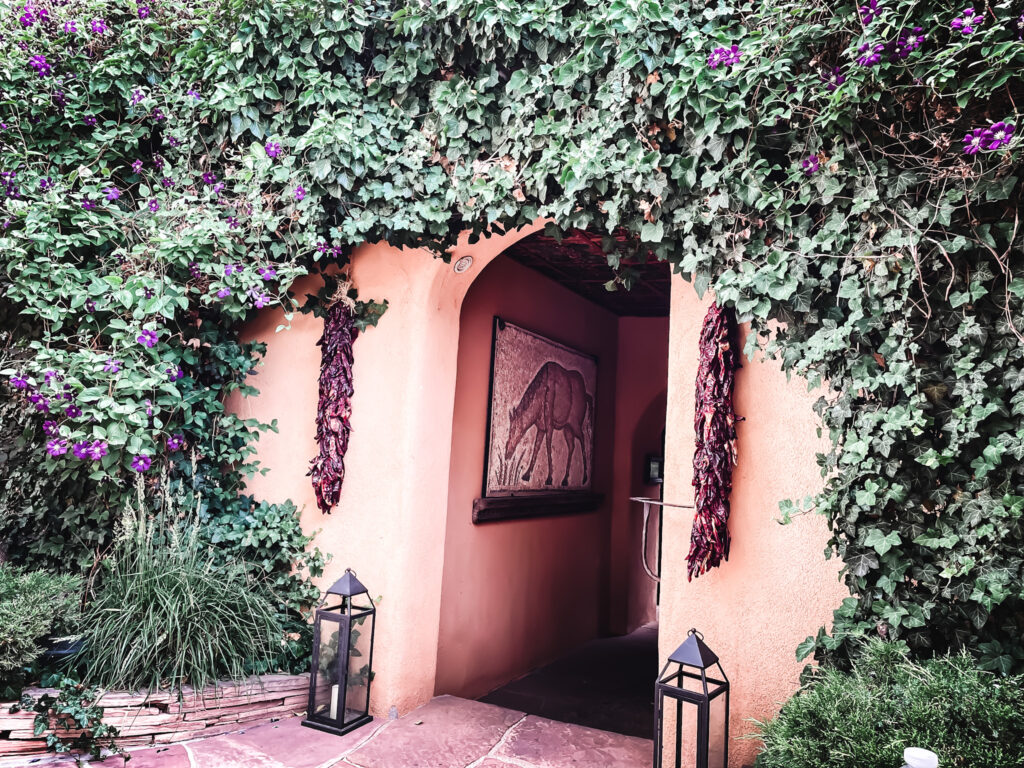 The staff at the hotel was absolutely terrific. There was one woman who worked the front desk who was less than great, but, 99 % of the staff were great. Friendly, accommodating, and very helpful.
We met the owners as they frequent their hotel and we went to their store (which I will discuss) and overall they really were not very friendly. The staff was telling everyone to say hi if we saw then (which we did) and they did not seem to appreciate it.
We really enjoyed the outdoor area of the rooms. They were fun to lounge in and we did relax here.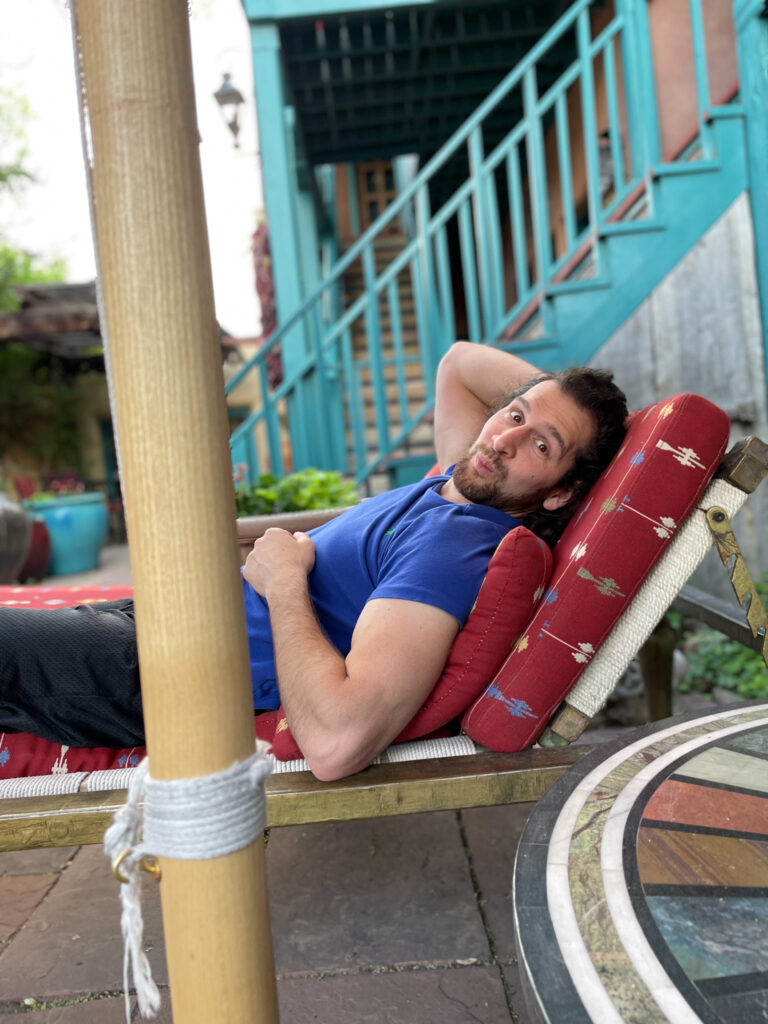 There is not much privacy in the outdoor spaces. For the price you are paying, there should be more.
My favorite thing: Food
The hotel we stayed at had complimentary breakfasts daily, which we found to be very good. Honestly, for the price you are paying, it had better be! While we were there, we wanted to try some different places and we did. Some we really liked, and one we had a terrible experience.
Places to go: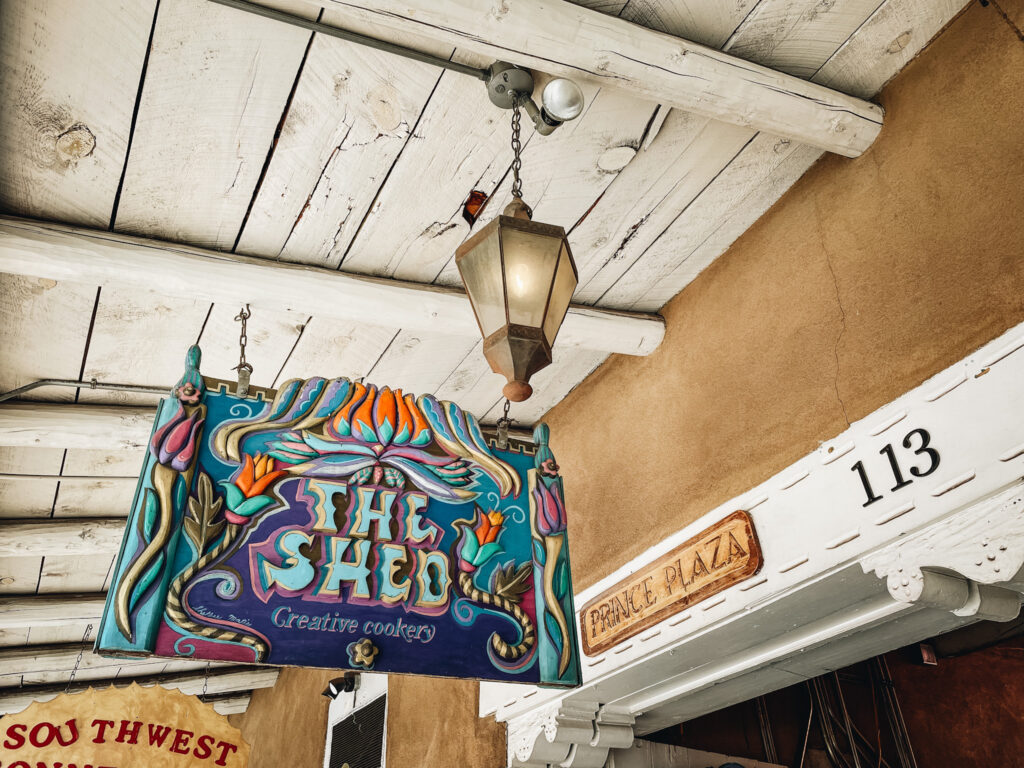 It is absolutely delicious New Mexican and southwestern food. Most of the menu is gluten free and the items are marked. Highly suggest the corn chowder, the trio of chips and salsas, and then there are a bunch of delicious entrées.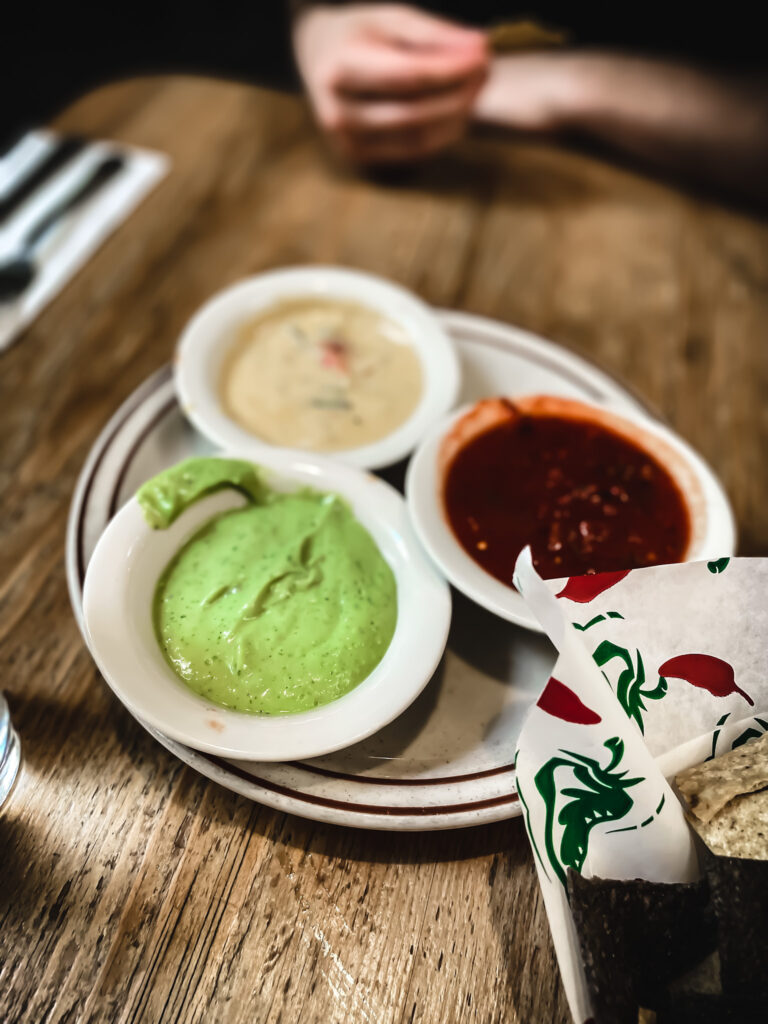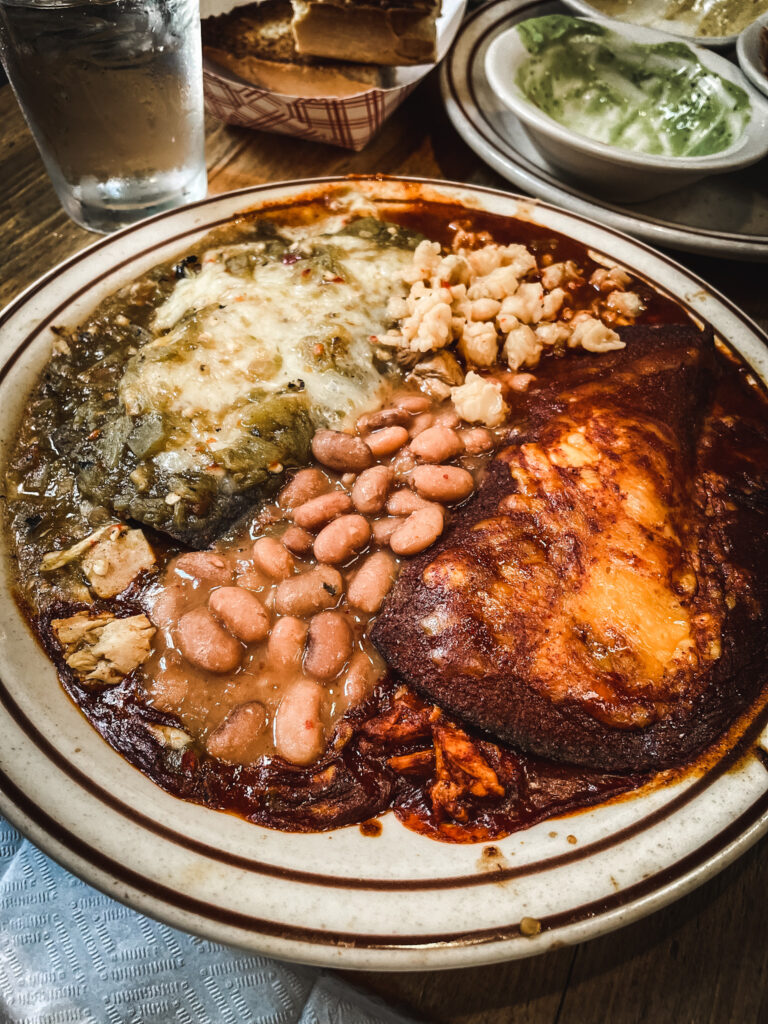 The owner has celiac disease and therefore most of the menu was good to go! Super delicious. Josh and I thoroughly enjoyed it.
This was the best quiche I have ever had in my life. Gluten free options, veg options, and some for meat eaters too!
A fun place, super casual, and delicious gluten free (and regular) pizza!
Desserts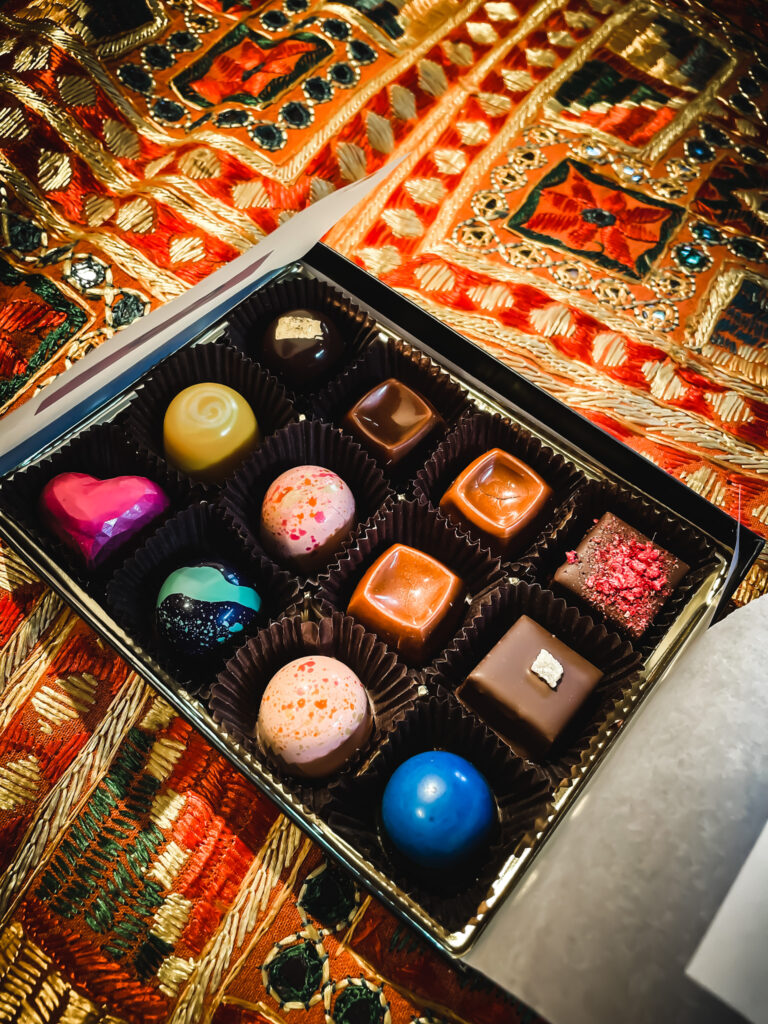 We had a good choice of desserts while in Santa Fe.
For Chocolates:

A delicious selection of chocolates- my favorite was goat cheese and chocolate. Sounds weird but man is it good.
So much chocolate! All of the store is gluten free except one brownie. They have multiple times of hot chocolates, bonbons, and chocolate dipped chiles.
This place is fun for different lattes and they had macarons and fresh baked cookies. The horchata latte was particularly delicious.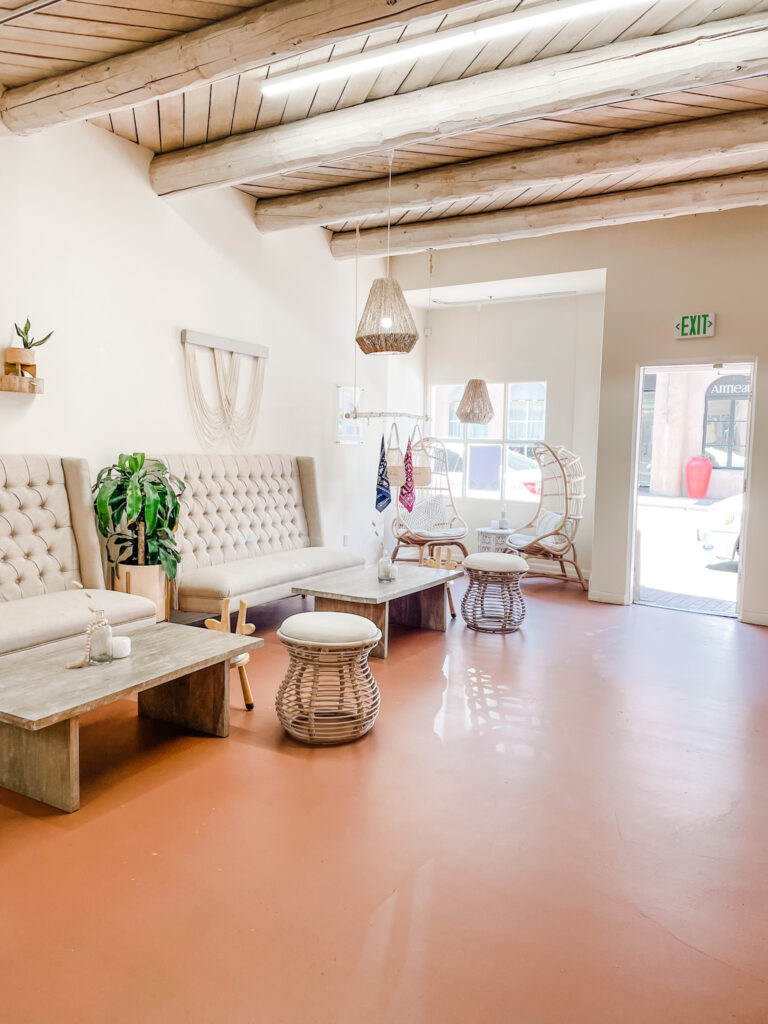 Things to do
If you like a lot of weird art then Santa Fe is the right place for you. Canyon Road is lined with a ton of galleries. There are several museums but be sure to buy your tickets well in advance (specifically the Georgia O'Keeffe museum).
The owners of our hotel own a store named Seret and Sons. It is the largest collection of Asian and Southeast Asian imports I have ever seen. They work closely with communities there and much of the art is historic. The carpets alone are worth stopping by the store.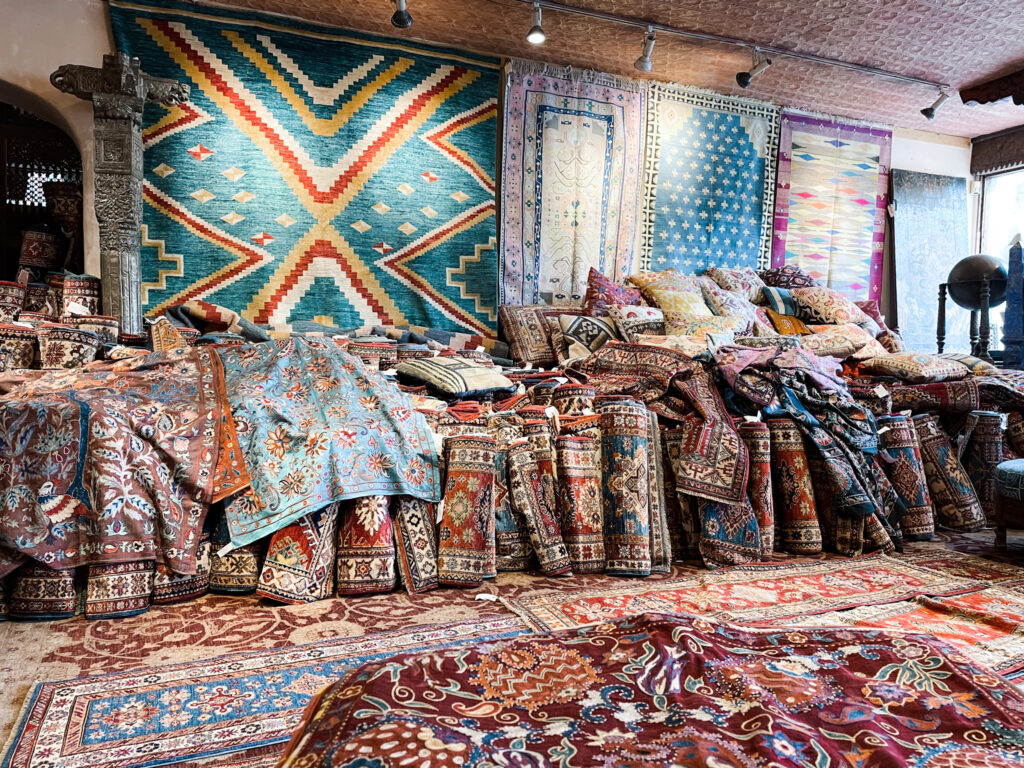 Things to do outside of Santa Fe
We visited two parks:
Bandelier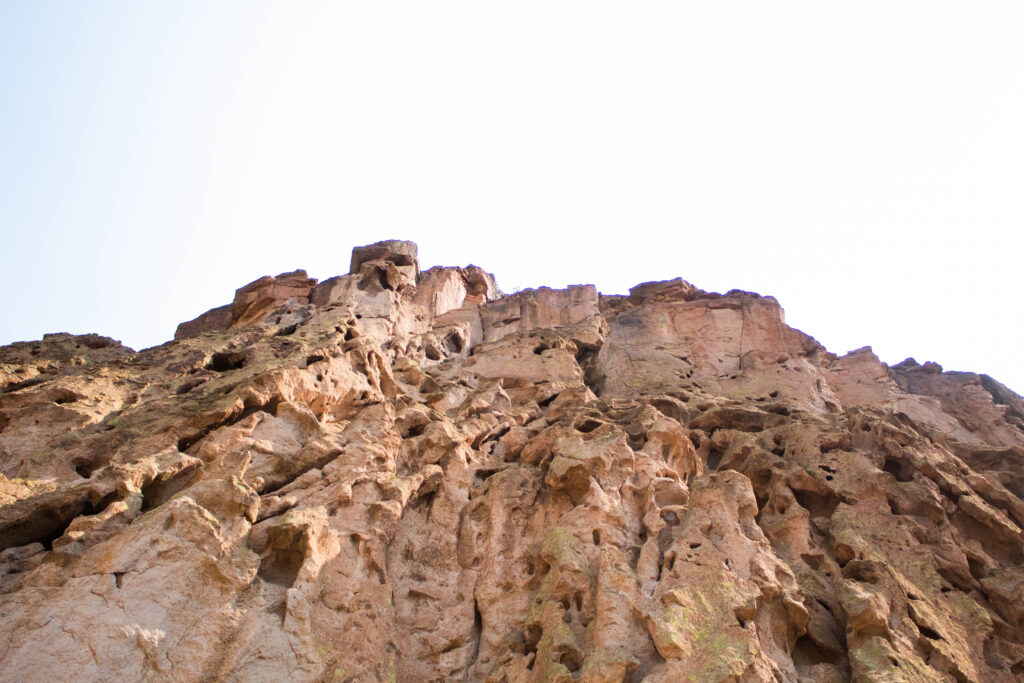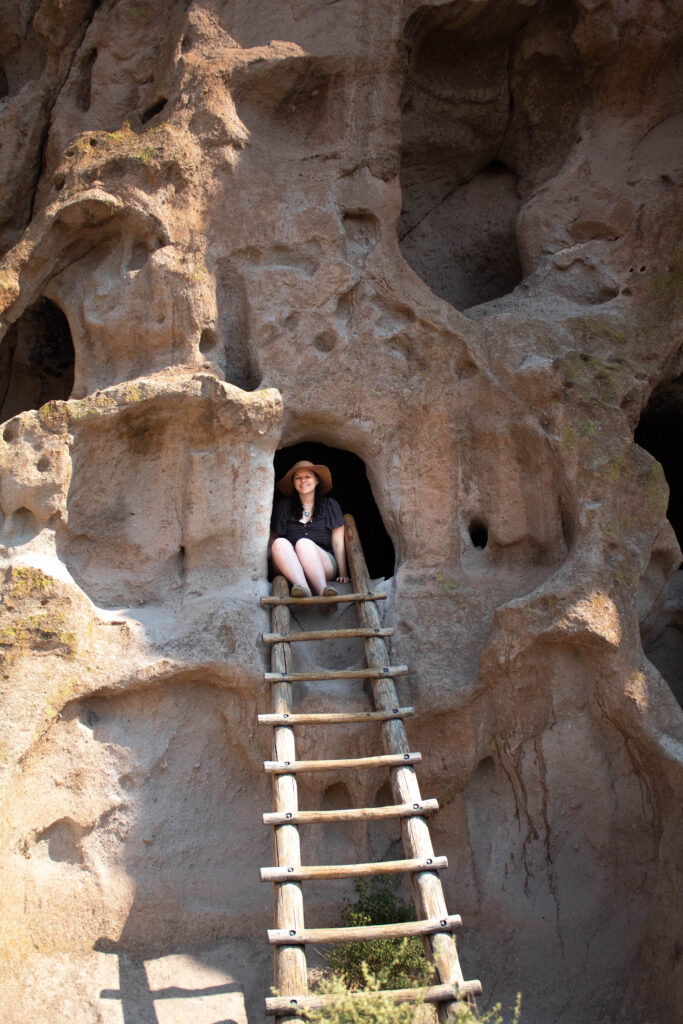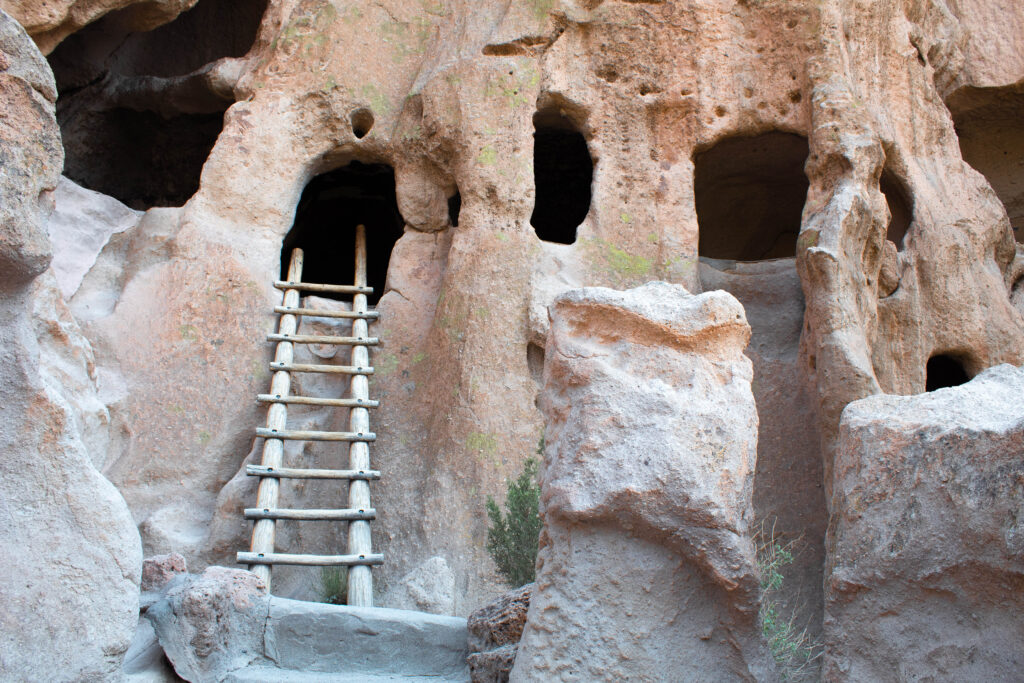 It is a really amazing and beautiful park. Full of interesting history. Definitely recommend.
Pescos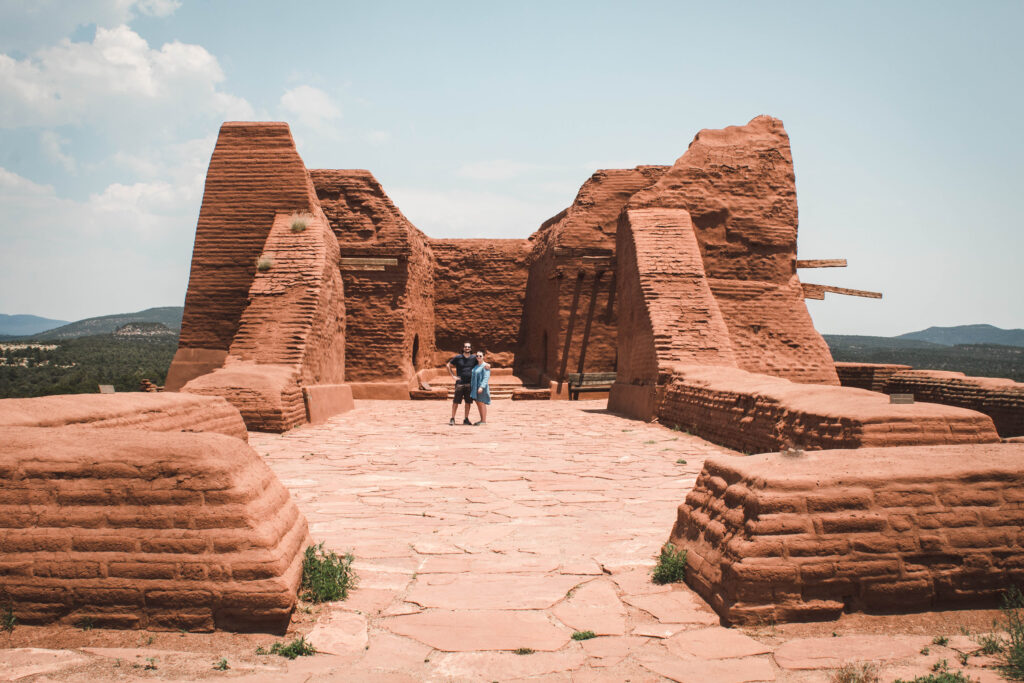 Pecos is full of history. The best part, no one was there! Definitely worth a visit.
Final thoughts
While an interesting place, we probably would not go again. We found ourselves a bit bored but we did really enjoy the parks and the landscape of New Mexico. It is vastly different from anything on the east coast. If you are looking for something different, it could be a great choice. However, it isn't for everyone!
I am feeling ready heading into IVF. Our IVF timeline is coming up very soon and we are walking into it together. I feel lucky to have a partner by my side for this journey and that that partner is Josh.