If you have been seeing the increasing options of milks at grocery stores, you have likely encountered oat milk. If you have wondered if oat milk is gluten free or specifically "is oatly gluten free?" we will address that in this post.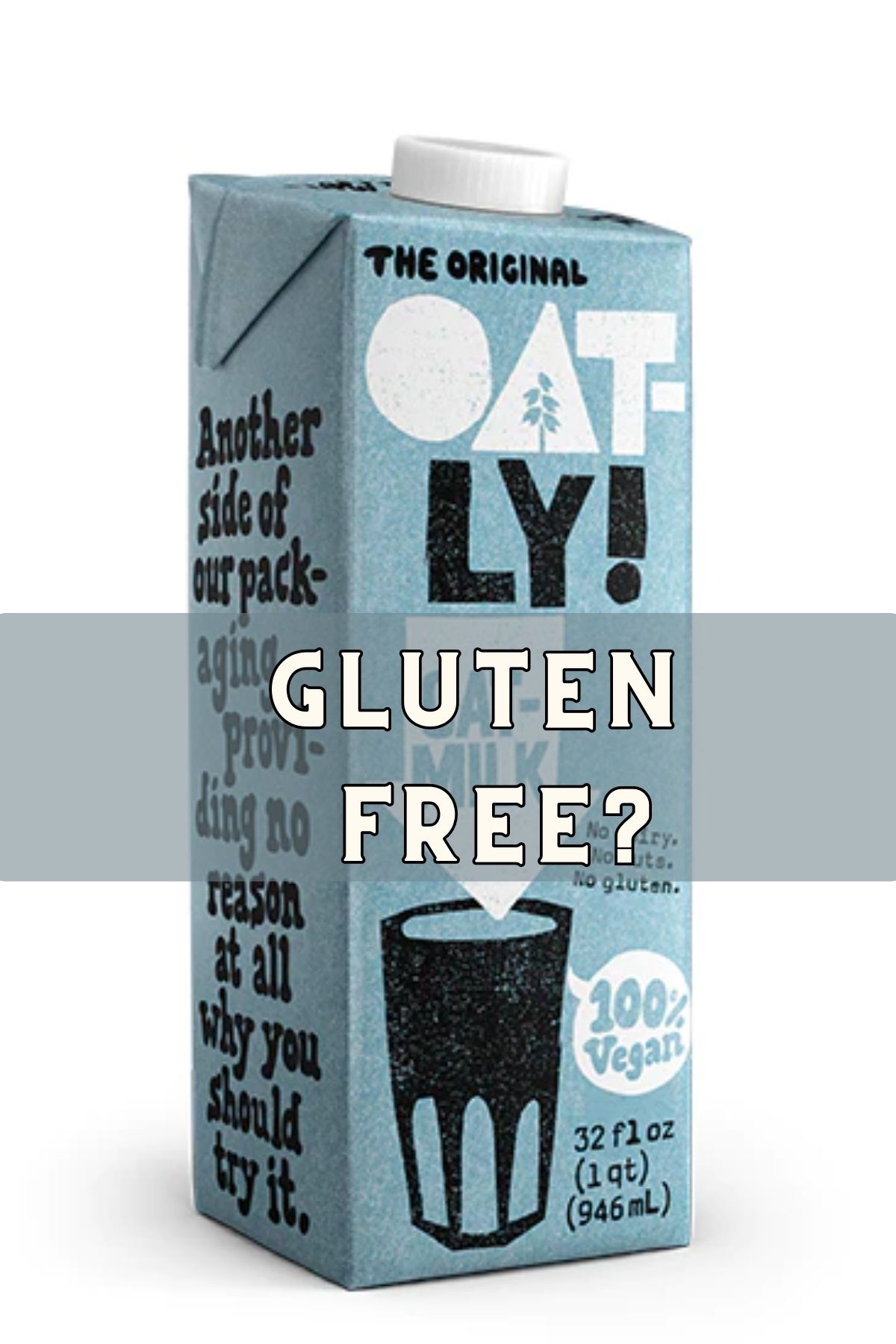 is oatly gluten free?
According to Oatly's website:
"Our US products are certified gluten-free and made without tree nuts, peanuts, dairy, and egg. Based on the US FALCPA (Food Allergen Labeling and Consumer Protection Act) and the FASTER Act (Food Allergy Safety, Treatment, Education and Research Act), they are safe for people with allergies to the top nine allergens (milk, eggs, fish, shellfish, tree nuts, peanuts, gluten and soy and sesame).
…
In full transparency, some of our partner production facilities also process other products containing top nine allergens. However, they follow all guidelines laid out by the US FALCPA and FASTER Act and are committed to careful cleaning and testing protocols to prevent cross-contamination. As an added precaution, we also test our finished products to ensure they meet our allergen requirements and are suitable for people with top nine allergies. "
This means that there is a risk of cross-contamination however it seems that they are doing their best to avoid it.
Also according to their website:
Aren't oats always gluten-free?
Yes! Oats are inherently gluten-free. However, depending on how they are processed they can often be cross-contaminated with gluten. For this reason, we source only certified gluten-free oats for our US products.
oatly ingredients
Ingredients. Oat base (water, oats). Contains 2% or less of: low erucic acid rapeseed oil, dipotassium phosphate, calcium carbonate, tricalcium phosphate, sea salt, dicalcium phosphate, riboflavin, vitamin A, vitamin D2, vitamin B12.
what is celiac disease
Celiac disease, also known as coeliac disease, is an autoimmune disorder characterized by an adverse reaction to gluten, a protein found in wheat, barley, and rye. When individuals with celiac disease consume gluten, their immune system reacts by damaging the lining of the small intestine, specifically the villi, which are responsible for nutrient absorption.
The exact cause of celiac disease is not fully understood, but it is believed to involve a combination of genetic and environmental factors. It tends to run in families, and individuals with certain genetic markers are more susceptible to developing the condition.
The symptoms of celiac disease can vary widely among individuals and may include:
Digestive Issues: Abdominal pain, bloating, gas, diarrhea, constipation, and nausea.
Weight Loss and Malnutrition: In some cases, celiac disease can lead to unexplained weight loss, malnutrition, and deficiencies in essential nutrients like vitamins and minerals.
Fatigue and Weakness: Many people with celiac disease experience chronic fatigue and a general feeling of weakness.
Dermatitis Herpetiformis: A skin rash characterized by itchy, blistering bumps. This condition is closely associated with celiac disease.
Iron-Deficiency Anemia: Celiac disease can impair the body's ability to absorb iron, leading to anemia.
Joint Pain and Muscle Cramps: Some individuals with celiac disease may experience joint pain, muscle cramps, or stiffness.
The only effective treatment for celiac disease is a strict, lifelong gluten-free diet. This means avoiding all foods and products that contain wheat, barley, and rye. Following a gluten-free diet allows the intestine to heal, and symptoms typically improve over time.
If you suspect you have celiac disease or are experiencing symptoms, it's important to consult a healthcare professional for proper diagnosis and guidance on managing the condition through dietary changes.
Dairy Milk Alternatives:

Should you need to have dairy-free milk for health reasons (or for personal preference), then there are several options for you:
Almond Milk
Soy Milk
Coconut Milk
Oat milk
Oat milk is often said to be the closest to cow's milk as it has a creamy texture. It is certified vegan, and it is a great option for anyone who has a lactose intolerance.
If you worry about purchasing certified gluten-free oat milk or a gluten-free milk alternative, it appears that Oatly is a great choice. It does not use any gluten-containing grains, gluten ingredients, and they are transparent with their allergen statements.
Oatly oat milk is available in most places in the United States and is seeming to increase its reach as it is based in Sweden. It is possible that it may be soon available in all of North America.
If you do decide to switch fully to oat milk instead of regular milk, remember when out and about at coffee shops or restaurants to ask what type of gluten-free oat milk brands they have, and if the oat milk they are using has gluten-free labels.
To conclude, is oatly gluten free?
Yes! It seems that Oatly products are all gluten free products. It is great for people with gluten sensitivities, gluten intolerances, or Celiac Disease. There is no gluten content and you do not need to worry about ppm of gluten.
It is always a good idea to continue to read labels, just in case anything ever changes. If you stick to a strict gluten-free diet, always remember to check labels!
Did you find this helpful? If you did, let me know! And let others know too by leaving a comment and star rating. Reviews are incredibly useful in helping other people find my site and make my recipes. Thank you so much!
Laura
Check out Articles and Posts