Welcome to Wales
Let me begin by saying that although Wales is technically part of England, the Welsh have their own language and culture that dates back thousands of years. When you cross the bridge from the mainland and enter Wales, you will be greeted with signs where Welsh is first and is the dominant language.
We spent only one day in Wales, and by the end of our trip, we were sad that we did not have more time there. We plan to go back and eventually have a trip entirely dedicated to Wales. Our day began at Tintern Abbey. It was founded by Walter de Clare, Lord of Chepstow (prior to the Marshal's) on May 9, 1131. It was the first Cistercian abbey founded in Wales and the second in England. It fell into ruin after the dissolution of the monasteries under the order of Henry VIII in the 16th century.
The roads to get to Tintern are small and windy but it is so worth it. As we entered the valley, it seemed magical. The air was filled with mist and it was a chillier morning which felt appropriate for the setting. We arrived at the abbey when they were about to open, which is when you should aim to go, as you will beat tour groups. We had the entirety of the site to ourselves for a few hours, and it was amazing.
As it became more crowded, we had lunch at the Anchor Inn next door. It worked out great as they had gluten free items marked on the menu and were able to accommodate me with no issues. After our nice lunch (all the while staring at the ruins) we made our way to the next stop, Chepstow Castle.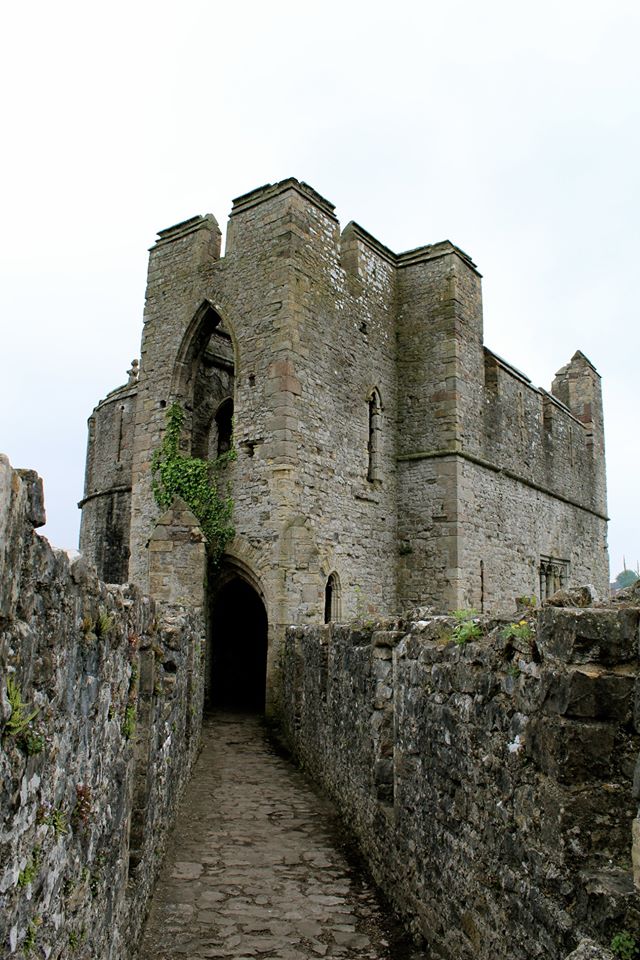 Chepstow Castle in Wales. Originally built by the Normans following the conquest in 1066, they set up camp in various locations around England and Wales. Later, this castle was given to William Marshall. He was an Anglo-Saxon soldier and statesman who served five kings. He is talso George RR Martin's inspiration for the character Barristan Selmy in Game of Thrones. His family built up the rest of the fortress. Prior to our trip to England we took our DNA tests and did thorough research on ancestry.com. We discovered that Josh is a direct descendant of William Marshall. It was really neat to be where his family had been.
One of the perks (and travesties) of Wales is that it seems that Wales is not a high tourist destination. The sites are amazing, the castles are in wonderful condition, and there is phenomenal history waiting to be discovered. I hope you find the time if you are ever in the UK to make your way there. It is well worth the visit!