This gluten free meatballs recipe is a take on a Sicilian classic. A perfect blending of textures and flavors, make them today.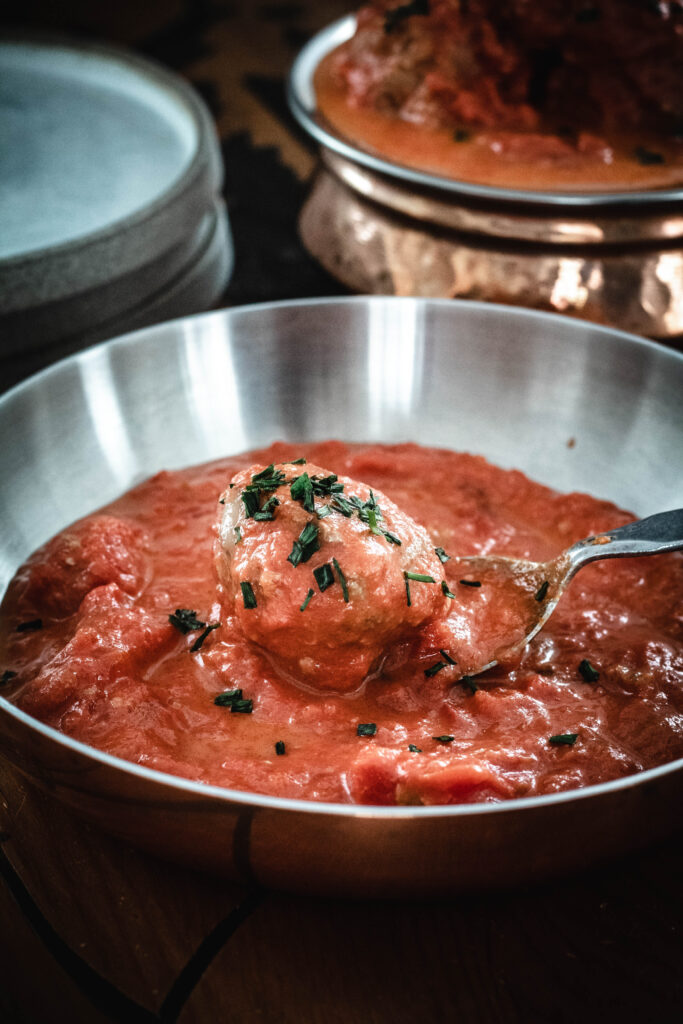 My family has certain traditions, as most families do. We lived near my fathers family but not my mothers, therefore, the majority of our (aka all) family gatherings took place at my grandparents house. I loved my grandmother more than anything but the woman was a master of guilt if you were going to miss an event.
The family I was raised around is Eastern European. Potatoes are fundamental, and meat is a big deal. We do not have a big family. Family gatherings usually consisted of 12-16 people. My grandmother cooked for thirty. There would be potato dumplings from Poland, pierogies, ham, fish, two kinds of stuffing, herbed potatoes, mashed potatoes, carrot gravy, cabbage rolls, a green of some sort, and desserts. A cake, creme caramels, and cookies. When I say cookies, I mean around 25 different types of cookies.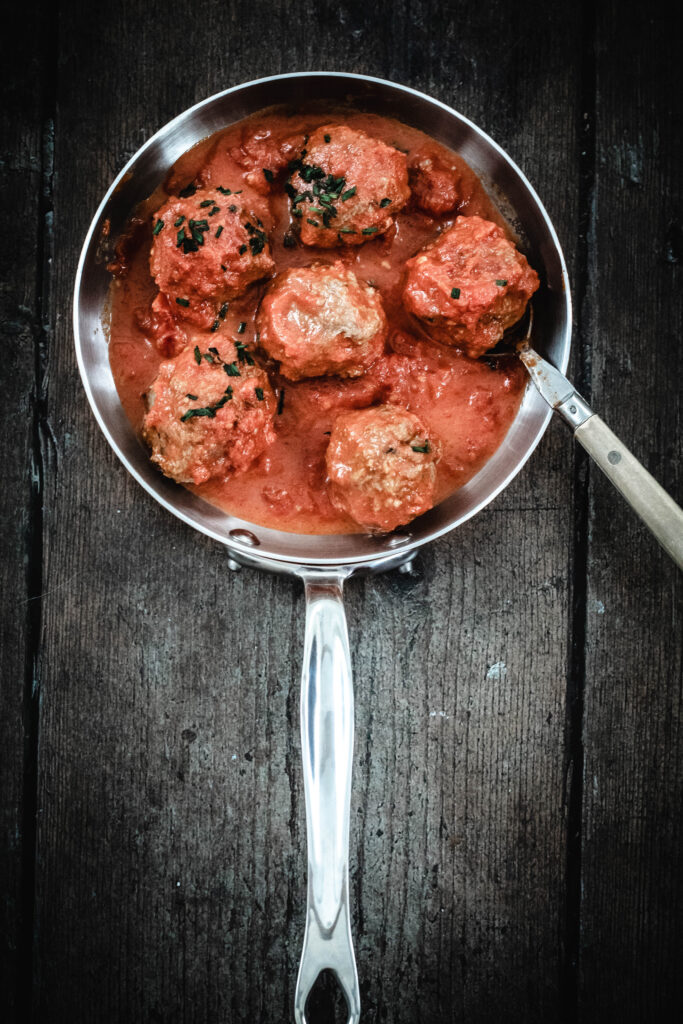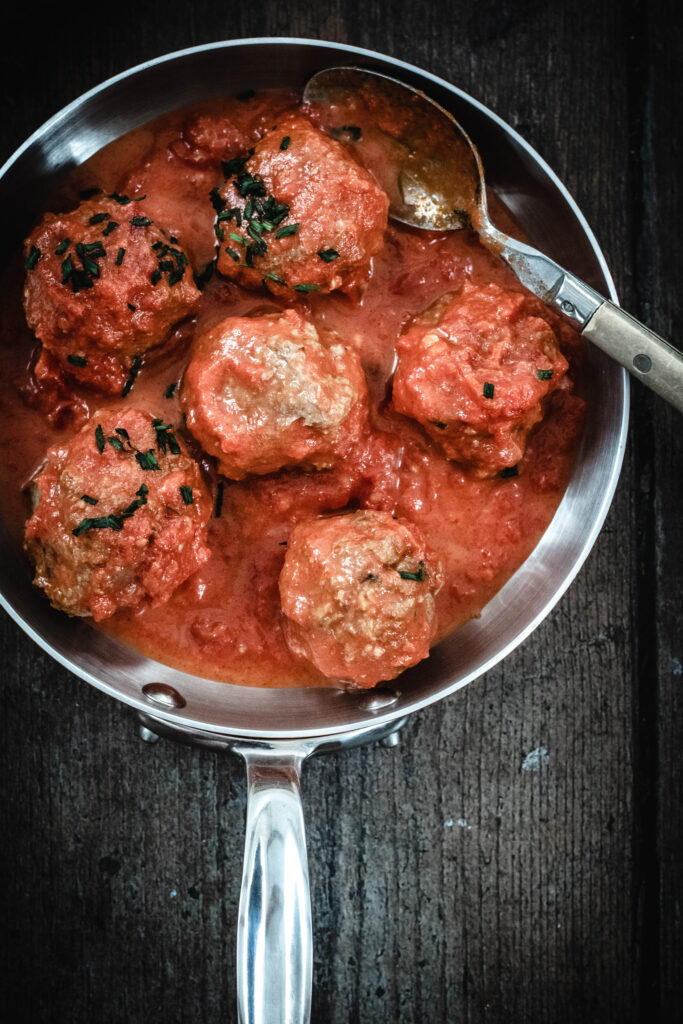 I love the traditions that my grandmother passed down to me. I have a strong connection with food and baking. I think of her whenever I make particular foods and every time I turn on my mixmaster. It helps me feel rooted and connected to her even though she is gone.
When you begin to date someone, or live with them, and or get married, their traditions become your traditions. I never had the opportunity to meet Josh's grandmother, who he only has words of kindness for. I know that she came from a small town in Sicily, that she married the sweetest man Roland (who lived to be 101 and I had the pleasure of meeting), and that she made some of Josh's most memorable foods.
"My Nonna used to make these meatballs" Josh will say "they had raisins in them, and they were so good." It is the response often given to me when we play the "if you could have any food in the world right now what would it be?" game. The issue is that Josh no longer eats meat! I sat back and thought, "Hm. How can I try to recreate his Nonna's recipe in a way that is vegetarian and gluten free?" Well, I am happy to say that here, ladies and gentlemen, we have a modified recipe of Nonna's meatballs. Let me introduce you to: Nonna's Meatless Balls.
Enjoy,
What do you need for this gluten free meatballs recipe?
1 Package Impossible Burger "Ground Beef"
2 Cans 24 oz San Marzano Tomatoes
½ Cup Gluten Free Breadcrumbs (If not gluten free, you can use regular breadcrumbs.)
1 Egg
¼ Cup Pine Nuts
½ Golden Raisins
1 Lemon (Zest)
½ Cup Parmesan
2 Cloves Garlic (Minced)
1 Cup Milk (It is your choice what type of milk you use. I used 2%.)
½ Cup Onion
½ tablespoon Sugar
1 teaspoon Salt
¼ Cup Cream
8 tablespoon Butter
½ Whole Onion (For Sauce)
How do you make them?
Place all of the ingredients together into a stand mixer and mix with paddle attachment slowly for 2-3 minutes until completely incorporated, or place into a large bowl and mix by hand.
Preheat oven to 550 degrees or as hot as it can go, convection even better.
Refrigerate meatball mixture for 30 minutes. This makes it easier to roll them. If you can, use an ice cream scoop for uniformity
Scoop the meatballs, placing them on an oiled sheet pan. Gently roll the meatballs until round and place them next to each other on the sheet pan. Place sheet pan with meatballs in pre-heated oven for 10 minutes. Remove and allow to cool to room temperature, unless you've prepared the sauce first. Then just spoon the cooked meatballs directly into the sauce and simmer for 45 minutes.
Directions for the Sauce:
Place tomatoes, butter, cream, and salt to taste in a pot on medium high heat. Allow everything to mix together and melt. Once the meatballs have been put in the pot, lower the heat to low/medium and leave for 45 minutes. Once they are done, cover the meatballs in parmesan cheese and serve immediately.
Looking for something similar?
Linguine and Clams click here
Tomato Sauce click here
Pad Se Ew click here
Stuffed Pasta Shells click here